Easy Diwali sweets list for the Indian festival of lights. Ahead of the festival, browse some if the best and quick to make desserts. Beginner friendly with step by step photos and some videos.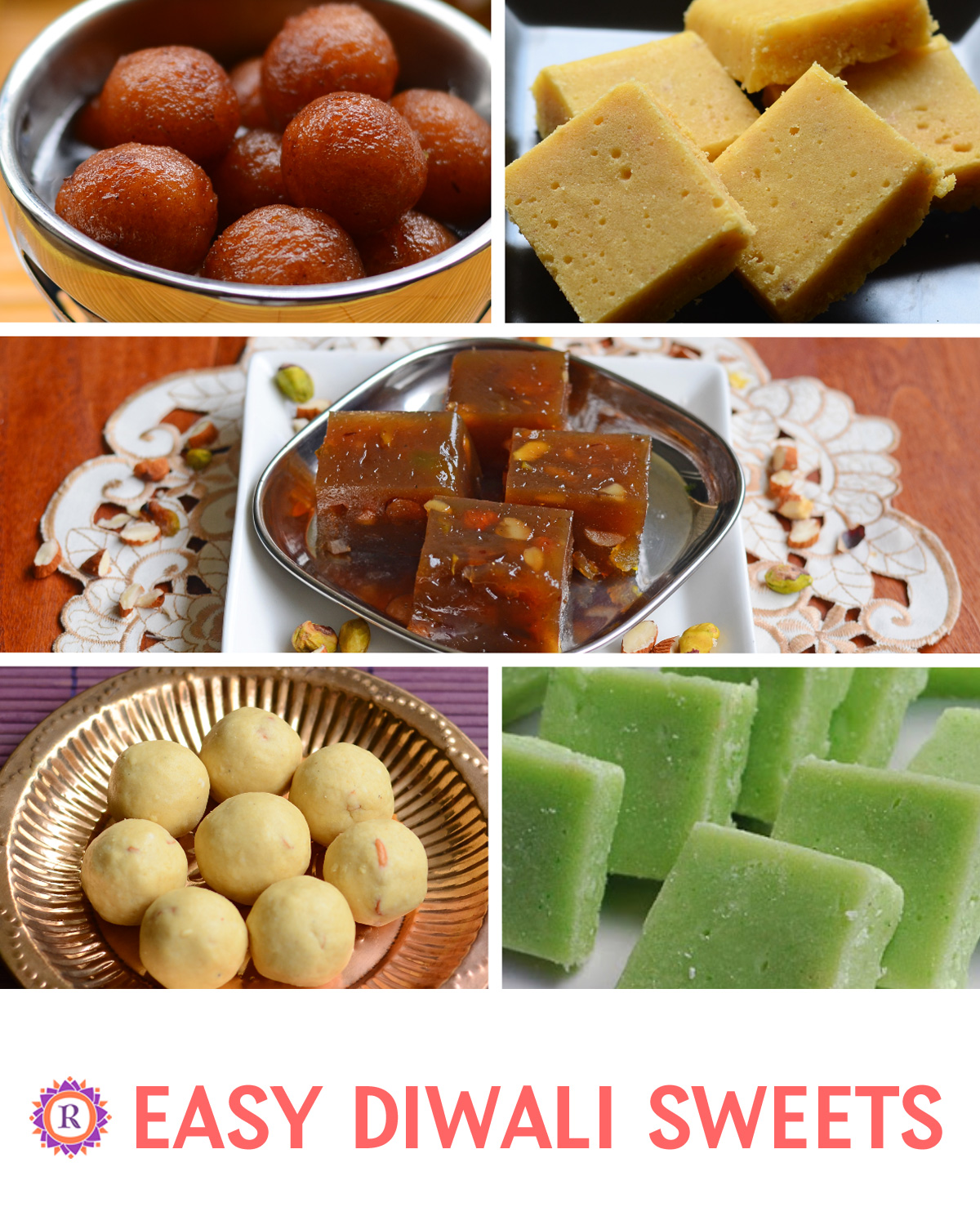 Diwali sweets can be prepared with less effort as well as less time. Here are some recipes to help you decide easy, moreover quick to make!
For full collection, browse Diwali recipe index or this updated Diwali recipes which also includes Diwali snacks!
Firstly, Wishing you all an advanced Happy and prosperous Diwali!
Table of contents
About
Diwali is a Hindu festival of lights celebrated across India. It is celebrated as the victory of good over the evil.
People celebrate Diwali by wearing new clothes, visiting friends & relatives, preparing sweets and bursting crackers.
Get blessings from elders at home and family and the festival also coincides with Harvest festival. It usually falls on October or November.
Diwali means sweets treat, it's all about indulging calories without any guilt during the festival.
Here I have compiled best Diwali sweets that you can easily prepare with minimum effort.
This is one of the major festivals in India, at our home too this is most awaited festivals through the year.
With all the decorations, lights, diyas, flowers, lots of snacks, especially food is main highlight.
Feasting on sugary treats during this festival of lights, be it traditional jaggery based sweets or innovative new age ones.
From evergreen gulab jamun, super easy kaju katli, simple beginner friendly kheers are the ones you can settle if you want to keep it simple.
Diwali Date
When is Diwali 2021?
Diwali 2021 falls on Thursday, 4 November
Here are collection of easy Diwali sweets from my website. To see about Diwali food, check out my Diwali breakfast post.
Ladoo recipes
For me personally ladoos are the easiest to begin with. Moreover, you can prepare with simple variation keeping the recipe same. Such as these ladoo recipes, you can prepare under 30 mins with no sweat!
Halwa recipes
Though there are some stirring involved in halwas there are pretty easy procedures as well as quickly done which makes it perfect sweet for Diwali. Check it out
Barfi recipes
Next to ladoo, burfi is very easy for beginners and it is a boon to those who are time pressed. Check out the burfi recipes below, you will agree!
Under 30 mins
Recipe card
Easy Diwali sweets recipes | Indian Diwali sweets
Easy Diwali sweet recipes, 50 plus collection. Jangri, badusha, milk sweets, ladoo recipes, burfi recipes, halwa recipes
Cup measurements
Ingredients
Sugar

Milk

Jaggery

Besan/ gram flour
Instructions
Please check individual recipes for respective instructions. Usually all Indian sweets uses sugar and Jaggery for sweetening.

For milk based sweets like basundi, rasmalai and palkova, milk is cooked and reduced to give rich results.

For other milk based sweets like Rasgulla, sandesh it is curdled and Chhena (cheese) is used as main ingredient.

Traditionally, jaggery is also used in many recipes especially in south India like adhirasam, suzhiyan etc.

Different types of mithais burfis, gulab jamun, ladoo are prepared for Indian festival Diwali. Please check my collection of recipes above individually.
Video
Here are some video recipes for Diwali sweets as well as snacks in my Youtube channel