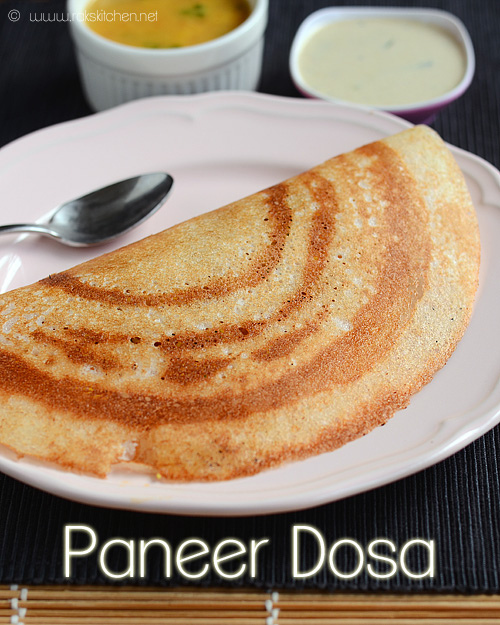 My MIL told this paneer stuffing for pesarattu as she saw it in a cookery show. I wanted to try the same. But yesterday, I made it quickly for dosa and clicked to post. A month back, I saw a you tube video which tempted me so much to try. But that's a different version which I will sure post later, this is a very quick and easy one, for you and your family, especially kids. If you need a filling special breakfast or dinner, you can try this. I will be busy this whole month as my inlaws are coming, so I may not be prompt in replying your doubts and comments, but sure will do in my own pace. So I hope you all bear with me. And my small boring intro flash back stories also will be missing. Will be back with a bang in the new year.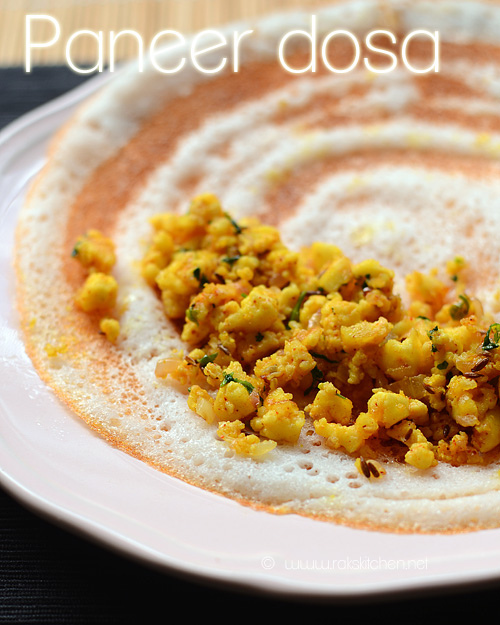 Paneer Dosa recipe
Recipe Cuisine:
Indian
|
Recipe Category:
Breakfast
Prep Time
:
10 mins
|
Cook time: 25 mins
|
Serves
:
4
Ingredients
Paneer crumbled -1 cup
---
Onion -1
---
Tomato(optional) -1
---
Garlic, chopped finely -1 tblsp
---
Turmeric -A pinch
---
Red chilli powder -1 tsp
---
Garam masala powder -½ tsp
---
Green chilli(optional) -1
---
Salt -As needed
---
Coriander leaves, chopped -2 tblsp
---
To temper
Oil – 2 tsp
---
Jeera – 1 tsp
---
Method
If using frozen paneer, first boil enough water to keep the paneer cubes in water to soften them. Then crumble it with hands or give it a grind in a mixer.Heat oil in kadai and splutter jeera. Take care not to burn it. So do it in medium flame.

Add chopped garlic, chilli and give it a stir. Add onion and fry till transparent.

If using tomato add tomatoes and add turmeric, salt and red chilli powder. Give a fry and add the crumbled paneer. I dint use tomato so added paneer directly.Switch off the flame, no need to fry for long time as paneer may turn rubbery.

Spread dosa, you can refer this video for guidance. And spread enough paneer as desired and fold the dosa. Refer Notes for tips and tricks.
Notes
For perfect dosa, use idli dosa batter stirred with little water to make it easy to spread.
Spread the dosa thin and no need to flip, it will get cooked easily as we have added water. So as the dosa gets cooked and browned one side, it will get cooked on the top as well.
Spread the paneer only after the dosa is cooked.
I have folded the dosa, you can also roll it with generous paneer filling and cut into few pieces diagonally to serve it.
Though I dint add tomato, I would suggest to add something like that to keep the filling moist and make it tangy. You can add a tsp of tomato ketchup too instead.
Use this as only guidance and use your creativity to enhance the recipe to suit your taste buds.
I just made less for the last batter to finish it off. Had it with peanut chutney and gosthu.