I have a brinjal gosthu recipe which uses a powder that has to be added to it. My MIL's chidambaram
brinjal gosthu recipe
. Since no one likes brinjal in our family, my MIL grinds the brinjal coarsely and makes that gosthu. The speciality is that roast ground powder and I cant match her gosthu's taste even now. She makes the consistency and taste perfectly. Even the brinjal haters of our family eats that. She makes it for
idli
only. My mom's side gosthu-s are so simple and easy, yet its a kind of tasty. She makes it with ease. No grinding part, no tamarind. And there are quite a few variations in it. This is one my mom makes with only brinjal for pongal as pongal gotsu. But when I came to Singapore, once my sister in law here made this one which is very similar to moms with potato and carrot. So now a days I make a this for pongal. You might have seen this in my
pongal post
with potato and carrot alone and this post in my
breakfast menu
. I got few message and mails if I had posted it or not. I think even after this, I cant delay posting this one. Though its simple and easy to make, it tastes perfect for pongal and even idli dosas.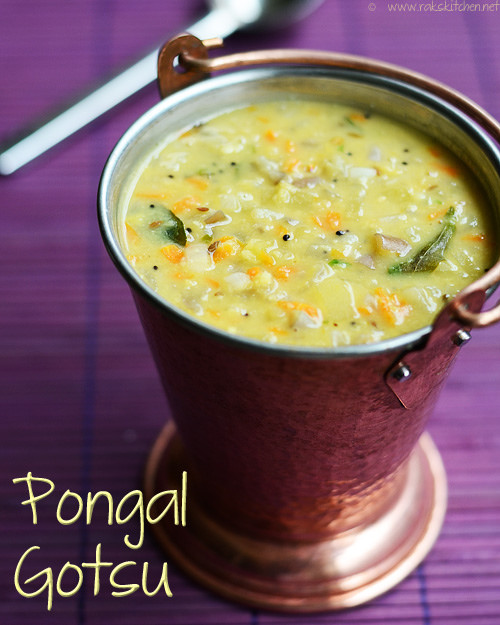 And before going to the recipe, I have an exciting news to share. My recipes have been published as a supplementary book in the popular Kungumam THOZHI tamil magazine😎. I spent a quality time in this and took it serious and made it possible to send it very short period of time😲. Though I may not share all the recipes, I will sure share few interesting recipes from this collection, so stay tuned!!

Pongal gotsu recipe
Recipe Cuisine:
Indian
|
Recipe Category:
Breakfast
Prep Time
:
15 mins
|
Cook time: 20 mins
|
Serves
:
4
Ingredients
Brinjal, small – 3
---
Potato – 1
---
Carrot, small – 1
---
Onion – 1
---
Moong dal / paasi paruppu – 1/2 cup leveled
---
green chilli – 4
---
Turmeric (optional) – 1/4 tsp
---
Coconut oil – 2 tsp
---
Salt – As needed
---
Coriander leaves, chopped – 2 tblsp
---
To temper
Oil – 2 tsp
---
Mustard – 3/4 tsp
---
Urad dal – 2 tsp
---
Jeera/ cumin seeds – 1 tsp
---
Curry leaves – 1 sprig
---
Method
Pressure cook dal for 3 whistles with enough water. We usually do not mash the dal for this gotsu, if you want you can. But my mom says we should cook without mashing it for a nice texture and flavor. Meanwhile, chop finely onion and other veggies. Carrot very fine, potato chop finely and brinjal can be little bigger comparatively.

Heat a kadai with oil and temper with the items given under to temper table. Add onion, green chillies and fry till transparent.

Add the chopped veggies and add little salt. Cook in medium flame for 2 minutes.

Add dal, 2 to 2 & 1/2 cups of water, turmeric if adding and required salt and bring to boil.

Simmer for 4-5 minutes or until the deisred consistency is reached. More or less a sambar consistency. My mom makes it watery too. Garish with the coriander leaves, coconut oil and switch off the stove.
Notes
You can make this with brinjal alone or with potato and carrot alone too.
You can add a tblsp of idli dosa batter towards the end to make the gravy thicker and it adds a nice taste too.
You can top with sesame oil and eat.
You can add a tomato in the same recipe along with the veggies.
Some moong dal give so much volume after cooking, so use lesser when its a bigger variety. Mine is very tiny grown in our relatives fields and cooks at no time. Gives less volume though.
Serve with idli, dosa or pongal the best. Easy and yummy gotsu for your main dish!