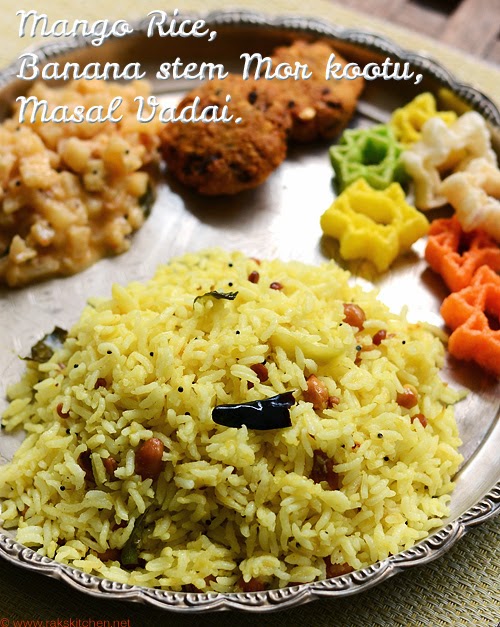 It's mango season now! If you are following me in
Instagram
/ Facebook/ Twitter, you might have known I have already made my batch of
maavadu pickle
. Now I was waiting to make mango rice. I love mixed rice varieties, especially the tangy ones like
lemon rice
,
tamarind rice
and this mango rice. Got 3 raw mangoes in little India last week, made
mango sweet pachadi
with one and saved two for rice. It was medium sized mangoes, thought I would need 2, but used up only 1 & 1/2. I also bought vazhaithandu (banana stem) so wanted to make it when Vj at home. Last week I made
banana stem poriyal
, This time wanted to make something else, so made this kootu. I love this kootu, we can have it as such. It was nice to have with mango rice. I soaked 1/2
cup
channa dal too for masala vadais to go with this too. Really enjoyed this simple menu today. We had plain rice and butter milk too to complete the meal.
Check out the recipes:
Here's how I prepared this menu.
Easy South Indian lunch menu (55)
Recipe Cuisine: Indian | Recipe Category: Lunch
Prep Time: 30 mins | Cook time: 45 Min | Serves: 3
I soaked for masala vada 3 hours prior cooking. First pressure cooked rice (1 cup for mango rice, 1/2 cup to use as plain rice).
Mean while, chopped banana stem, cooked it. Grated mangoes and kept all the other ingredients like curry leaves, chilli, curd ready.
Had grated coconut ready, so ground for kootu and finished kootu first.
Tempered for kootu, then prepared for mango rice. Once rice was done, kept it for cooling down.
Ground for masala vada and chopped onion and other required items, mixed and kept ready for making vada.
Mixed the rice, kept aside and prepared masala vada lastly hot. Same oil, I fried some colourful star fryums.

I made dal and baby corn bajji for Aj who wont touch all the above items. But it was simple and easy to make.
Have a great weekend! 😊