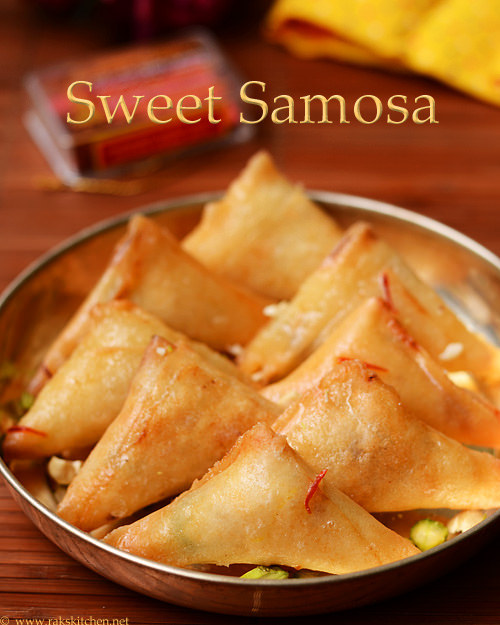 This recipe has been in my to do list for more than 2 years now. Two years back for Holi, Sangeeta asked me to post this. She suggested to fill a milk based sweet, preferably palkova in the spring roll sheets, deep fry it and dip it in sugar syrup. By hearing the process itself I felt like I ate so much calories😋. So kept postponing. She kept reminding me and I thought I should post it this time sure and made it. It was ofcourse yummy. You can try this for Holi festival, easy yet rich sweet.
Sweet samosa recipe
Recipe Cuisine:
Indian
|
Recipe Category:
Sweet
Prep Time
:
20 mins
|
Cook time: 20 mins
|
Makes
:
16
Ingredients
Spring roll pastry sheets – 3
---
Khoya – ½ cup
---
Pista – 8
---
Cashew nuts – 4
---
Almonds – 4
---
Raisins – 8
---
Sugar – ½ cup
---
Saffron – Few strands
---
Maida – 1 tblsp
---
Oil – for deep frying
Method
Keep out the spring roll sheets and frozen khoya for 30 mins to thaw. See notes if you don't have spring roll sheets.Chop nuts and mix it to the khoya and this will be our stuffing.

Cut the sheet into strips. Keep a tsp of prepared khoya mixture. Fold tightly to pack the khoya. Make a paste out of maida and water for sealing.

After the first fold of triangle, you can smear the maida paste through out the pastry strip, to ensure well bind samosas. Refer this Video for folding samosas.Repeat to finish all the stuffing. Keep the spring roll pastry sheet and prepared samosa covered in a damp cloth to avoid drying.

Heat oil and fry few samosas at a time in medium flame. Oil should be just right hot, otherwise the khoya filling may ooze out. Just cook in moderate heat until slightly golden. Drain in paper towel.

Prepare sugar syrup by boiling it with ½ cup water and saffron. It should be one string consistency. Dip the samosas and arrange in a plate for drying up.
Notes
I added sugar powdered in the stuffing but felt too sweet. So Did not mention it in ingredients.
Cook the samosas in low heat otherwise the stuffing may melt and come out.
Do not over fry, just when it is lightly golden, its enough.
Make sure the samosas are sealed properly. Mainly pinch the corners well to seal it.
If you do not have spring roll pastry sheets, you can do the same with maida. Make a stiff sough with 1 cup maida, a tblps of oil, pinch of salt and water. Keep aside for 15 mins, knead and make equal sized balls. Roll as thin as possible and cut into square. Use oil half way while rolling in one side to make rolling easy without getting shrunken.Do not make this long (large) as if you fold lot, it wont get cooked inside and will become chewy. Follow the same procedure as above and fold to triangles.
Can be an easy fix for this Holi celebration! Keeps good for 3 days in fridge.