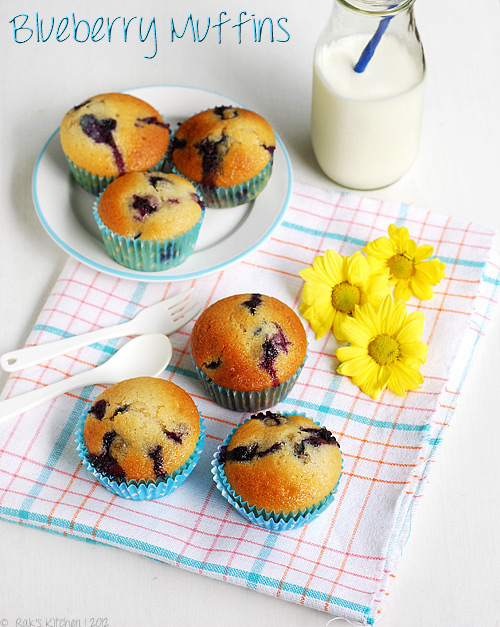 I had blueberry muffins only twice. I am great fan of muffins. But not that often I bake muffins at home. Every time I see blueberries at Fairprice, my hands reach it, but never bought it, thinking what I could do. This time decided to try muffins with it. Just made it with the basic Vanilla cake recipe and the result was soft muffins! Aj had it and liked it. He even took few to his last day of his term – party.
Eggless blueberry muffins recipe
Recipe Cuisine:
Oriental
|
Recipe Category:
Desserts
Prep Time
:
15 mins
|
Cook time: 20 mins
|
Makes
:
10 muffins
Ingredients
All purpose flour/ maida – 1 & ½ cup minus 3 tblsp
---
Blueberries – 1 cup
---
Corn flour – 3 tbslp
---
Plain yogurt/ curd – 1 cup
---
Oil – ½ cup
---
Sugar – ¾ cup
---
Baking powder – 1 tsp
---
Baking soda – ½ tsp
---
Vanilla essence – 1 tsp
Method
Pre heat oven to 180 o C. Sieve maida with corn flour twice to ensure even mixing. Mix curd and sugar in a bowl well. Add the baking powder and baking soda and let it rest for 2 – 3 minutes.

You can see the mixture now to be slightly frothy. Now mix oil and vanilla well to it. Add the flour one tablespoon at a time and mix well.

Wash the blueberries, pat dry it using kitchen towel/ tissue. Dust it with 1 or 2 tsp of flour(maida) and add it to the mixed batter and mix evenly.

Line the muffin tray with liners and spoon ¾th of the liner with the batter. Bake for 18-20 minutes or until a toothpick inserted comes out clean.
Cool over a wire rack. Yummy muffins with a slight hint of tangy blue berries here and there are ready to enjoy!