My old post yoghurt brownies was the one and only attempt I have made to post an eggless brownies in my blog. Other than that, though I have tried one or two for visiting relatives, I have not attempted to post one. I dont bake mostly to avoid my intake of sugar, all purpose flour. If I in case crave for brownies, famous amous is always there and I can buy 2 or three and indulge. Its better than baking and end up eating the whole thing. Yeah no one eats baked goodies here at home. But Aj was asking me if I could bake an eggless brownie for his last day class party for past one month. He wanted to tell his friends and teachers about my blog and with something for them to taste as well. So it seems they planned for this and told me a month ahead and kept on check with me when I should shop ingredients and when I should bake…almost 5 days a week since then. Yeah, over excited boy! That Aj 😛!!. So I chose this eggless brownie from
Gayathris cookspot
, where there is a lot of great baking recipes. I halved the recipe and made in few batches (as I had small baking pan). It came out really good.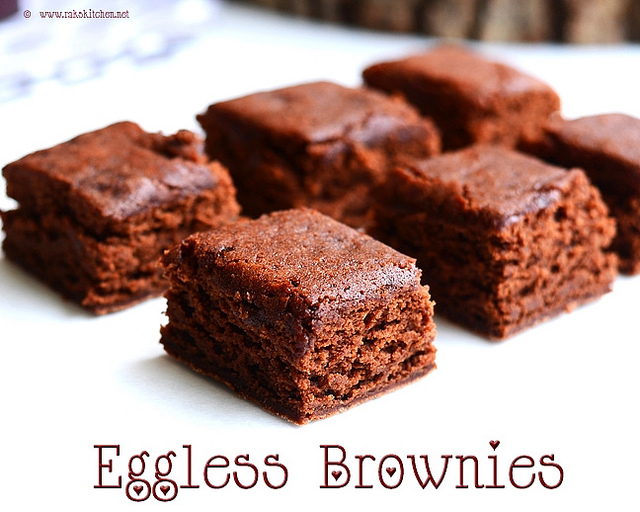 Eggless brownie recipe
Recipe Cuisine:
Continental
|
Recipe Category:
Dessert
Prep Time
:
10 mins
|
Cook time: 30 mins
|
Makes
:
16
Ingredients
All purpose flour – 1 cup + (2 tblsp & 2 tsp)
---
Coco powder unsweetened – 1/3 cup
---
Sugar – 1 cup
---
Instant coffee – 1/2 tsp
---
Baking powder – 1 & 1/4 tsp
---
Butter – 1/4 cup
---
Salt – 1/4 tsp
Method
Preheat oven at 180 deg C. In a heavy bottomed pan, mix the 2 tblps + 2 tsp flour in 1/2 cup of water. Heat it over the stove to make a thick paste. transfer it to the mixing bowl and let it cool down.

In the same pan, add butter and melt it. Switch off the flame. Add coco powder and using a whisk, make it smooth.

Add coffee (dissolved in a tsp of warm water – I added as such but it didn't dissolve so dissolve and add), sugar to the cooled flour paste and mix well. It will turn watery.Add the coco + butter we melted to this and mix until smooth.

Add baking powder, flour,salt and mix well. The batter will be thick as shown in the next step, so dont panic.

Transfer to a greased pan (8 *8 inch square) – lined it with a greased butter paper if possible. Transfer the batter to the baking tin and bake for 23 – 25 mins at 180 deg C. Mine took 25 mins.

Once done, set aside for 10 mins and later invert it to a wire rack. Cut into squares using a knife.
Notes
Note the consistency of the flour paste we prepare in step 1. If its watery, then your batter consistency also will change.
You can add walnuts or pecans to the batter, will be good to have the crunch. The brownie was very sweet for me and nuts will be good to balance it.
I used unbleached flour for a batch and it worked fine as well.
Baking time may vary depending on your oven. So keep an eye after 23 mins.
Have it warm heated up in microwave with ice cream, its bliss! Hope kids enjoy this.