I always wanted to bake this kind of choco chip cookies at home and kept searching for the recipe that is eggless. One more thing that kept me postpone trying these cookies is the fact that Aj is allergic to cocoa and Vj is not big fan of cookies either. So if I bake these, the only person going to eat the whole thing is me🙄. But few weeks back, Vj showed me a cookie making video and I got very much inspired seeing it. But there is no relation between the recipe I watched and this recipe. This recipe is one, I got from
Priya's versatile recipes
, the real super blogger, who has almost all possible recipes in her blog! I found this one very easy and interesting. So just halved the recipe and tried it. And when I took a bite form the baked cookies, I was totally spellbound by its taste and texture. It was just as good as the famous amos cookies I have tasted.
It is very easy to make with no fancy items in it. All possible ingredients and mainly no commercial egg replacer. Easy enough for a beginner baker. I am going to try to bake these cookies with few variations keeping this as base. Your kids gonna love this if you bake for them. So bake off these and let me know.
Eggless choco chip cookies recipe
Recipe Cuisine:
Continental
|
Recipe Category:
Snacks
Prep Time
:
10 mins
|
Cook time: 20 mins
|
Makes
:
16 cookies
Ingredients
All purpose flour – 1 cup
---
Choco chip – ¼ cup
---
Sugar – 6 tblsp
---
Butter(unsalted) – ¼ cup
---
Baking soda – ¼ tsp
---
Baking powder – ½ tsp
---
Milk – 1 tblsp
---
Vanilla essence – ½ tsp
---
Method
First sieve / mix well the flour, baking soda and powder together. In another mixing bowl, take sugar and butter( at room temperature). Mean while pre heat oven to 170 deg. C.

Beat it until you get a creamy texture. I just did it with my whisk for some 4 -5 minutes. Add vanilla, choco chips, milk to it.

Add the mixed flour to it and gather everything to make a dough. Be gentle and do not mash the chocolate chips. (I used tiny chips, so it got slightly mashed.) Divide into desired number of balls. I made 6 jumbo and 8 medium sized cookies, so divided according to that.

Flatten the balls over a lined cookie tray (with butter paper) with enough space in between as the cookie tend to expand. Baking time is around 15 – 20 minutes. Mine got baked at 18 minutes. So keep an eye after 15 minutes and bake until golden in colour.
Notes
Size of the cookies is your choice, so number of cookies depends on that.
Keep an eye after 15 minutes as baking time varies from oven to oven.
Cool in wire rack and store in air tight container. Are you ready to eat the crisp and melt in mouth cookies?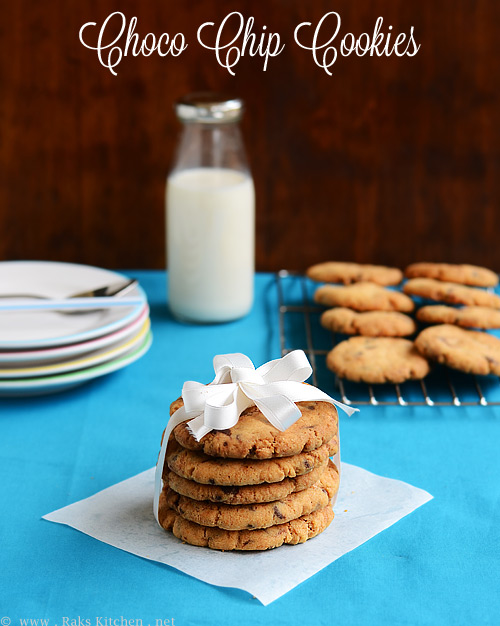 Its crisp, light and porous. 🤩