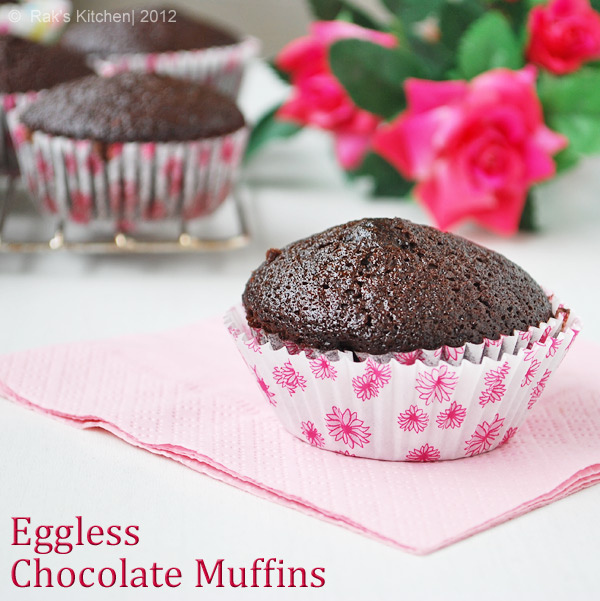 Chocolate muffins are loved by almost every one of us. I wanted to try my hands on muffins for long time, but could not decide on a recipe. I bookmarked a recipe but it had complicated measurements, so at last minute, I got a recipe and the recipe didn't disappoint me. It came out good. It tasted similar to the eggless chocolate cake. With simple ingredients, it does comes out sinfully delicious. It is very easy too, that beginners in baking, like me, can try it out without giving a second thought. The muffins were soft and chocolaty, do try it out yourself to believe me!
Eggless Chocolate muffins recipe
Recipe Cuisine: Continental  |  Recipe Category: Dessert
Prep Time:10 mins soaking time    |  Cook time: 25 mins     |  Makes: 8
Ingredients
All purpose flour - ¾ cup
---
Coco powder - 2 & ½ tblsp
---
Sugar - ½ cup
---
Baking soda( bicarbonate of soda) - ½ tsp
---
Salt - ¼ tsp
---
Oil - ¼ cup
---
Cold water - ½ cup
---
Vanilla essence - 1 tsp
---
Lemon juice / vinegar - 1 tsp
---
Method
Sieve flour, coco and baking soda together tice to ensure even mixing and then mix in the salt and sugar. In another bowl, mix oil, cold water and vanilla. Reserve the lemon juice.Mix the dry ingredients and wet ingredients well until sugar gets dissolved.
Pre heat oven to 190o C .. Before you are just going to bake, mix in the lemon juice and stir well. Spoon the batter to the muffin liners in the baking tray. Fill just ¾th.
Bake for 25 to 30 minutes or until tooth pick inserted comes out clean. Better keep checking after 20 minutes. Mine got baked after 23 minutes itself. Cool down the muffins in a wire rack, after carefully taking out from the baking tray.
Notes
I used fine grain sugar, better to use it as it gets dissolved easily.
You can use ½ teaspoon of orange zest to enhance the flavour.
Bake a day before you want to eat.
Enjoy the chocolaty muffins. Give a day for the flavours to get incorporated well, though it tastes good immediately. So if you want to eat tomorrow, make today and keep!