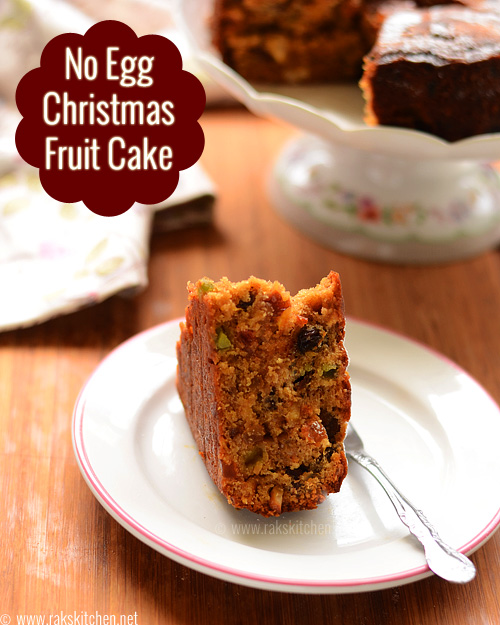 Fruit cake recipe with lots of mixed dry fruits and nuts and spices. No rum soaking part or egg in this recipe.
I love fruit cake we get in bakeries, past two years, I have been buying fruit cake loaf in the local bakery available here and love it. We get different rich and dark plum cake in Indian bakeries. In TN, we get this plum cake without any rum in it. Still it will be rich, dark and so flavorful that will be so different from the fruit cake we get here. If I crack that, will sure post it. This is very close to it and really delicious and rich fruit cake with nuts. I wanted to bake Christmas cake for a long time, but never got guts to try as I had no straight forward simple recipe. Every year, I browse for recipes, but somehow drop the plan. This year too, I started browsing for Christmas fruit cake a month before but ended up trying this much late.
I got this recipe with just few simple ingredients, self raising flour, dry fruits soaked in just
orange
juice overnight. I loved the idea of soaking in orange juice just for night. Later noticed it had no sugar in it. But since I am trying for first time I thought I should try the proper recipe with sugar in it. So I adapted the recipe a little from
here
and
here
. So took those 3 recipes and baked to suit my taste and convenience. I replaced egg with curd. I was not sure how it would turn until it got baked and until I tasted. It was really good as I buy from here. Aj too loved it sans nuts. He asked me to bake this again for his birthday without nuts.
Eggless fruit cake recipe
Recipe Cuisine:
Indian
|
Recipe Category:
Dessert
Prep Time
:
Overnight soaking + 15 mins
|
Cook time: 45 mins
|
Serves
:
6
Ingredients
Plain flour/ Maida – 1 & ¼ cup
---
Butter – ½ cup
---
Sugar* – ¾ cup
---
Dry fruits, mixed – 1 cup
---
Nuts**, chopped – ¼ cup
---
Orange juice – ¾ cup
---
Plain yogurt/ curd – 3 tbsp
---
Baking powder- ½ tsp
---
Baking soda – ¼ tsp
---
Orange zest – 1 tsp
---
Cinnamon powder – ½ tsp
---
Clove powder – ¼ tsp
---
Nutmeg powder – ⅛ tsp
---
Salt – ¼ tsp
---
*I used ½ cup unrefined sugar, ¼ cup brown sugar
**I used chopped cashew nuts and roasted almonds.
Step by step method
Soak dry fruits in orange juice overnight. I left in outside at room temperature.

Before making the cake next day, drain the juice completely, reserve 3 tbsp for later (or can use fresh orange juice too). Add ¼ cup flour to the fruit and coat it well.

Add chopped nuts to it and keep aside. In a mixing bowl, add remaining 1 cup flour, cinnamon, clove, nutmeg, baking soda, baking powder, salt.

Mix well with whisk. Sieve it to ensure even mixing, keep aside.

In another bowl, beat butter smoothly. Add sugar and beat until creamy.

Add yogurt, orange juice and beat well until creamy.

Add sieved flour little by little at a time (in 3-4 parts) and fold (mix with spatula gently) it until mixed.

Lastly add dry fruits and nuts with orange zest.

Fold it to mix. Pour in a greased, dusted pan.

Bake in oven preheated at 180 deg C, for 40 –45 mins or until toothpick inserted inside comes out clean. After 10 mins, invert over wire rack to cool.
Tips
You can bake with fully brown sugar too.
Preheat and baking temperature – 180 deg C.
I have used a butter paper at the bottom of the pan.
If the top part of the cake gets brown too fast, cover it with a butter paper while baking.
You can use nuts of your choice, like walnuts, pistachios etc.
Soft, rich and flavourful buttery fruit cake. Perfect to make for Christmas or your kids evening snack /school snack box too.