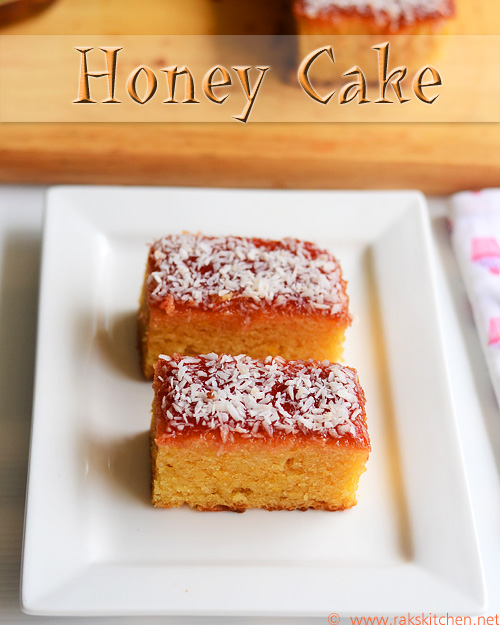 Honey cake that I remember eating for only very few times from local Indian bakery – Saravana bakery in Salem. After that once in Chennai after marriage. I am a big fan of local bakery items. The smell as we enter the bakery just takes me to another world. After coming here to Singapore, I see all the cake shops selling perfectly iced cakes, looking smooth, dream soft sponge cakes. Still my heart goes for the local bakery cakes. I like that flavour, I am not sure which essence they use and the though the icing here is light and fluffy, I like the grainy, sweet and flavoured icing that they use in the bakeries locally. I always say this to Vj that I crave for Indian local bakery cakes and he would be laughing at me why so. Now too, my parents buy and keep cake for me when I visit my home and I gobble all of it in one or two days that I stay there. I will write about the buns, puffs later in another post.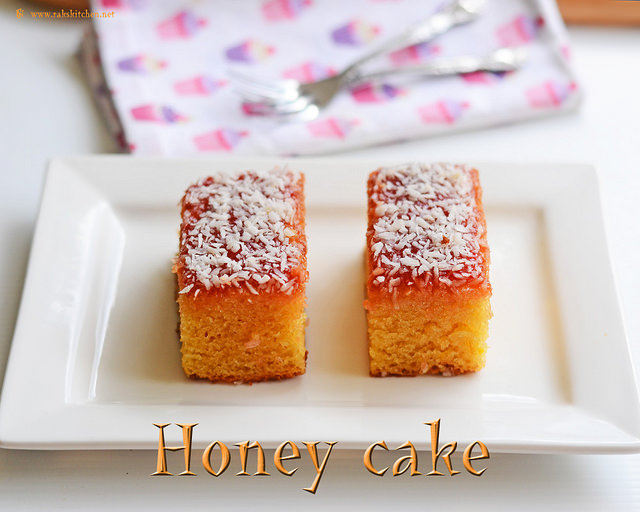 So I was thinking to try this honey cake for few years now and finally saw a post in
this blog
and loved it. I realised honey cake is about the syrup, jam and coconut on the top. I used the
eggless orange cake recipe
for this cake. You can bake your favorite basic vanilla cake and make this honey cake too. I chose orange cake as my kid like orange flavoured cake. When I finished making this cake and tasted it, I was so happy that I could finally eat my favorite cake, that too homemade and eggless version.
Check out the video for Indian honey cake:
Eggless honey cake recipe
Recipe Cuisine:
Indian
|
Recipe Category:
Dessert
Prep Time
:
10 Mins
|
Cook time: 35 mins
|
Serves
:
10
Ingredients
Plain flour/Maida – 1 & 1/4 cup
---
Condensed milk – 1 cup minus 2 tbsp
---
Oil (I used sunflower oil) – 1/2 cup
---
Orange juice – 1/2 cup
---
Powdered sugar – 3 tbsp
---
Baking powder – 1 tsp
---
Baking soda – 1/2 tsp
---
Orange zest – 1/2 tsp
---
Lemon Juice – 1 tsp
---
Vanilla essence – 1 tsp
---
For Syrup
Water – 1/2 cup
---
Sugar – 2 tbsp
---
Honey – 1/4 cup
---
For topping
Mixed fruit jam – 4 tbsp
---
Sugar – 1 tsp
---
Desiccated coconut – As needed
---
Method
Pre heat the oven to 180 deg C. Mix flour,baking powder,baking soda with a whisk to ensure even mixing. In another bowl, mix condensed milk, orange juice, oil, sugar, vanilla essence, lemon juice.

Add flour and mix well. Add orange zest (orange skin part, grated) and mix.

Transfer to a baking tray ( I used 8 inch square tin) greased with oil and dusted with flour. Bake for 30 minutes or until a toothpick inserted comes out clean.

Cool down for 10 mins and invert over a wire rack to cool down completely. Trim the sides.

Prick the cake with tooth pick at various places. Mean while prepare sugar syrup by boiling water and sugar just until sugar dissolves.

Bring to luke warm and mix honey.

Heat jam and sugar over low flame in a pan until it melts.

Over the flat surface of the cake, pour the prepared syrup generously so that the cake absorbs the syrup. Over this, spread the jam to form a thin layer.

Sprinkle desiccated coconut all over the surface to cover up the jam. Cut into desired shape and serve.
Notes
Add honey only to luke warm sugar syrup.
Since this cake is super moist because of syrup, jam, this has to be consumed within 2 –3 days (kept inside fridge)
After slicing the cake, you can also pour the syrup so that the sides of the cakes also get generous syrup.
One of my most favorite cake – honey syrup drenched, jam and coconut flavored honey cake.