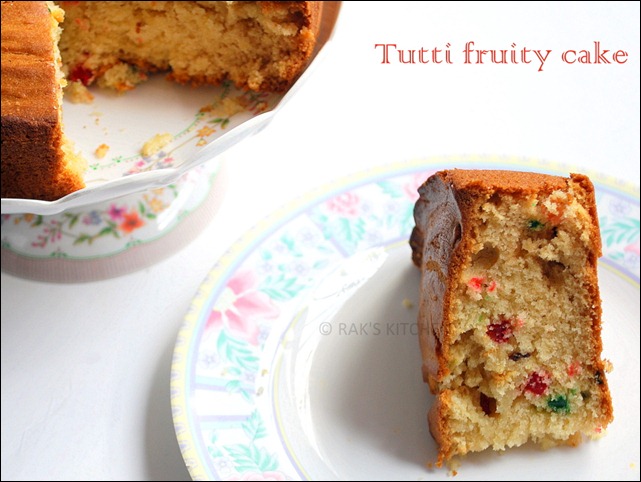 Eggless tutti frutti cake recipe – Learn how to make soft sponge cake with tutti frutti in it.
This post is very special for me,coz this is the first cake recipe I am posting🎉…. My mom,MIL(also my ancestors)have never baked anything,also they don't even know the ABCs of baking. So for me to I am just blank about baking…Last year by this time,I have not even dreamt of baking a cake😵! But now I find baking very interesting and even easier than my day to day cooking 😎! I too was once thinking baking is something I cant even imagine,its a very difficult thing to try…. But now I got enough confidence to even encourage someone who is scared of baking like I was once😏 ! But I should really thank
Prathiba
🤗,for clearing all my silly doubts,regarding baking,when ever I asked her in the beginning!
I took the recipe from
here
,with few changes I tried and was keeping my fingers crossed😅 until I had a bite from the cake. It was damn good! My oven is a combination oven,which has three options- Convection/Microwave/grill. Basically I use the microwave option in everyday cooking. And the convection mode for baking cakes,cookies and pizzas…still I haven't used the grill option… I don't even have the manual for this oven, somehow just learnt the basics from online and managing to bake. Please feel free to write to me or leave comments,if you have any doubts regarding baking this cake, I will try my best of my knowledge to answer you what ever I know.
Eggless Tutti Frutti cake recipe
Cuisine : Continental
|
Course:
Dessert
Prep Time
:
15 mins
|
Cook time: 35 mins
|
Serves
:
4
Ingredients
All purpose flour/Maida – 1 & 1/2 cups
Corn flour – 3 tbsp
Butter – 100 gms
Sugar – 4 tbsp
Baking powder – 1 tsp
Baking soda/sodium bi carb. – 1/2 tsp
Condensed milk – 1/2 cup
Soda water – 1/3 cup
Salt – 1/4 tsp
Vanilla essence – 1 tsp
Tutti frutti – 4 tbsp
Egg Replacer:
Water – 2 tbsp
Baking powder – 1/2 tsp
oil – 2 tsp
Beat well until smooth, using hand blender
Method
Mix well maida,corn flour,baking powder baking soda and salt well,in a large bowl.

I sift the flour to ensure even mixing.

Soften the butter and beat it with sugar(I used fine grain sugar) in another bowl.

Add the egg replacer,condensed milk and vanilla to the beaten butter & sugar and beat again till smooth. ( I used a hand whisker)

Add this to the mixed flour and mix well.

Add the soda water and mix well.(fold well,folding-mix with a spatula/ ladle in a same pattern,preferably from bottom to top always)

I am not a professional baker,just now started baking,so if please ignore if there is any silly mistakes in the terms I have used in the method.

Meanwhile Preheat the oven to 180 degree C.Lastly add the tutti fruity and mix well.

Grease a baking tray with butter/oil(I used 6 inch round tray) and pour the mix in to the tray.

Bake for 35 minutes(keep in centre of the oven) or until the cake is done, you can check by inserting a knife,if it comes out without sticking,clean then your cake is done!

Notes:

My cake was bit crumbly. I think there should be some proportion imbalance between wet and dry ingredients…
After cooling down also,the outer layer of the cake will be crisp and slightly hard.Keep it for a day and it will soften by itself! It stays good for 4-5 days!
You can use bread pan to bake or your preferred shape pan for this cake. I used a 6 inch round use and throw aluminium pan.
You can omit the tutti fruity and bake it, its the basic eggless sponge cake !

I used condensed milk,but as the original recipe calls for evaporated milk,so you can try that too increasing the sugar quantity…Please refer the link for the original recipe!

Follow the instructions and measurements and sure this recipe is keeper,go a head and try even if you are beginner like me

I used salted butter(amul) and omitted the salt.
After done,cool down in a wire rack and slice it and enjoy!