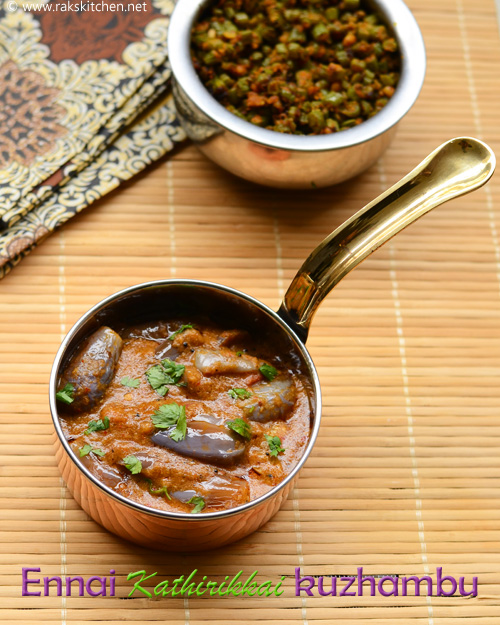 Ennai kathirikkai kuzhambu is a gravy in which brinjals are stuffed with flavourful fresh ground masalas and sauteed in lots of oil and when we make gravy (kuzhambu), until the oil oozes out. I have been looking for ennai kathirikkai kuzhambu recipe like this for long time. My mom makes a version, but we never use this much oil, and it's more of a no onion no garlic pepper kuzhambu. I love it a lot, but wanted to try this version. My friend Sujithra who is a wonderful cook, shared me this recipe when I asked for. Since I am making this for first time, I had many doubts, which she explained me patiently. Thank you Suji, for being sweet as you always are. I was supposed to post this few days back. Just back from vacation and still the hangover is there😋.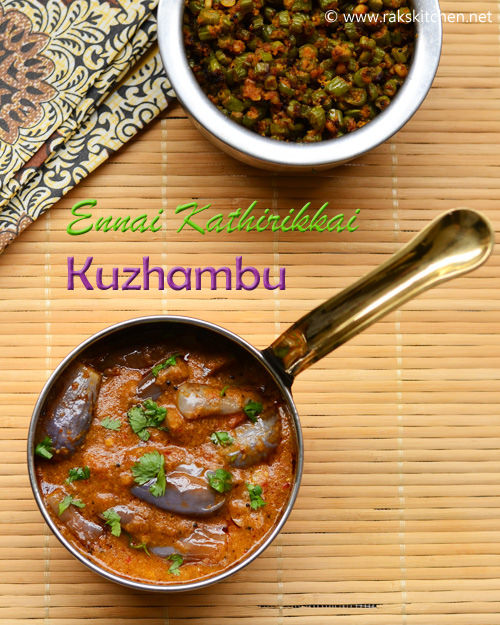 I know Diwali is nearing, let me start my Diwali posts soon next week, stay tuned and browse my
Diwali collections
post until then.
Ennai kathirikkai kuzhambu recipe
Recipe Cuisine:
Indian
|
Recipe Category:
Lunch
Prep Time
:
30 mins
|
Cook time: 25 mins
|
Serves
:
4
Ingredients
Brinjal – 10
---
Small onion/ Shallots – 4
---
Tomato – ½
---
Tamarind – 1 small lemon sized ball
---
Turmeric – ¼ tsp
---
Salt – As needed
---
Sesame oil – ¼ cup
---
For masala
---
Oil – 2 tsp
---
Urad dal – 1 tbsp
---
Chana dal – 1 & ½ tbsp
---
Coriander seeds – 1 & ½ tbsp
---
Red chilli – 5 or 6
---
Fenugreek seeds – ¼ tsp
---
Black pepper – 1 tsp
---
Cumin seeds – 2 tsp
---
Garlic – 4 flakes
---
Shallots – 10
---
Tomato – 2
---
Curry leaves – 2 sprigs
---
Grated coconut – 2 tbsp
---
Coriander leaves – 2 tbsp
---
To temper
---
Oil – 2 tsp
---
Mustard – ¾ tsp
---
Method
Take the dry ingredients first. Heat a kadai with oil, Urad dal, chana dal, coriander seeds, red chilli, black pepper, fenugreek seeds until golden and lastly add jeera to it. Give it one stir and transfer to a plate.

Add garlic and onion first and fry until fragrant. Add tomato, curry leaves, coriander leaves and sautee until tomato is soft. Add coconut and fry for a minute. You can roast each ingredients separately, but I did this way. Cool down completely. Soak tamarind in hot water and extract tamarind juice (with 1 & ½ cups water)

Grind all the above fried ingredients to smooth paste along with salt. Clean and cut off brinjal's stem part. At the bottom, slit into 4, check if it is good and stuff the masalas inside. Reserve the remaining masala paste.

Repeat to all brinjals and arrange in a plate. Heat a pan with oil and temper with mustard. Add 4 finely chopped shallots and ½ a tomato and sautee well. Arrange the brinjals in the pan and top with sesame oil. Let it get cooked well in medium flame.

Turn in between for even cooking. Once done, Add the remaining masala paste. Add tamarind extract, turmeric and adjust water consistency, salt and boil until oil floats on top.
Notes
Water consistency can be adjusted as per you want how the gravy to be. I like it thick so made it thicker.
I used bit less of oil, but next time sure going to add ¼ cup as mentioned. Since it is sesame oil, you can use it with less guilt as it is good for health.
Make sure to balance tamarind, spice and salt.
I cooked the brinjals covered, but it is optional.
Do not cut the brinjals until bottom. Just cut half way plus little more down, otherwise will break after it gets cooked.
Also do not over cook the brinjals.
Use medium sized round brinjals for best looks and results.
I know it's a lot of masala to roast and grind, but that's the specialty of the recipe. Once you gather the ingredients, it's done easily.
Goes well with rice, I had with rice and beans curry.