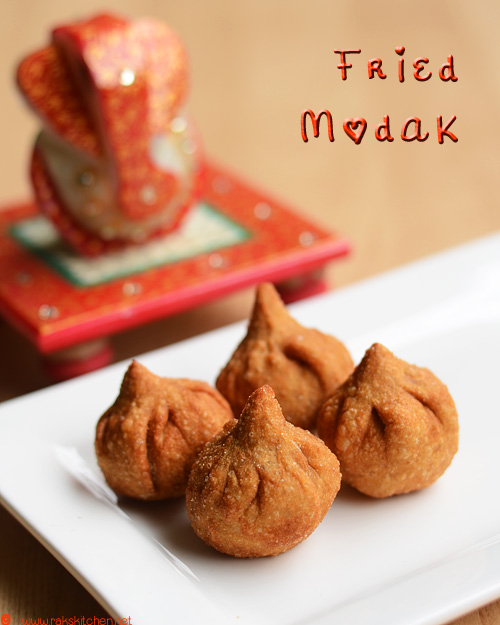 Fried modak is made with wheat flour outer covering and coconut, jaggery filling. Deep fried in
ghee
or oil, it can keep good for few days too. My mom told me this recipe when she was here. I was afraid last year how it would turn out without opening up in oil and if it would spoil the oil. My mom gave me the confidence as she made a lot of this and nothing opened up while frying. She deep fried this in ghee. And she told it kept good without getting spoiled for few days too. So I decided to try this out and it turned out really good. I found it easier than the regular kozhukattai 😊
Wishing all my readers, friends a happy Ganesh Chaturthi!!
😊
Check out the video for Fried modak recipe
Fried modak recipe
Recipe Cuisine:
Indian
|
Recipe Category:
Sweet
Prep Time
:
20 mins
|
Cook time:25 min
|
Makes
:
10
Outer layer
Wheat flour/ atta – ½ cup, heaped
---
Water – as needed
---
Salt – as needed
---
Stuffing
Grated coconut – ½ cup
---
Jaggery – ¼ cup
---
Cardamom – 1 , powdered
---
Method
In a pan, heat coconut, jaggery, cardamom with a tbsp of water. Cook over medium flame until the jaggery melts and again becomes thick. It will start leaving the sides. Set aside for cooling.

Make a smooth dough out of flour, water and salt, in a mixing bowl. Let the dough be stiff, not too loose. If you add more water, then outer layer won't turn crisp.

Make big chapathis. Cut out smaller discs using a lid. Repeat to finish the dough and arrange in a broad plate. You can roll again the dough we cut out from the chapathi.

Make equal sides balls with the coconut pooranam we made in step 1. Grease your hands with ghee every time. Keep one ball of stuffing in the middle of the small disc.

Fleet it on the top and pinch to seal it. Repeat to finish all, in the same way.

Heat enough oil in kadai, once hot, put the flame to medium. Drop few modaks at a time. Cook in medium or low flame until golden turning now and then to avoid browning at spots. Drain in paper towels.
Notes
Make sure pooranam is not watery. If watery, it may lead to opening up while frying due too too much steam inside.
If you mix the stufiing in high flame or for more time than needed, then it may turn hard or brittle.
Make the dough stiff so that the covering turns crisp as you deep fry.
To get a even cooked crispy modaks, cook in low flame for long time. At no point the ghee or oil should smoke while cooking.
If you find more dough on the top while making modak shapes, pinch out little dough on the top after making the shape.
Keep turning while the modak gets fried, otherwise it won't get evenly golden.
Ghee fried modaks are crispier, tastier and keeps good for longer time. Delicious and flavourful fried modaks for Ganesh chaturthi!