Garlic bread from scratch without any fancy ingredient or procedure. Anyone can do it, if you follow the recipe, you get it done!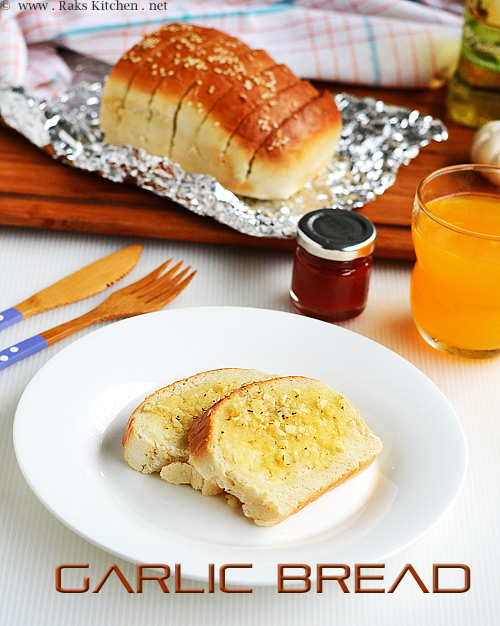 I always wanted to bake garlic bread at home just like we get in Pizza hut. Love only that we get there, than any other versions. So today I tried it.
It's great snack for kids. Aj likes this as well. You can also make a simpler version of this by spreading a store bought garlic cheese spread over baguette slices or even with our white bread slices.
Great finger food for the evenings and play times. This recipe is adapted from Suhaina's blog.
Now after 2-3 weeks, Aj will get holidays and he will be at home for a month. All moms out there will know how it would be when the kids are at home.
Ingredients
| | |
| --- | --- |
| Bread flour | 1 & ½ cup |
| Instant yeast | ¾ tblsp |
| Milk | ¼ cup |
| water | ¼ cup |
| Olive oil/ melted butter | 3 tblsp |
| Sesame seeds | 2 tsp |
| Sugar | 1 & ½ tblsp |
| Salt | 1 tsp |
For spread
| | |
| --- | --- |
| Butter(salted) | 2-3 tblsp |
| Parmesan cheese, grated | 2 tblsp |
| Garlic, grated or chopped | 1 tsp |
| chopped fresh cilantro | 1-2 tblsp |
Method
1. Mix flour, yeast, sugar and salt in a big mixing bowl. Mix water and milk and heat it to lukewarm. Add it to the flour along with oil/butter and mix well. Knead the dough well for at least 10 minutes until it is elastic and smooth.
2. Keep aside covered with a cling wrap for an hour or until it rises double the size.
3. Punch down and again knead for 2 minutes and flatten it to fit it to a 8.5 inch loaf pan. Let it rise for 10 minutes or until you preheat the oven. Preheat the oven to 180 deg.
4. Once the dough is risen, brush it with milk and sprinkle sesame seeds(white) over the top. Bake the bread for 20 minutes. Or until the base of the bread when tapped is crisp.
5. Meanwhile prepare the garlic,butter,parmesan spread by mixing everything under 'For spread',  with a fork.
6. Cool down the bread for minimum 30 minutes covered in a clean kitchen towel and using a knife, slice halfway through the bread. Before the time of serving, preheat the oven to 200 deg. 
Apply the butter generously in between the sliced bread.Bake for 5-8 minutes. Take care not to let the bread get burnt at the top.
Enjoy it while it is warm, as a tea time snack!
Notes
This gives a medium sized bread loaf. You can bake the bread in advance. Do not use garlic more as it will give strong garlic smell. Also do not skip the herb. Use butter, cheese as mentioned. You can use garlic powder available in stores. If you want spiciness, use red chilli flakes in the spread. I used dried herbs, so used less. Use sharp knife for cutting the bread. Also make sure to cool down completely before cutting. You can also slice out separately and grill for 5-8 minutes to get a crispy garlic toast.