I have a dry version of
poondu milagai podi
, which is a semi dry
chutney
, authentically ground in ammai by coarsely smashing it. Basically its just garlic (with skin) and dark roasted dry red chillies and salt. But as now we all are not using ammi, we add coconut and grind it in mixer, peeling off the skin of garlic too. I just love it a lot than anything for
idli
, dosa or
vendhaya dos
ai
. I love it to mix with curd and have. But my MIL makes a wet chutney with all these grinding smooth as she loves that way and my BILs too likes that more. This time when she made it, I just loved it. For a change it was really good to have it with
vendhaya dosai
. So I wanted to try too. I ground with little tamarind, but later when I asked her about the recipe, she told no need for tamarind too. I liked the no tamarind version best. So I am adding it to the ingredients list as option, but recommend without tamarind.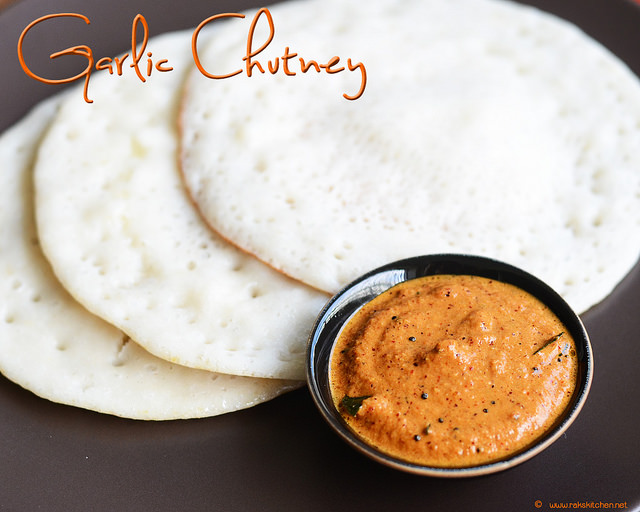 Garlic chutney recipe
Recipe Cuisine:
Indian
|
Recipe Category:
Breakfast Side dish
Prep Time
:
15 mins
|
Cook time: 5 mins
|
Serves
:
4
Ingredients
Garlic (small variety) – 15 flakes
---
Dry Red chilli – 6
---
Coconut, grated – 1/4 cup
---
Asafoetida – A pinch
---
Salt – As needed
---
Tamarind (optional) – A pinch
---
To temper
Oil – 1 tsp
---
Mustard – 3/4 tsp
---
Curry leaves – few
---
Method
Peel garlic. In few drops of oil, roast red chilli until deep red, garlic just until it turns golden here and there, dry roast coconut until dry and fragrant. You can also roast asafoetida along with these or add as such.

In a mixer, grind chilli, coconut and salt first, later add garlic and little water and grind to a smooth paste.

Temper with mustard, curry leaves and mix with the chutney.
Goes well with idli or dosa but best with vendhaya dosai. Also with sponge dosai.