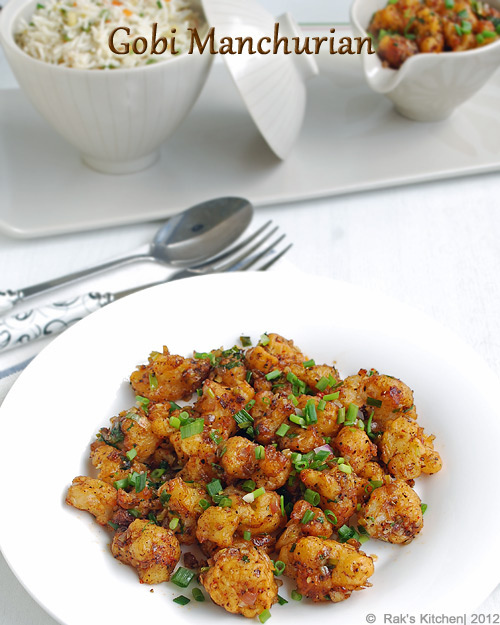 Gobi 65
and gobi manchurian dry, both are my family favourite. So where ever we go, we search for any on of the above in the menu card. Now a days Indian Wok is our favourite eat out, and the reason being they serve best gobi manchurian that is really dry. It will be crisp, still juicy and we all are now big fans of this one. Aj is just crazy about it. I tried my best to try it out at home, the only thing I could not get is to maintain the crispiness. But still my family enjoys my version of the dish.
Gobi Manchurian dry recipe
Recipe Cuisine:
Indian
|
Recipe Category:
Starter
Prep Time
:
15 mins
|
Cook time: 30 mins
|
Serves
:
2
Ingredients
Cauliflower – 1 medium sized flower
---
Onion – 1, very finely chopped
---
Garlic – 6 flakes, very finely chopped
---
Spring onion – 3-4 sprigs
---
Chilli tomato sauce – 1 tblsp
---
Soy sauce – 2 tsp
---
Pepper powder – 1 tsp heaped
---
Salt – As needed
---
Sugar – ½ tsp
---
Maida/all purpose flour – 2 tblsp
---
Corn flour – 2 tblsp
---
Sodium bi carbonate – 2 pinches
---
Oil – As needed
---
Method
Clean the cauliflower by keeping it immersed in hot water with salt for 10 minutes. This way, its also being parboiled.Make a batter with corn flour, all purpose flour and cooking soda, thick enough to coat the cauliflowers. You can either dip the well drained florets one by one in the batter or just mix all of it with the drained florets and deep fry. Just make sure there is enough batter to coat the florets. Deep fry until crisp and light.Keep aside.

In a wide pan, add 3 tblsp oil and add chopped garlic. Give a quick stir and then add finely chopped white part of the spring onion and the chopped onion and fry till transparent. Add both sauces, salt, sugar, pepper and mix well.

Add the deep fried cauliflower florets and toss well to mix it evenly. Lastly add finely chopped green part of the spring onion and mix well for a minute.
Notes
Adding lots of garlic and pepper adds flavor to this dish.
You can also add some capsicum and chopped coriander leaves for extra flavour.
Finely chopped ginger can be replaced with garlic.
Serve hot immediately as starter or with any Chinese style rice / noodles….!