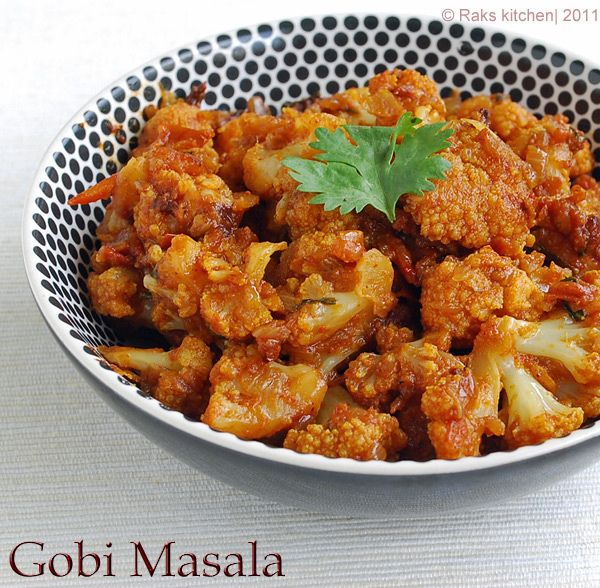 I usually make cauliflower curry for Aj who loves cauliflower a lot, that he would even eat it every day as accompaniment for his lunch. He is that much crazy about cauliflower. Even I like cauliflower, there is a fair reason behind it. My mom never buys cauliflower or cooks cauliflower at home. That's coz, they hate the small worms inside the cauliflower,which is used to be a common thing those days. So she treats that veggie as 'Non-veg'. So only very few times I had tasted cauliflower in restaurants, when I am with my friends.
Then after marriage, things changed, thankfully they do buy and cook cauliflower. And when I started cooking, I enjoyed cooking cauliflower in different forms :
gobi paratha
,
aloo gobi
,

cauliflower kurma

,
curry
,
fries
,
gobi 65
or add it in
briyani
or
kurma
.
Hope this is enough to prove😏. But the only thing what I don't like is the cauliflower we get here is so very different from the ones we get in India. Here it gets cooked so quick and becomes very soft and turns mushy easily. I like it more on firm and crunchy side. Still nothing stops. This gobi masala recipe is one of Aj's recent favourite cauliflower recipe. Once when we ordered lunch, this one came as an accompaniment and I was wondering, why I have not tried this way so far. And very soon I tried and it came out even better than what we tasted. My kid just loved it and I too loved it. It goes very well with
roti
or
naan
, even kara kuzhambu too or mild pulaos too. With all these masalas, it tastes awesome..!won't it?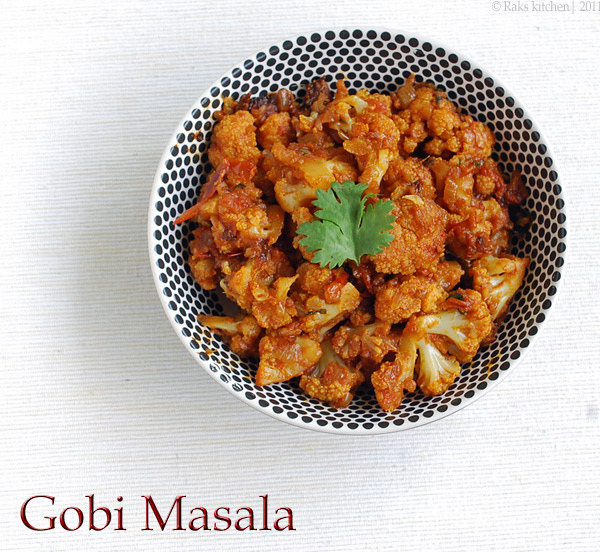 Gobi masala restaurant style recipe
Recipe Cuisine:
Indian
|
Recipe Category:
Side dish
Prep Time
:
10 mins
|
Cook time: 20 mins
|
Serves
:
3
Ingredients
Cauliflower – 1 medium flower
---
Onion – 2 , finely chopped
---
Tomato – 2 , Finely chopped
---
Ginger garlic paste – 2 teaspoon
---
Garam masala – ½ teaspoon
---
Red chilli powder – 1 teaspoon
---
Coriander seeds powder – 2 teaspoon
---
Turmeric – ⅛ teaspoon
---
Tandoori or biryani masala
powder (optional) – ½ teaspoon
---
Coriander leaves, chopped – 2 tablespoon
---
Curry leaves – 1 sprig
---
Salt – As needed
---
To Temper
Oil – 2 tablespoon
---
Fennel seeds – 1 teaspoon
---
Cinnamon – 1 inch piece
---
cardamom – 1
---
Clove – 1
---
Method
Take a heavy bottomed pan, heat it with oil and temper with the items given under 'To temper' table. Add curry leaves,chopped onions and fry till transparent. Add Ginger garlic paste and fry for 2 minutes in medium flame. Add the chopped tomatoes, salt and fry till it becomes soft and mushy.

Add all the masala powders and fry in medium flame for 3 minutes or until raw smell goes off.

Add the cleaned cauliflower florets, cut into bite sized pieces and add ¼ cup water and mix well.

Cook covered in medium flame until cauliflower is done. Add coriander leaves and fry for 3-5 more minutes. Add more oil if needed.
Notes
Clean cauliflower properly before cooking it by immersing it in hot water with salt for 10 minutes.
Do not over cook as it will turn the cauliflower mushy.
Add more oil while frying at the last if it gets stuck to the kadai.
Transfer to the serving bowl. Serve with roti or any other rice, as accompaniment for it.