Gobi paratha recipe - Cauliflower is grated and cooked with masala powders. Simple and healthy breakfast or dinner.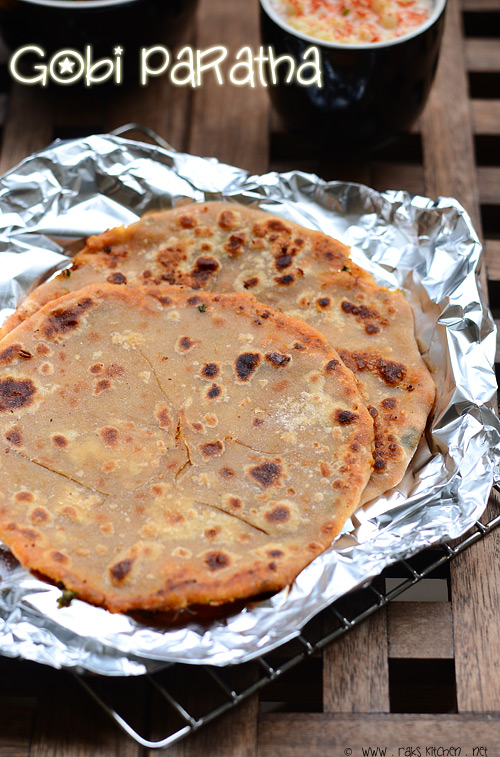 There are so many ways to make this gobi paratha. Different people do in different ways. Even you all people know how to make this, still as a beginner, I made it this way.
Gobi Paratha is my brother's favourite dish...he requested to post this last week itself. But since I haven't tried this before,so I first asked my north Indian friend, Sangeeta and did it today. So here you go my dear brother 🙂
Gobi paratha recipe
Recipe Cuisine: Indian | Recipe Category: Breakfast
Prep Time: 10 mins | Cook time: 10 mins | Serves: 4
Ingredients
Wheat flour - 1 cup
Salt - as needed
Oil - 1 tbsp
For stuffing
Cauliflower - 1 big
Coriander leaves(chopped) - ½ cup
Ginger(finely chopped) - ¾ tsp
Green chilly (chopped) - 1
Turmeric powder - ¼ tsp
Garam masala powder - ½ tsp
Red chilli powder - ¾ tsp
Asafoetida - a pinch
Cumin seeds - 1 tsp
salt and oil as needed
Method
Mix wheat flour (atta) with salt and oil,well. Then prepare a soft dough by adding luke warm water to the flour(it should not be stiff but soft...) and keep aside.
Usually I prepare and keep the dough for half an hour. At least 10 mins dough resting time should be given. After that, knead again and roll into a log, cut equal sized and roll it into balls.
How to prepare the stuffing
Grate the flower part of the cauliflower using a grater, as shown in the picture. Keep ready the other ingredients required for the stuffing.
 Heat a pan with oil. Add  cumin seeds, asafoetida, ginger, green chilli in order, give it a fry.
Then add the grated  cauliflower, cook for a minute and add turmeric, red chilli and garam masala powders, coriander leaves and sprinkle salt (little only will be needed).
Continue cooking for 5 minutes, with constant stirring.
Cook till the cauliflower turns soft. By this time it should have reduced into half the amount.
Transfer to a bowl after done and cool down.
Method 1
Take the prepared dough and roll into balls of big gooseberry size.(as shown)
Roll the balls into chapatis and keep aside.
Take one chapati and spread at least 2 tablespoon of the stuffing till the ends.
Place another chapati over this and first press gently over it, and then seal the ends and fold as shown in the picture.
Sprinkle over some flour and spread into thin or thick parathas as per your desire..
Heat tawa and add little oil and toast this parathas till golden in colour.
Method 2
Roll a tennis ball of dough into thick circle. Fill the prepared stuff inside, equally as the dough size. Close it towards the centre as shown, pinch and flatten.

Spread to a thick paratha with generous dusting (I use maida for dusting) and cook it both sides on a hot tawa over medium flame. Press gently while cooking to get it done evenly browned.
Serve hot with any kind of raitha (boondi raita) or simply with pickle!