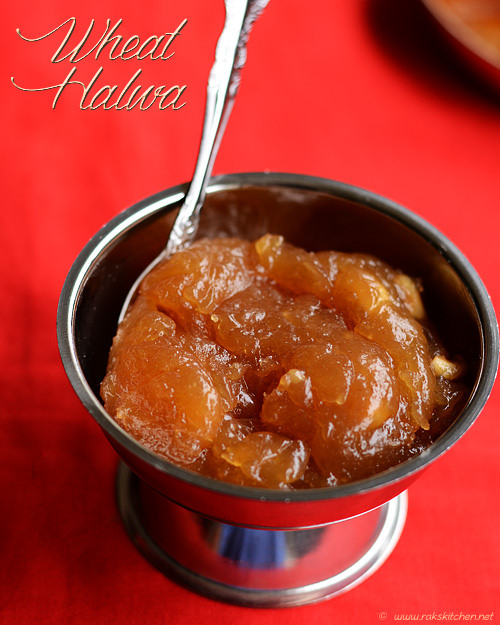 Godhumai halwa / Wheat halwa / Thirunelveli style halwa has been one of my dreams to make it at home. But always get scared to try thinking about the ghee that goes in. I have been waiting to try for this Diwali and luckily, 3 months back, a reader
(Shankari Bagavathi)
who's background is from Thirunelveli, asked me to try and post. I told her that I have no authentic recipe. She immediately sent me recipe which is from her own grandma, but also referred a video in which a different method of making sugar syrup was there. So I combined both as she suggested me and tried. And I was amazed with the results.
With no artificial food colour or flavourings, I could totally relate it to the '
Iruttu kadai halwa'
which I have tasted 2-3 times. Once when we went for a family tour to Thirunelveli and the other two times, Vj got it from some shop. Later I asked him to stop buying as I am not a big fan of this halwa. I like it but I cant take more than 2 spoons, it will '
thegattify'
for me😊.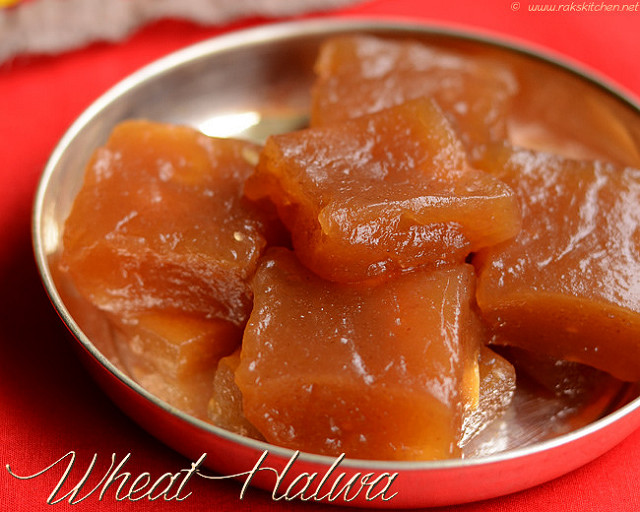 The first time I tasted wheat halwa was when I was kid and it was homemade. Mom made it like a project and she made it in a large quantity, so I could see her sweat making it. One has to keep on stirring it so, it was difficult for her I understood. I just watched her making later tasted it little that's it. Those days I used to completely hate sweets. And when I got conceived something ulta happened and I started loving sweets. But still I can say I don't hate sweets now, not much addicted as well.
What I love about the recipe is the caramelizing sugar part. It adds more flavor and colour to this halwa and tastes very close to the authentic Thirunelvali Iruttukadai Halwa. Thank you so much Shankari, for sharing the recipe 🙂. These days we are in nuclear family system and I am sure you can make this in small quantity like me for this Diwali and surprise your family with this authentic sweet. My picture is not that great, coz I got content as well as tired after finishing this project, so took the pictures fast😀.
Wheat halwa / Godhumai halwa
Recipe Cuisine:
Indian
|
Recipe Category:
Sweets
Prep Time
:
8 hrs/ overnight soaking
|
Cook time: 45 mins
|
Makes
:
15 small squares
Ingredients
Method
Wash and soak the wheat berries overnight(or 8 hrs).
Drain the water, grind it with ½ cup water smoothly.
Filter it using a large metal strainer.
Again grind the remain with another ½ cup water. Strain through a metal strainer.
Keep the collected milk from the ground wheat aside for 30 minutes undisturbed. Drain the excess water. Make sure to use correct sized vessel to ensure draining the excess water easily (my experience).
In a heavy bottomed vessel, I used a nonstic pan, heat 1 tblsp of ghee and fry broken cashew nuts until golden brown and keep aside. Add ½ cup sugar and 1 tblsp of water to it.
Continue heating in medium flame, while you keep stirring. It will melt, get dry again and then later start changing colour. At this point you should put the flame to low. Make sure you stir all the time and not let the flame in high or not let the sugar get burnt. Otherwise the whole halwa may turn bitter.
When the sugar syrup turns golden in colour, this is perfect for this halwa. Add 1 cup water REALLY CAREFULLY AS IT WILL SPLUTTER. Stir well so that the caramelized sugar gets dissolved. Yes, it will solidify and float on the top when you pour water. So mix well to almost dissolve it.
Now add the remaining sugar and mix until it dissolves. Continue boiling until you get one string consistency. That it, wipe a little syrup from the back of the ladle dipped in sugar syrup, using ur fingers – forefinger and thumb, a string will form inbetween ur fingers without breaking. Be careful not to miss the consistency, make sure you do it in medium flame otherwise you will get burfi instead of halwa. Add the drained wheat milk.
Keep mixing as you are pouring. The colour will change as the milk gets cooked.
Now start adding ghee little by little, say one tblsp at a time and mix until the ghee gets mixed with the halwa for every tblsp. It will absorb (incorporate the ghee) so add little by little as you mix and stir for a minute and repeat the process.
At one stage, the ghee will not be absorbed anymore, it will be at the sides as such.
It may take a lot of time, so patience is the key. Never put the flame in high, do in medium flame always. Keep stirring, the whole process takes 30 mins roughly.
Now add the cashew nuts and keep stirring until the whole halwa sticks to your laddle you are stirring and rotates freely. Do not switch off as soon as the halwa starts to leave the sides of pan, the texture will be too soft like porridge if you taste. keep stirring until you see whitish spots appear in the halwa and the whole halwa will start changing slightly pale.
Spread it over a greased plate and let it cool down.
Optionally you can cut it into pieces or spoon it as such to serving bowls.
Notes
I used samba variety of wheat berries. For me extracting milk was mess free and I could extract completely the milk and fibre in two times itself. I am not sure with the other variety. My mom used to say samba godhumai works best. So I saw this pack of samba godhumai in mustafa surprisingly and took it to try this halwa.
Making caramelized sugar syrup is important for this recipe for getting the authentic flavour. But make sure you do not brown the sugar too much.
You may not need the whole ¾ cup of ghee, it depends, so add accordingly and see yourself.
The ratio of wheat and sugar is 1 : 3 , so do not alter the recipe for the glossy look and authentic taste.
Perfect for the Diwali festival season, loaded with ghee and sugar. Restrict yourself to few spoons per day and enjoy the halwa.