Grape juice can be made easily at home and with ginger, it tastes absolutely delicious and appetizing. Lemon adds a tangy twist.
I always make it plain grape juice. But this time tried this way. It's quite refreshing with the hint of lemon and ginger flavour. Vj is a great fan of grape juice. He loved this one too… Supposed to post yesterday, but was a bit busy, so couldn't 🙂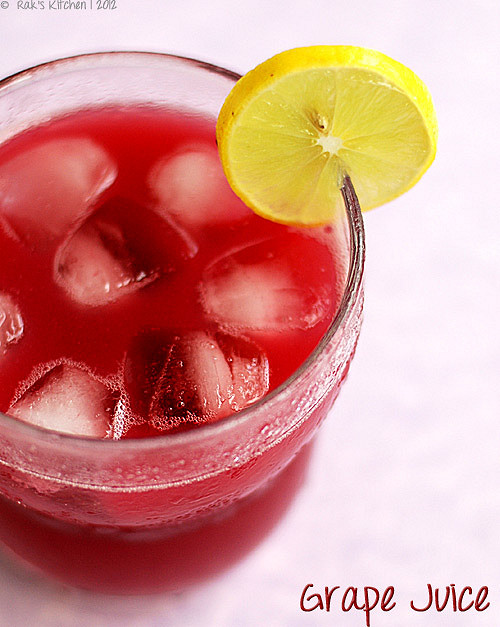 Grape juice
Recipe Cuisine: Indian | Recipe Category: Drink
Prep Time:5 mins | Cook time: 0 mins | Serves: 2
Ingredients
Grapes- 2 cups
Ginger - ½ inch piece
Lemon Juice from - 1 lemon
Sugar - As needed
Salt - A pinch
Water - As needed
Method
Wash grapes well and separate it from its stalk. Grind it with ginger and strain it through metal strainer. Use water while straining to make it easy and fast.

Mix sugar as needed and squeeze in the lemon, mix well.

Refreshing juice is ready, always serve chilled, I love it with lots of ice cubes 🙂