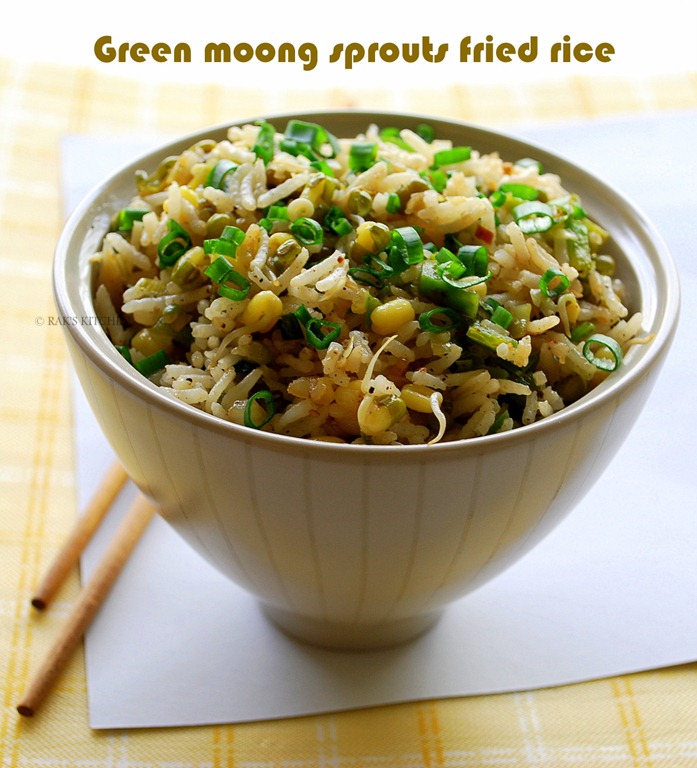 Healthy moong sprouts fried rice, easy to prepare and tasty too.
To sprout the green gram, soak it for some 10 hours (overnight) and then drain it in a pure muslin cloth.
Tie it and keep it hanged for a day.
Sprinkle a little water in between and you can get sprouts for this rice.
I now a days don't hang in cloth at all. Just drain and let it have some moisture all the times in the container, so it sprouts as such.
Once it sprouts, you can refrigerate and use.
We get these sprouted green gram in the groceries, can use if you are time pressed. But if you make at home, you know it is very hygienically prepared.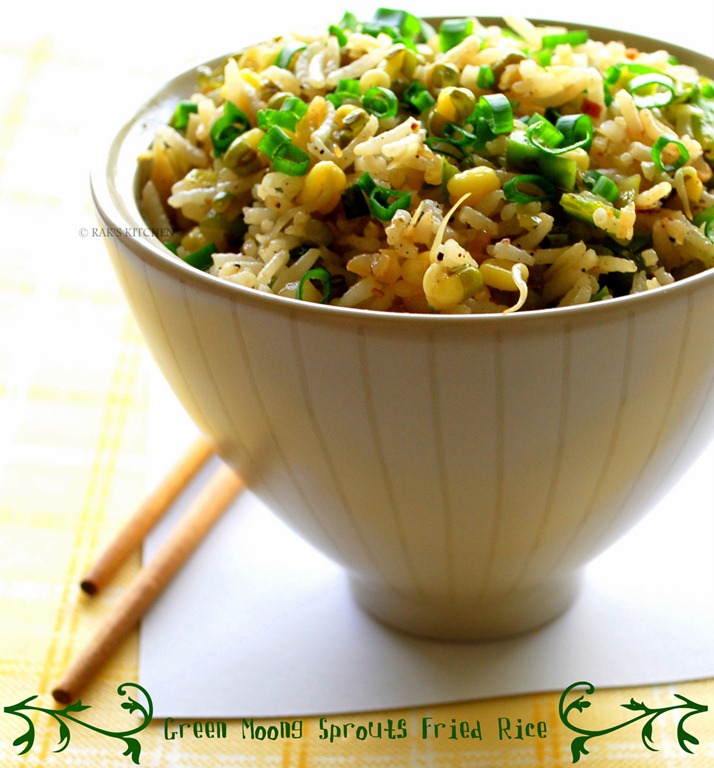 Ingredients
| | |
| --- | --- |
| Sprouted whole green gram | 1 cup |
| Spring onion | 1 small bunch |
| Capsicum,chopped finely | ½ |
| Onion,chopped finely | ½ |
| Cabbage,chopped finely | 1 cup |
| Sugar | ½ tsp |
| Basmati rice | 1 cup |
| Soya sauce | ¾ tsp |
| Pepper powder(white or black) | ½ tsp |
| Salt | As needed |
| Olive oil | 3 tbsp |
| Green chilli | 2 |
| Ginger, finely chopped | 1 tsp |
Method:
Soak rice for 10 minutes.
Cook and cool down the rice and keep aside.
Cut onion and also the white part of spring onion,cabbage,capsicum finely and cut the green part of the spring onion into 1 inch pieces.
Grind ginger and green chilies into coarse paste.
Heat a broad kadai with oil and first add the ginger-chilli paste.
After a minute,add sugar,onion,capsicum,cabbage and lastly the green gram sprouts one by one in order,frying each for a minute.
Lastly add spring onion,salt,white pepper powder,soya sauce and lastly cooled rice.
Stir well till the rice gets heated.
Serve hot with any kind of korma or sauce of your choice.