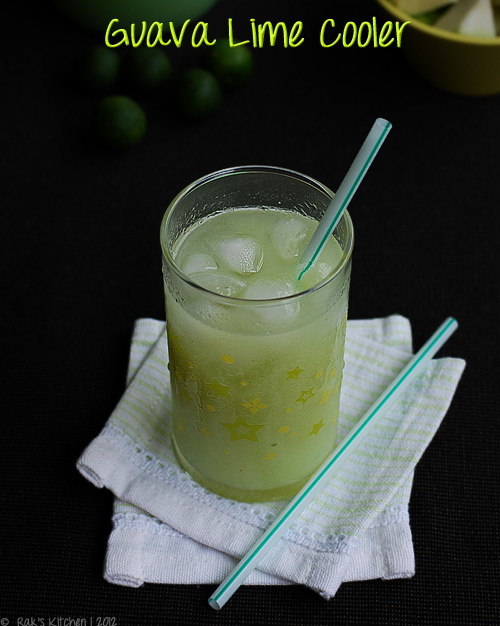 Had this Guava lime drink in Salivation restaurant. Me and Vj just love it. It is very different from the usual drinks,yet delicious. Always been puzzled about what the ingredients could be. Because, they named the drink differently. Luckily they had the hint about the recipe in the menu card itself! How cool! Then tried at home to recreate it. Sure this will be in my menu often. It will make our guests say wow and they will never fail to ask you for the recipe!

Ingredients(Makes 4 glasses)
| | |
| --- | --- |
| Green guava | 2 |
| Lime | 1 |
| Lime zest | A pinch |
| Honey | 2 tblsp |
| Salt | A pinch |
| Sugar | If needed |

Method
Wash and cube the guava. Place it in blender and add some water. Grind it for a minute. No need to grind for too long. Otherwise you will grind the seeds as well. but make sure you had ground the fruit smooth.
Strain the ground guava pulp using a metal strainer, by adding water while straining. Add lime zest and squeeze the lime to the guava juice. Mix salt,honey and sugar(if needed).
Place ice cubes in the serving glass and fill it with the guava lime cooler. Enjoy!

Notes
Honey is very very important for the flavour. If you want to test, just taste the juice before and after adding honey, you will know 😉