Holi recipes - Collection of Holi sweets, Holi drinks as well as Holi snacks all at one place for easy planning.
Holi is an Indian festival celebrated especially, in North India. But it is celebrated through out the country. Also, Holi is festival of colours.
Holi special recipes:
For Holi special recipes, bhang is added during holi celebrations. Ingredients vary from milk, butter milk, curd, malai, maida especially, khoya.
Meanwhile, time taken to prepare the dishes vary from 10 mins to 3 hrs. Plan your preparation/ menu ahead and also check out my recipe index page for more recipes.
I know for Holi people have parties or get togethers amongst friends, family as well as the community, apart from the fact that they play with colours.
So here are some recipes, ideas for your Holi party to plan and have an exciting menu.
Holi special food, My picks
Drinks for Holi
For drinks, serving people with a tall glass of chilled Lassi or classic Holi special drink Thandai will be a treat. Even keep it simple and light with Jal jeera.
Want to make something exoctic, try this Rose badam kheer!
Starters
Coming to Starters, chaat recipes are must for a Holi menu, don't you agree? One cannot say to a delicious Dahi vada or countless Pani puri would be a treat too. Both these Holi preparations can be a treat when you serve it chilled after a hot day in the festival celebration.
Check out the green chutney recipe here and dates chutney here or tamarind chutney here.
You can also plan ahead and prepare dry snacks like shakkar pare or namak pare.
What to make something instant? Make pakoras!
Main course
Party food means, there should be something to eat as well as good quality times with friends. So prepare something that are bulk and easy to make. Like a simple Pulao and Dal makhani. You can also opt for Pav bhaji or chana masala with bhatura combo.
A simple Lunch menu will fill the heart.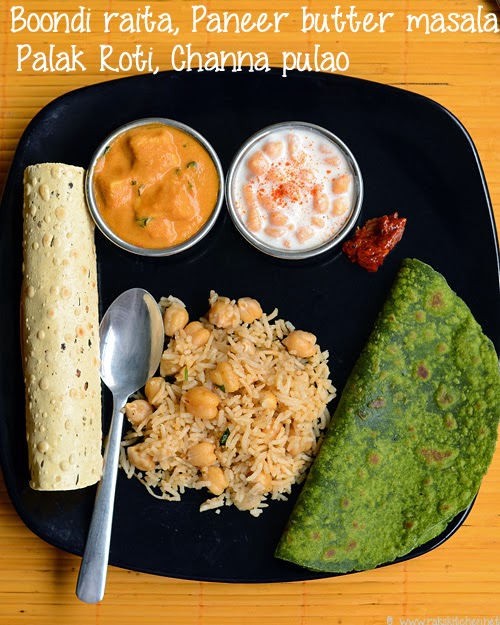 Dessert
While malpua rabri and Jalebi are classic hits, Gujiya also is one main must have sweet for Holi. Therefore, here's an easy way to enjoy similar dessert. Picture is linked to the recipe.
Happy Holi to all who celebrate!
Holi drink recipes
Holi special sweet recipes
Halwa recipes:
Burfi recipes:
Jamun recipes:
More sweets:
Snacks for Holi party menu
Chaat recipes