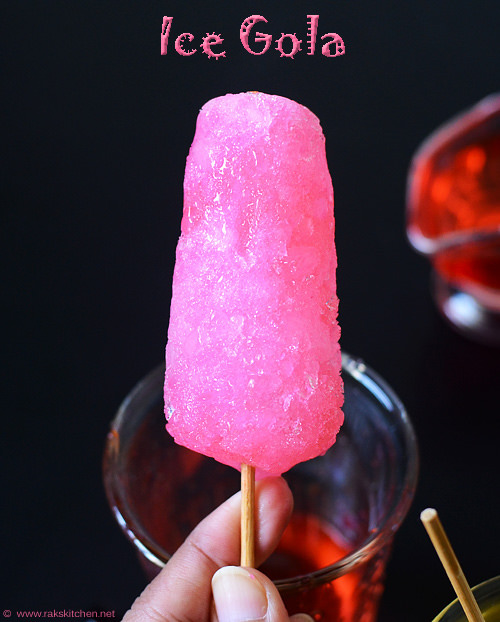 When I was thinking what to post for summer in my blog, some how ice gola came to mind. I have seen ice golas only in ads. But when ever I see, it is toooooo tempting. I have no experience eating ice golas too. I think more prominent in North part of India or may be I have no exposure to this if its available in south India. But when I tried for the first time at home seeing a
youtube video
, it was too different from the way I thought and it was really a treat for this summer. Even Aj took a sip from the gola and he loved it.
When I tried I thought this is the desi version of granita. Granitas are made with pure fruit juices while these are made with colours and flavors still its our desi style summer treat, we will sure lean towards it. No need to worry about the gola syrup, you need not know gola syrup recipe but you can make this simply with the items we have at home or easily available at market. Like I did. Rose syrup and orange squash is what I used. I have tried the same with Rasna too. See notes to know how to use rasna in this ice gola.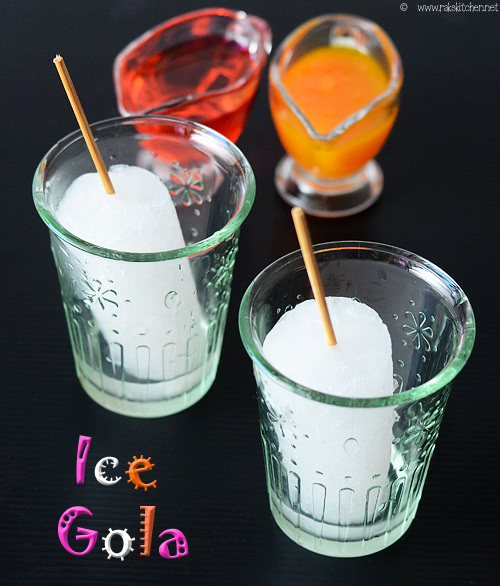 Ice gola is too easy to make at home quickly. All you need is ice cubes. Ice cubes when crushed in mixer, gives less volume so you may need two trays full of ice to get 2 or 3 ice golas. But more than making and eating, capturing it is too too tricky and messy. I have made this quite few times and tried once clicking this three weeks back, but I could not click it properly. Today too what it was in my mind, I could not capture, I was just making sure to give a decent picture and clicked indoor in an AC room. This is a wonderful summer treat for your family and yourself. Do try it.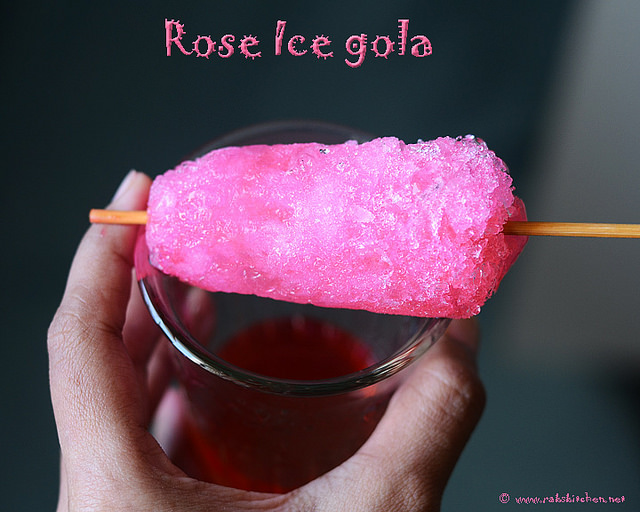 Ice gola recipe
Recipe Cuisine:
Indian
|
Recipe Category:
Popsicle
Prep Time
:
15 mins
|
Cook time: 0 mins
|
Serves
:
3
Ingredients
Ice cubes – 30
---
Any flavoured syrup/ squash – 9 tblsp
---
Lemon juice – optional
Method
Place few ice cubes at a time – upto half the mixer and crush it well until it resembles fine icy grains. The mixer will get stuck if you over load, so few at a time. Act quickly to finish crushing all the ice cubes.

In a metal or plastic tumbler, spoon the ground ice and tap well so that the ice gets packed without any gaps. Once the tumbler is full, insert a popsicle stick or a skewer like me and press around again to make the ice tight and hold the stick.

Gently invert the tumbler and pull out of it and pour your desired squash/ syrup over this. You can squirt lemon too if you want. Serve immediately with a tumbler to collect the dripping.
Notes
You should make this super quick, otherwise the crushed ice will easily melt in this hot summer.
If using rasna, make a super thick juice with lots of rasna powder (instant mix with sugar) and pour over the ice. Any choice of your flavour.
The syrup you pour should be thick, otherwise it will easily melt away the crushed ice.
If you are healthy concious and want to try with fruits, try granita rather than this ice gola.
Make only 2 or 3 at a time and serve then and there, otherwise you may not be able to handle it.
This is too good to drink the juice alone from the ice and kids too will be exited to have this. I used my rose syrup and orange squash.