Microwave hot chocolate recipe – Single serving. Delicious, rich and easy, with step by step pictures.
I tried this from Hershey's website and loved it! Its damn easy and can be made under 5 minutes in microwave oven. Smells and tastes great and perfect to start a day for a chocolate lover. Best way to finish away the last few spoons of coco powder. Best way to treat yourself when you are craving for something chocolatey, best way to cheer up your bad mood…Only 3 ingredients!! And this is comparatively easier than stove top hot cocoa!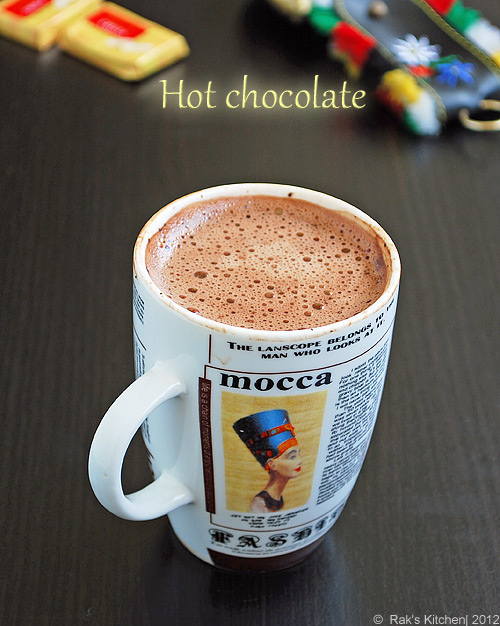 Microwave hot chocolate recipe
Recipe Cuisine:
Continental
|
Recipe Category:
Beverages
Prep Time
:
1 mins
|
Cook time: 1 mins
|
Serves
:
1
Ingredients
Coco powder(I used Hershey's) – 2 tsp
---
Sugar – 2 tsp (adjust as per ur taste)
---
Milk(I used low fat) – 1 cup
---
Method
Place coco and sugar in a microwave-able cup.
Add 3 tblsp of milk and blend well.
Top with milk and microwave in high for 1 and ½ minutes or until the milk boils.
Note
You can stir in between to ensure even mixing.
You can reduce coco powder upto 1 tsp.
My one cup holds 250 ml in this case.
Mix well and enjoy your hot chocolate HOT!