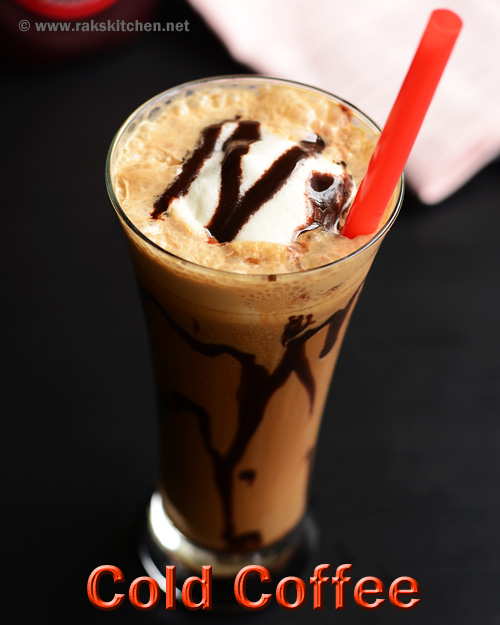 Cold coffee is an easy drink, treat for coffee lovers with easy ingredients available at home.
Am not a big fan of coffee, except for cold coffee. I am big fan of cold coffee. As a hot drink, I don't like to have coffee, I will taste but. I love coffee flavor. It smells so heavenly, so I love to prepare coffee. I love all coffee flavored desserts like coffee flavored cake, candy, toffee (coffee bite), or any drink.
I am big fan of my mom's and MIL's coffee flavor. Even while they make the coffee, it smells so sweet. I would say till date, my mom's and MIL's coffee tastes best and haven't tasted anything better than that so far. To be more specific, I loved coffee more after marriage as I started giving importance to learn how to prepare it. As Vj is used to take coffee every morning, I always wanted to recreate my MIL's coffee.
Initially when I moved here to Singapore, I would almost forget to make decoction and make it only after attending Aj. Slowly I started loving the process of making coffee, like an art. Every time I make coffee, I would taste it to see if it is like my MIL's coffee. I used to ask Vj. I have come a long way in making coffee, still I would love to prepare it with fresh cow's milk or at least aavin milk and see how it turns out.
Check out my filter coffee post (with video) to see how to prepare fresh coffee (decoction)
Cold coffee recipe
Recipe Cuisine:
Continental
|
Recipe Category:
Drink
Prep Time
:
10 mins
|
Cook time: 0 mins
|
Serves
:
2
Ingredients
Coffee (decoction)* – 1 tbsp
---
Milk, chilled – 1 & 1/2 cups
---
Sugar, powdered – 2-3 tbsp or as per taste
---
Ice cubes** – 4
---
Chocolate sauce – 1 tbsp
---
Fresh whip cream – 2 tbsp (optional)
---
* I used fresh decoction, you can prepare with 2 tsp instant coffee powder + 1 tbsp hot water.
**I used coffee ice cubes for strong taste.
Step by step method
Add milk, coffee, sugar and ice cubes in a mixer/ blender. I used whipping blade attachment, you can use regular blade too. Blend well until frothy (1-2 minutes)

In a serving glass, squeeze in the chocolate sauce. I chilled the serving glass in freezer. Pour in the blended coffee and top with whipped cream (optional) and top with more choco sauce if desired.
Tips
You can make coffee ice by freezing the remaining decoction in the ice trays.Just 4 cubes enough for serving 2.
Ice cubes added while blending helps in giving you a frothy rich top over the cold coffee.
You can add some whipping cream in the coffee while blending itself for rich taste.
Coffee and sugar can be added according to your preference. Some like slight bitter, some like on sweeter side. So adjust according to your taste preference. If the coffee is too bitter, add more sugar and milk. If too sweet, milk and decoction.
I have used powdered sugar, you can use a simple syrup too. You can make simple syrup by heating sugar and water just to dissolve sugar and cool down. Use it as needed in the recipe. No need for consistency for this, just keep it simple.
Never use granulated sugar as it will not be dissolved in the coffee.
You can boil milk and add sugar to it, dissolve and cool it. I used raw milk. If fresh cow's milk, better to boil and use.
Serve immediately. You can top with chocolate syrup or even coco powder.