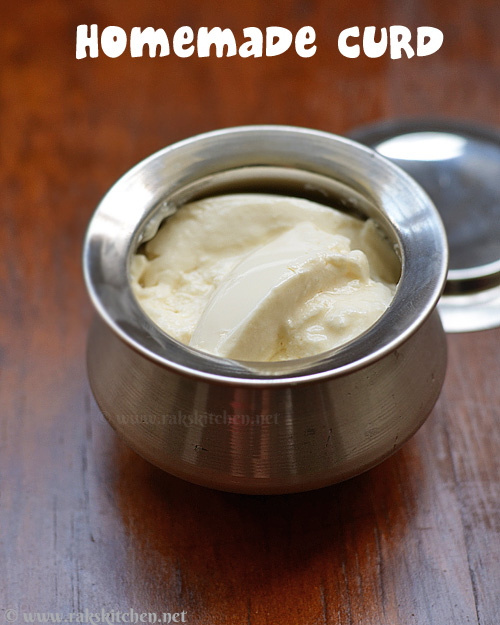 How to make curd at home, perfect set homemade curd/ thayir every time. Detailed post with tips, tricks, and FAQs.
Jump to:
I have replied in detail to many of my reader friends on making curd. Especially people from US, Singapore often ask me the homemade Indian style curd making process. And once they succeed and mail me back sharing their excitement, I really feel happy and content that I could help. I have always thought to make a post on this, but somehow it doesn't happen.
So finally time has come to share, to help beginners and particularly this can be useful at this period of time. It can save you bucks, save your trips outside. Also no need to worry on the stock.
If you want to learn and perfect the process, please read in detail and patiently.
Indian curd
Curd in India is different from rest of the world. In other words, curd is similar to plain yogurt. So if a recipe calls for yogurt you can use curd and vice versa.
In India, curd is set rather than curdled. Meaning it is a slow process (around 6 hours) of fermentation through which thick curd is set. Usually a starter curd is needed for setting curd.
Why homemade?
From the time I started to cook, for almost 16 years, I make my own curd at home. Being South Indian Tamil, we have mor sadam to end our meal. So preparing curd at home is economical. Store bought curd is expensive, especially when you use extensively.
It is very common to make curd everyday at home in our households. Both mom, MIL make fresh curd everyday. Many of us in our family, have the habit of eating curd with breakfast or dinner with idli, dosa or upma too. My grandma, mom, FIL loves butter milk with the idli dosa/ upma. We add little salt to it and use it along eating idli dosa.
Curd or Buttermilk
Though everyday curd is set in our homes, consumption of curd is kind of luxury. We always use buttermilk (mor), than the curd as such, in earlier days. Now a days though consumption of curd has increased, still, for lunch we include only mor. Also elders at home say its healthier to use mor than thayir. Mor/ butter milk is said to be body coolant than thayir.
Homemade curd stepwise photos
Time needed: 6 hours.
How to make Indian style homemade curd:
Boiling milk

Start heating 1 litre milk in a milk pan. It should be large enough to hold the overflowing milk.


Keep stirring

Keep stirring occasionally in the beginning. As you see steam rising along the spoon you stir, be careful, your milk is about to boil. Be careful at this stage as it may overflow.


Cool down

Once it boils - becomes frothy, raises too. Switch off the stove. Cover with a lid. set aside for cooling.


Right temperature

You should be able to touch the milk with bare hands, if it is warm enough to touch, this is the correct temperature.


Transfer to curd setting vessel

Transfer to the vessel you are going to set curd in. Preferably which could retain the temperature for a while.


Mixing starter curd

Next, mix about 2 tablespoon of well beaten curd to the milk and stir well.


Stir well

With a spoon, give a good mix making sure it gets mixed well.


Keep covered for setting

Leave it in a warm place for setting.


Set curd

After about 6 hours, the curd will be completely set. Depending on the surrounding temperature, it starts getting set, thicken as time passes.


Refrigerate

Once set, keep the set curd in refrigerator. Gets more firmer as you refrigerate. Take only required amount when needed and never leave it outside to prevent turning too sour.

How to make buttermilk from homemade curd?
Take ½ cup curd a tall vessel. Using a balloon whisk, beat smoothly and add 1 & ½ cups water and whisk again to make it smooth.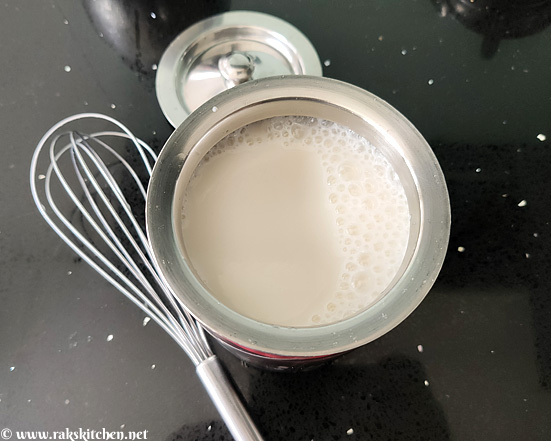 FAQs
How I make sure curd is set every time perfectly, properly
I add a red chilli or green chilli with stalk intact and mix along the starter curd. This double ensures my curd set perfect each and every time.
My curd is not set and it looks just like milk when I open after many hours. Why?
Your milk was probably too hot. It kills the bacteria that helps the curd to set.
Why my curd looks/ is slimy?
No one likes to consume slimy curd. You might be letting the milk cool down too much. Temperature is too low for setting.
What is the perfect optimum temperature to set curd?
You should be able to touch the milk with bare hand. Roughly 30- 40 deg C will be perfect.
Is there any particular type of vessel to set curd?
Though it is okay to use any type of vessel, I prefer to use vessels with small mouth to help retain heat and doesn't cool fast like broader vessels. I use a traditional thayir sombu kept alone for this purpose only. Jars with lids like mason jars, Clay pots, soap stones should work great too. My relative sets yogurt in hot pack too.
Can I pour the milk over and over again on top of existing curd, in the same pot?
It sets very perfect and quick when you do so, but avoid doing it as it's said to be Not good for health.
Which milk and curd I am using in Singapore?
I use Amul blue tetra pack and either use milky mist curd from previous setting as starter.
Tips
UHT milk/ curd from tetra pack milk sets thicker comparatively to fresh milk.
Experiment with different brands of both milk and curd (starter) to find which works best for your region, climate conditions (USA, Singapore...) and stick to it.
If you have local quality brands that supply around fresh curd, use it as it has more live cultures.
I set my curd in day time than night as the hot environment helps to set the curd.
In cold days/ rainy days, I keep the container around hot areas like next to stove while cooking, by the side of appliances where the surrounding is warmer - example by the side of refrigerator or over it.
If you have oven and need warm environment, put inside the oven and leave the oven light on, which will provide necessary temperature.
Don't have oven and have difficulties for similar environment? I keep inside cooker (the warm cooker - not under fire) as soon as I take out cooked rice from cooker and keep it closed. This fastens the process.
Boil milk well, bring to the temperature to warm, instead of just heating the milk up to warm. It makes a whole lot of difference in thick texture.
Use chilli with stalk to ensure it is set.

How to make curd at home
Troubleshooting
What to do with slimy curd?
Use it in mor kuzhambu or make neer mor with lots of water.
How to avoid slimy curd?
Do not use a starter which is slimy. The starter curd is what the home set curd gets it's taste, texture from. So clean well the vessels, never use the same slimy curd as starter again.
It happens in certain environment, it can happen without our control because of something to do with the weather or surroundings- this is my understanding.
So if no matter what, you can get slimy curd even though you were able to get proper set curd earlier, just skip making curd for some period of time and use store bought and start with fresh starter curd to set homemade curd.
Notes
If you check the curd, if it is not starting to set, mix once again and keep over hotter place to set. Use chilli with stalk to ensure it is set.
I love natural flavour of curd and not the overpowering milky smelling curd of some brands. Milky mist works best for starter and I buy Nestle if buying, as it is close to homemade curd.
Why I set 1 liter curd and not just small portions?
I keep forgetting setting curd in everyday basis, so I prefer setting as 1 litre and use it for a week. You can even divide and store in different containers if you want.
I hope I shared everything I know, if I remember anything important for this post, I will sure update. Leave comments if you have any suggestions, tips that work for you, which brand milk works best for you etc. This can help others too.
Recipes