I used to buy ginger garlic paste in the stores, after I started cooking . My parents side and in-laws side still wont use Ginger garlic paste in any of there cooking😮!! Even if I cook for them anytime,I use it carefully that they wont know that smell 😦. I used to buy a famous brand in Mustafa where I do my monthly groceries shopping,then one fine day I could not find that and I was sceptical in buying/trying the other brands,then friends suggested this and that and hooked on another brand,again that too disappeared!😰 . It always happens there,suddenly the usual brand they keep will disappear and another new one will be there…the problem is…. that's the only shop where I do the shopping…
You may wonder why I didn't tried at home,well ,every one needs a good reason to start something new right!! I am first of all lazy,the second thing is I tried once or twice and I don't know where I went wrong,the ratio or what,but it dint smell good!
Click here for peas pulao recipe post
GINGER GARLIC PASTE
INGREDIENTS
| | |
| --- | --- |
| Ginger chopped roughly | ¾ cup |
| Garlic flakes ( Big variety) | 1 cup |
| Turmeric | ¼ tsp |
| Oil | ¾ tbsp |
Method:
Peel the ginger skin( I get big palm size ginger,so I use the vegetable peeler and just peel the skin of ginger) and garlic ( I took garlic flakes from 3 –4 whole bulbs).Take equal amount,first grind ginger for a minute with turmeric and oil and then add the garlic.

Grind to a smooth paste. Don't use your hands to mix at any time while grinding,use spoon.Transfer the paste to clean air tight containers and store in refrigerator. You may use for a month if you handle well.

Note:
Use always clean spoon.Never let your hand touch the insides of the mouth of the bottle while you scoop the GG paste. Other wise it will ruin and turn black in the sides.
Take out of the fridge only when you need and keep back immediately after you use!
Turmeric and oil gives a good colour and they serve as natural preservatives too!
And now a simple recipe that you can find everywhere ,still I am posting 🤓:
PEAS PULAV /PULA0 / PILAF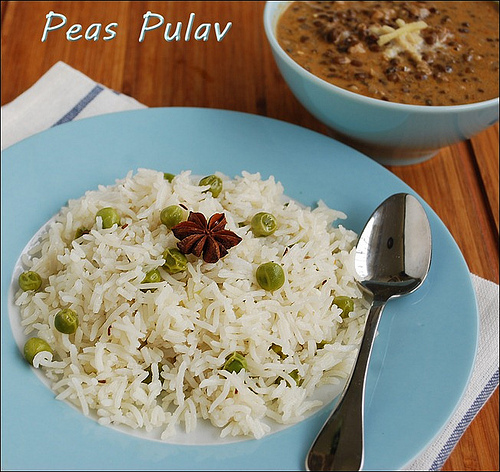 INGREDIENTS
| | |
| --- | --- |
| Basmati rice | 1 cup |
| Peas | ⅓ cup |
| Onion | 1, large |
| Green chillies | 2 |
| Ginger garlic paste | 1 tsp |
| Salt | as per ur taste |
| Water | 1 & ¼ cup |
To temper:
| | |
| --- | --- |
| Oil+ Ghee | 2 tblsp |
| Pattai /cinnamon | 1 inch piece |
| Jeera/Shahi jeera | 1 tsp |
| Bay leaf | 1 |
Method:
Soak the basmati rice for atleast 10 minutes.Slice the onion and slit the green chillies. Heat a cooker, add oil+ ghee, temper with the items given under to temper table. Add the onion,green chillies and reduce the flame and fry for a minute (Onion should not change its colour).Add the ginger garlic paste and again fry for a minute.Add the peas(I used frozen) and fry in low flame for 2 minutes.

Add the soaked rice,salt and water and mix well.Let it boil and then close the cooker and reduce the flame to low and cook for 10 minutes. Or give 2 whistles in medium flame.Let the pressure get down by itself and then fluff carefully and serve hot with any rich gravy or simply dal or subjis.
I served with Cauliflower subji.
This is very simple yet delicious rice,you can use your imagination and add more spice to the dish!
Note:
Never fry the onions and ginger garlic paste in high flame or till burnt,which will give a dull coloured pulav!
You can also use thin coconut milk in place of water,which enhances the taste.
Mint and coriander leaves 2 tbsp can be added after opening the cooker.
Do not stir when the pulao is hot after opening. It will break the rice. Just carefully fluff the rice by turning it from bottom to top once or twice.