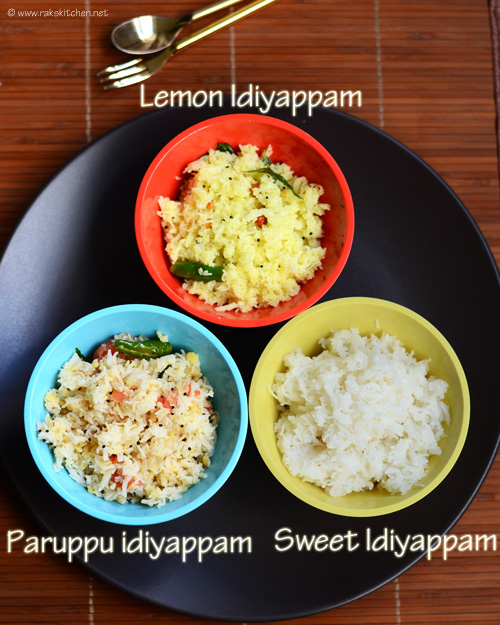 I made this last week for breakfast after a long time. I used to make very often atleast weekly once, but only two at a time, always sugar and coconut (family favorite) and a tangy version – lemon or tamarind variety idiyappam. I use Baba's readymade idiyappam mix available here in Singapore, which works fine for me. I make paruppi idiyappam only when in weekends. So here is my breakfast menu 18 which you can use for a weekend, or make when you have guests at home and you want to make something special to impress them and treat them. Vj loves only the fine thin idiyappam, so I make it with my wooden press I have. I love it thick, but make it that way only when I make for me alone using my metal screw type press I have. I have this bamboo mesh my mami got it for me from karaikudi, which makes the job easy, it gets cooked fast and every time idiyappam doesn't stick to it. Comes off easily.
For recipes please check the links below. I am going to write how I prepared the breakfast.
For lemon idiyappam, I just made plain idiyappam and made the same way I prepare lemon rice. Just replace rice with idiyappam.
Check out the other idiyappam recipes
So here's how I prepared this menu :
I used 1 cup of idiyappam flour which was just right for 3 of us. Depending on the nature of the rice flour, the volume also differs, so use this just as a guidance.
Boiled water to make the idiyappam dough.
Soaked the moong dal in little hot for the dal idiyappam to make it cook quick.
The dough will be hot to handle so, you can chop onion tomato, green chillies for the idiyappam varieties and grate coconut for sweet idiyappam. I had it ready in my freezer as I bulk grate and store in small ziplocs.
Don't let the Dough cool down. It is easy to squeeze only till the dough is hot. So try squeezing soon.
Boil water in idli pot, in a small flat bottomed vessel, keep the dal inside, as I have done in this post, with enough water for the dal.
Keep the idly plate over it and steam idiyappam in batches as you squeeze.
The idiyappam takes just a minute to cook, usually, while I squeeze the next one, the previous one gets cooked.
So repeat to finish the dough and by the time you finish cooking or even before that, the dal inside also will get cooked. Keep an eye. Check water too then and there.
Once everything is done, mixing part. Divide into 3 as per need (for us sweet less and savories more as I don't touch sweet)
Mix ghee in the idiyappam meant for sweet. Sesame oil in the other two. Don't worry if the idiyappam is looking stuck to each other, because while mixing, it will untangle by itself.
First temper for lemon variety and then prepare the dal idiyappam.
Mix them separately each – sweet, lemon and dal. Make sure to add sugar to the idiyappam meant for sweet, only after the idiyappam is cooled down completely. Otherwise will leave water.
Enjoy your special breakfast! Happy Sunday