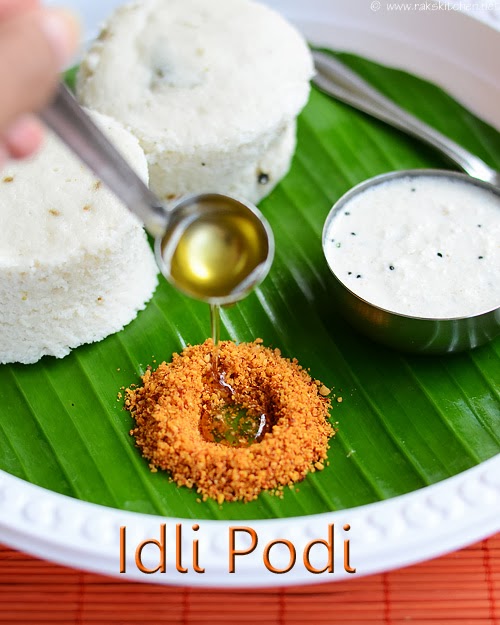 Idli milagai podi recipe, a spicy, flavourful homemade coarse idli podi or Ulutham paruppu milagai podi, quick video, step by step pictures recipe.
Idli podi is mixed with ghee or sesame oil even coconut oil, used as an accompaniment for Idli and dosas. This is the traditional recipe which I learnt from my mother.  In my in- laws side also same,except some few changes. This is so very different from store bought powder. Aromatic, flavorful, spicy and tasty powder a lot different from the store bought one.
Myself and people at home love it coarsely ground. Especially this particular one is best when ground coarse. Depending on the red chilli's spice level, the taste of podi also changes. Choose the bright red coloured long red chilli variety for bright red colour podi. No the dark brownish red colour chilli.
Idli milagai podi recipe
Idli milagai podi recipe, a spicy, flavourful homemade coarse idli podi or Ulutham paruppu milagai podi, quick video, step by step pictures recipe.
Cup measurements
Ingredients
Urad dal -

½

cup
Channa dal -

¼

cup
Red chillies -

20

Asafetida -

¼

tsp
Sesame seeds -

1

tsp
Coconut -

1

tbsp

grated (optional)

Raw rice -

1

tsp

optional

Oil -

2

tsp

Salt
Instructions
Roast all the ingredients (except coconut) in oil, except salt. Do it in medium flame with constant stirring. Roast until deep golden brown.

Transfer to a plate to cool down. Dry roast grated coconut until deep golden in colour too.

Grind first red chillies and salt to a fine powder. Then add the other ingredients to powder coarsely.
Notes
The colour will be brighter only if you use chilli as mentioned.
Mine is mild spice. I choose bright red long red chilli variety.
If powdered into more fine powder, colour may tend to become pale.
Always grind red chillies frist. Then add the dal to get a coarse perfect texture.
My Mother in law adds a sprig of curry leaves while roasting and grind it along for a great flavor.
Asafoetida is the main flavoring ingredient to give the authentic flavor in this.
If adding powder asafoetida, add lastly while roasting.
Idli Milagai podi method:
Roast all the ingredients with oil,except salt (coconut separately) till golden brown and cool down.

Grind first red chillies and salt first and then add the other ingredients and grind to a fine or little coarse powder...how I  like!

Enjoy this podi,obviously with idly or sprinkle this magic over thin dosa spread with ghee!! Nei Podi dosai anyone?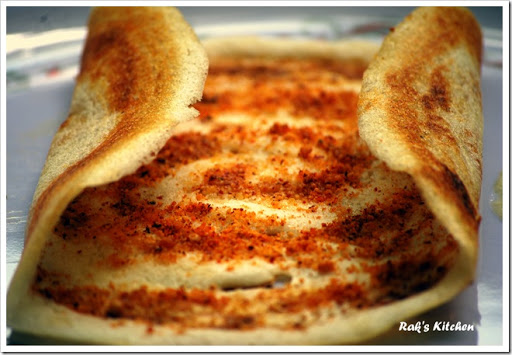 This stays good for a month if handled properly. Store in an airtight container…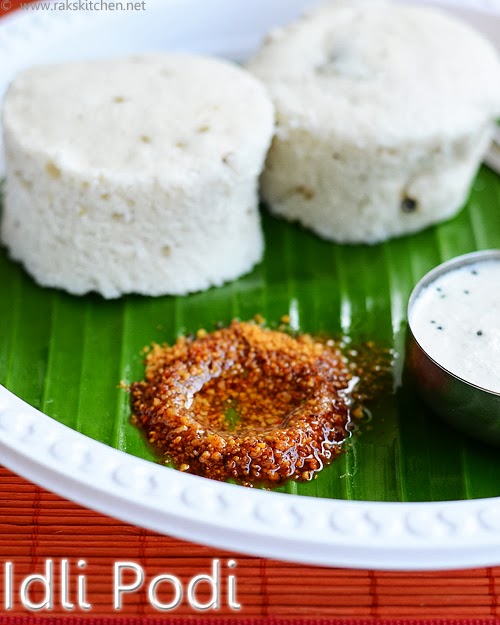 DAHI KADHI Contribution from Sangeeta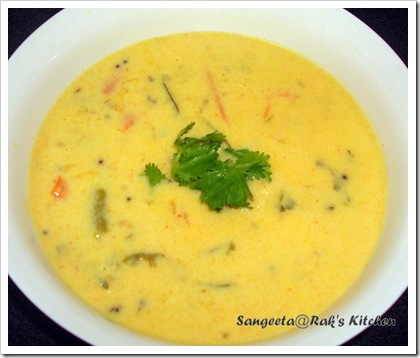 Ingredients
Sour curd/Dahi - 1 cup
Besan/gram flour - 1 ½ tblsp
Tomato cut into cubes - 1
Ginger Chopped - 1 tsp
Red chilli powder - 1 tsp
Green chillies - 2 nos
Salt - As needed
Turmeric - ⅛ tsp
Method
Whisk the curd well, add besan ,salt,turmeric to make a smooth consistency ,add 1 cup of water and mix well

Heat a kadai and add the tadka items in order,followed by ginger,green chillies  and tomatoes.

Fry till tomatoes becomes mushy,then add the red chilli powder and pour the whisked curd mixture and stir well.

At one stage as it boils,it raises up as shown in the picture,then stir it well in low flame and boil.Boil till the oil floats on to the top,you can smell the aroma all over the house!
Transfer to the serving bowl,Garnish with fresh coriander and serve with rice!