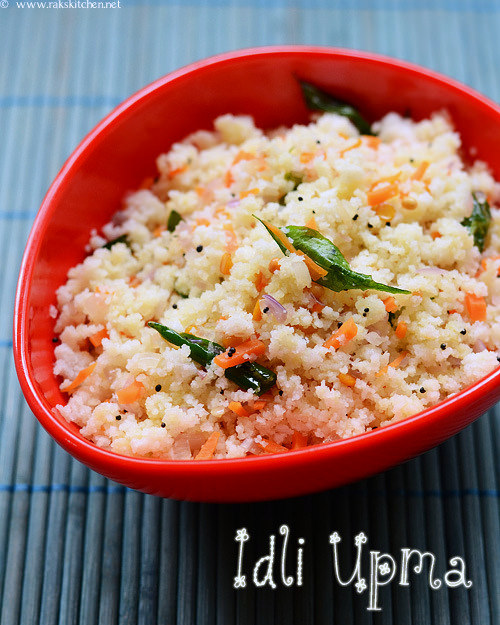 Idli upma? Give me 3 times a day for breakfast, lunch and dinner, I can have it without complaining life long. I love it like that. Any upma is my favorite, but this is one easy and unique upma made from the leftover idlies. We call it udhuthu kulukal, which means crumbling and tossing. There must be a lot of variants in this idli upma, but this is the way I like. My mom makes it without carrot and I love that simple version first, but my MIL adds carrot in all possible dishes, including this idli upma to make it eye appealing. In the beginning I used to not like the addition of carrots as I felt it suppresses the onion flavor a bit, but now I like this variation too. My mom tempers with coconut oil and the fresh green chilies, onions and curry leaves tossed together gives a divine smell. Its simple but packed with flavors. I have seen many of my friends love idli upma but sadly its opposite when it comes to the guys in the family. Nobody likes it, I dont know why. This can be made along with tea with the leftover idlies from your morning breakfast. I most of the times become lazy to make idli upma and have the
aaripona
idli itself. It's best only when someone makes you sit, prepare and gives you. Atleast for me, I many times get emotional when I am hungry and no one is there to make something for you Or no one cares to make you sit and give your course of meal hot.
Idli upma recipe
Recipe Cuisine:
Indian
|
Recipe Category:
Breakfast
Prep Time
:
5 mins
|
Cook time: 5 mins
|
Serves
:
2
Ingredients
Idli – 6
---
Onion – 1, large
---
Green chilli – 4
---
Finely chopped carrot – 3 tblsp
---
Ginger, finely chopped (optional) – 1 tsp
---
Salt – 2 pinches
---
To temper
Coconut oil/ Any cooking oil – 1 tblsp
---
Mustard – 3/4 tsp
---
Urad dal – 1 tsp
---
Channa dal – 1 tblsp
---
Curry leaves – 1 sprig
---
Method
Crumble the idli with a tsp of sesame oil. You can refrigerate the idlis, this will make your job easy as it wont stick to your fingers.

Heat a kadai with oil and temper with the items given under 'To temper' table. Add onion and fry until transparent. Add carrots, salt and fry for a minute. Everything in medium flame without changing its colour. Otherwise the upma will turn dull in colour.

Add the crumbled idli and just toss for a minute until its mixed well.
Notes
Refrigerating the idlis gives beautiful crumble of the idlies. More you refrigerate, easy to crumble.
You can add vegetables to fortify this upma.
Sesame oil can be added while crumbling.
Serve hot, can be had as such or best with sugar😊
Check out the other left over idli recipes