Idli vada pongal is a classic south Indian breakfast menu. I am sharing this as a part of my Breakfast menu idea series.
Jump to:
In this series, I do not write the recipes, rather just put up an idea which can give you a little to know about how to plan and make a menu.
Besides, today I made a special Breakfast menu in-spite Aj been sick for past 2 days. So I wanted to make idli the best breakfast for him.
Also, a mild side dish for him which should always be the one he eats, so I chose Gothsu/ Gotsu.
But to make the weekend special with the breakfast menu (Ok, I admit its planned for this post too), I made Pongal for Vj and I know the gothsu I am making will go well with pongal too.
Firstly, I soaked just ½ a cup of urad dal on wake up and ground in mixie itself to make this menu special and a made a getti chutney to go well with all these items.
Tadaaaa… Thus Breakfast menu ready!
Idli
Idli is a basic in everyday breakfast menu in the households obviously. Below, check out my detailed process to prepare idli dosa batter.
Learn how to make idli dosa batter authentically in wet grinder with step wise pictures, tips and tricks to get perfect idli and dosa with same batter.
45
mins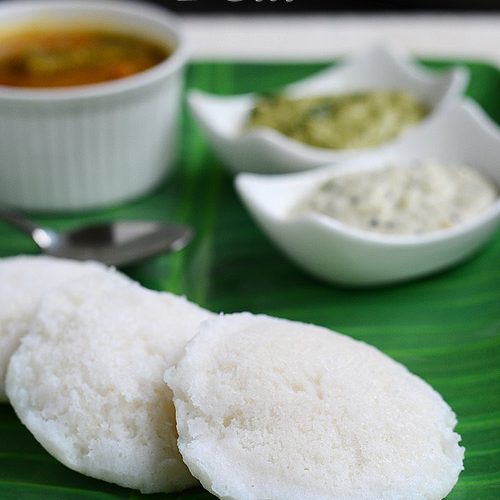 Vadai
Medhu vadai is also an ultimate south Indian famous item in a breakfast or lunch. Check out how to prepare it with video too.
 Medhu vadai recipe – Ulunthu vadai – ulundu vadai– medu vada – with VIDEO and step by step pictures, tips and tricks to make perfect shape.
15
mins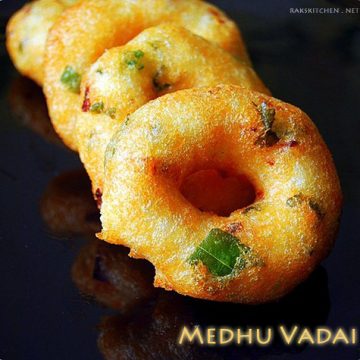 Pongal recipe
Ven pongal, one of the main breakfast recipes prepared with rice and moong dal. Especially, it makes a filling brunch or breakfast with gothsu or sambar.
Ven pongal is a very easy and comfort food. A famous South Indian breakfast. Learn how to make ven pongal with step by step pictures.
25
mins
Gosthu recipe
Gosthu is a mild side dish that goes well with pongal and my version is Tanjore special, moreover an easy version without any spice mix.
Coconut chutney
Coconut chutney goes well with idli as well as its a perfect side dish for pongal. I made getti chutney version (thick version)
Ok I know I am writing the whole process here itself, but that's how this is planned. I made everything in moderate purposely for not over eating. So you can plan the same way.
This combo is very tempting by the name itself. Even the north Indians will be knowing this combo – Idli vada pongal – but with sambar and chutney.
I made it as Gothsu, that's it. I know there are lots of versions in making gothsu, some with dal, some without, some with spice powder, some without. Mine is a simple one, without spice powder.
You can call it brunch or heavy breakfast what ever you like to name it. Here is how I prepared this menu in detail.
Idli Vada pongal breakfast
Recipe Cuisine: Indian | Recipe Category: Breakfast
Prep Time: 12 hrs | Cook time: 45 mins | Serves: 4
Prepare idli batter the before day itself, by soaking for it by the before day afternoon, grind it by evening, ferment it overnight. Grate coconut also and freeze it to make it easy the next day morning. As I use my ultra grind for grating coconut, I did it after I finished grinding for idli.
Next day morning, on wake up, soak for vada. Just ½ cup.
First cook rice, dal for pongal as in the recipe and dal separately for gothsu. I have a big cooker with two separate containers, 1 big, 1 small. So I kept for pongal in the big and dal in the small one. Small container down, big one up. Pressure cook for 4 whistles in medium flame after the first whistle.
Meanwhile, chopping works – brinjal, potato, carrot, tomato for gothsu, onion for gothsu and vada (I used shallots for both which gives maximum flavor) other ingredients like chilli for gothsu, vada and chutney, curry leaves, coriander leaves, also keep them ready. Keep coconut for thawing if frozen or grate it freshly.
By the time you finish chopping works, cooker work will be done. Grind chutney. You can grind for vada in mixie itself and keep in fridge until you make vada lastly.
First season for pongal, prepare pongal and keep it ready in a hot pack. Next for chutney, prepare it and keep it ready.
Next for gothsu, let it be simmered for cooking mean while which you can heat oil in another stove for vada and steam idlies in another stove (if you have 3 burners as I have) If you have 2 burner, then first finish gothsu and then steam idli in one stove, side by side oil for vada in another.
Take out the vada batter, mix ingredients and make vada – only one for each.
That's it, your breakfast is ready. With Idli, Vada, Pongal, Gotsu, chutney and the podi.
Check out the recipes here:
Have a great weekend!😍