Simple north Indian thali idea with Cabbage paratha, methi paneer, cauliflower masala, dal, rice, papad, pickle.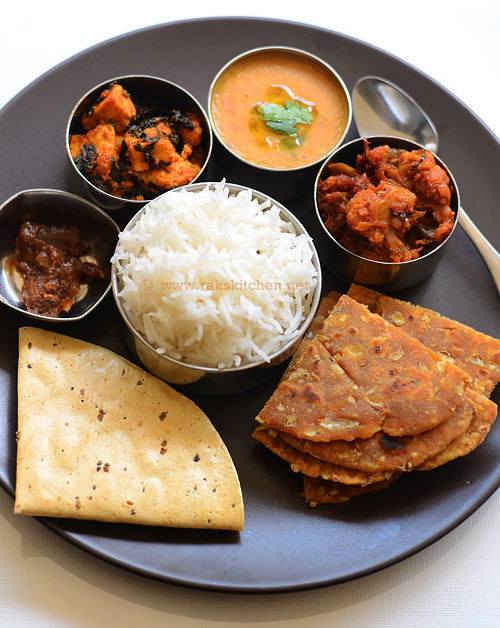 This post is just an idea on planning, preparing the menu. For detailed recipe and method, please check the links provided below for respective recipes.
Do check out all my lunch menu ideas and my lunch planner for weekdays.
Jump to:
Since I am yet to post the recipe for methi paneer and the dal here, I am linking to my old posts. Later will update with the new post links.
Here are the recipe links for what you see in this menu:
I had some frozen methi and wanted to try this methi paneer dry for a long time. It turned out great, especially in this menu.
Also I got a new recipe for dal from my co-sis, so tried it. It was delicious. Both the recipes are coming up this week. So stay tuned.
When I was in Chennai, I planned to continue with my lunch menu series. But all the menu were already posted and I hardly had time.
So yesterday prepared and clicked this menu. Could not post it on time, so thought will post today.
Though roughly enjoyed this menu, especially I liked my paratha with that dal, yummy!
You can check my recipe index and change paratha of your choice, any rice and any paneer dish with any vegetable subji.
Instructions
Here's how I prepared this menu:
Cabbage paratha, dal, methi paneer, cauliflower masala - Lunch menu 58
Recipe Cuisine: Indian   |  Recipe Category: Lunch
Prep Time: 1 hr soaking time + 20 mins     |  Cook time: 1 hr 15 mins  |  Serves: 4
On finishing breakfast work, I soaked dal. I used already cleaned frozen methi leaves. If using fresh, clean the leaves and keep it ready.
An hour later, when ready to prepare for lunch, first soaked basmati rice. Second keep the paneer soaked in hot water until use.
Then on to the chopping works. Clean cauliflower and keep it immersed in hot water with salt and turmeric. Chop cabbage for paratha, tomato for cauliflower, dal. Onion for cauliflower and all other ingredients like coriander leaves, ginger, green chilli for dal, cauliflower…
First pressure cook dal in a cooker and rice in another.
Prepare methi paneer and dal. Lastly make cauliflower masala.
Make dough for cabbage paratha and make it hot when you are ready to have lunch. In the same hot tawa, you can toast the papad.
Enjoy your lunch with hot paratha, rice, dal, paneer and subji with papad and pickle.