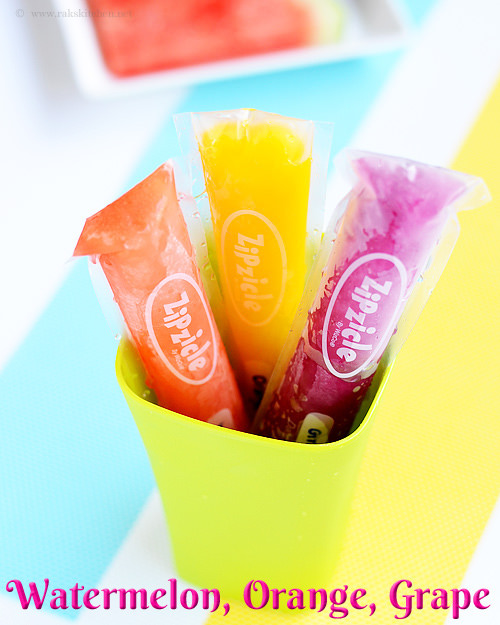 Indian Pepsi Ice is a popular street food we all used to enjoy in summer. We can recreate these at home with these zipsicles. Instead of pops, we can make it as pepsi ice.
Our childhood summer used to be super fun and filled with lots and lots of excitements. Many reasons for it. Before I go into this pepsi ice part, First thing is holidays. The long annual holidays. When there is nothing to read, the whole of our attitudes changes, as if there is no one to question us in this world. We can do anything, roam anywhere in the neighborhood, play with the kids in the neighborhood for unlimited time.
We used to play a lots of local favorite games like 7 aam kal (game played with 7 or 5 stones with respective songs), dhayam, snake and ladders, trade, kite flying, learning and riding cycle. Also making no fancy, simple crafts and many un-named favourite games. Cant explain the fun through words.
One among the main thing we enjoyed was ice creams, cool drinks, colourful popsicles and these so called pepsi ice.
This is not the cola drink pepsi, but the Indian ice pops in a transparent tube pouch. Many colours and flavours are there. They have a lot of Artificial flavors, colors, but still we never used to know or care about those facts, just enjoyed it. In some places, they even fill it in rectangle or square palm size pouches.
Last year itself I was longing to some how make this pepsi ice pops and kept telling Vj if only we could get those pouches to fill it. Vj used to say, sure something will be there. This year, this summer, again I was so badly wanting to try these. I bought some similar ice pops in fairprice, but wonder where I can get such moulds to freeze our favourite flavours.
Zipzicles:
Some how I found these Zipzicles in pinterest. When I searched the term where I could get it, I found in ebay and thought I will order it online. Later I found their own website and got these pouches as I wrote to them asking for details. They are really prompt and shipped me as soon as I asked them for the Zipzicles. As a blogger, I got these pouches as samples. *This is not a sponsored post or paid post, I am just posting so that everyone can know about this.*
Indian pepsi ice
How to make Indian pepsi ice, a desi ice pops we enjoyed at in our childhood.
Equipments (Amazon Affiliate links)
Cup measurements
Ingredients
100

ml

Strawberry lemonade

100

ml

Masala coke

100

ml

Rose milk

100

ml

nanari sarbath

100

ml

Watermelon rose juice

100

ml

grape juice
Instructions
Take a zipzicle pouch, place it in a tall tumbler/ glass.

Use a small funnel and fill the pouches until the mark given in the pouch.

Repeat to finish all the juices/ drinks and seal the zipper to secure.

Put it inside the deep freezer and freeze for 6-8 hours.

Once frozen, you can enjoy it by opening and pushing from bottom to consume it!
How to make pepsi ice :
So what ever is your favorite drink or ice popsicle flavour, you can just pour it and freeze it and enjoy this summer. This one is just like a ziploc, fill it upto the line that is there, as guidance. You can even write the flavor and date you fill using a marker.
I made strawberrry lemonade ice pops, watermelon ice pops, orange and grape ice pops. And made rose milk, nannaari sarbath and masala coke ice pops as desi flavors. You cannot pour aerated drinks in this, but since when we make masala coke all the gas goes off, it was quite ok for me to fill it. I used a small funnel I already had to fill it, but you can directly pour it too placing in a tall container.
After freezing it in freezer for minimum 6 hrs or overnight, you can enjoy your ice pops. Just open the sealed zip and push from bottom to pop the frozen ice to enjoy it. Or you can even enjoy in our desi way of just drinking as it melts.

Kids will sure enjoy this and this could be a fun way to make your kid consume fresh fruits or milk based flavored ice pops using these Zipzicle. You can freeze even milkshakes. Check out few fresh fruit drinks to use up in these zipzicles