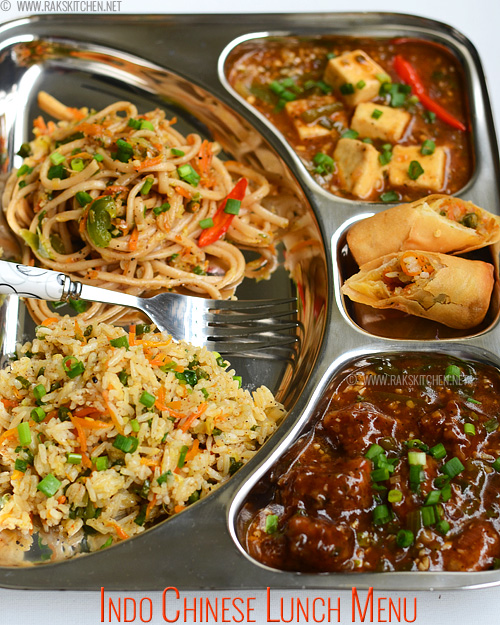 Lunch menu with fried rice, noodles, chilli paneer gravy, veg manchurian gravy and spring roll. While browsing through instagram feed, I saw this tempting chinese thali picture from a restaurant😍. The menu was similar – fried rice, noodles, two manchurian gravies and fried momos. Instead of momos I made spring rolls. I too thought I would make momos too, but to keep the work less, opted for spring rolls.
Check out the recipe links in the menu
Other suggested recipes for this menu
I will not say this was an easy menu to prepare. But I have suggestions to make this easier. Though indo Chinese recipes are quick to toss it up and make it ready, there's a lot of chopping work involved and you need good knife skills to finely chop the vegetables. I enjoy chopping more than cooking😜. I had some Thai hom mali rice to finish off, just 1 cup. So used it up. Same for noodles – had some brown rice noodles (that I have used in my sweet and sour noodles). So I am one happy soul after finishing off these two as I am having it for long time in my pantry, though the expiry date is far, I wanted to empty the place😀.
I showed that particular picture I saw in Instagram to Aj and he asked me to prepare on a weekend. So I planned for this weekend. Now to prepare this menu in a easier way, I recommend to chop and refrigerate the vegetables the before day. Also I would suggest to prepare spring roll, and cling wrap, freeze it. So that you can deep fry the next day easily.
Also I used the same gravy base for my chilli paneer and veg manchurian. Also the same vegetables base for noodles and fried rice. So here's how I prepared the menu. I did everything the same day, but it's upto you to do the same or do the chopping work previous day.
Lunch Menu 60 – Indo-chinese menu with Chilli paneer gravy, veg manchurian gravy, fried rice, noodles and Spring roll
Prep time : 30 mins | Cook time : 2 hours | Serves : 4-5
First pressure cooked rice for fried rice. Also side by side boiled noodles. Once done, cool down the rice, put it in fridge until use. To keep the noodles separate, reserve some noodles cooked water to loosen it up later.
You need a lot of cabbage, and some carrot, beans – for veg manchurian, spring roll, fried rice, noodles. So chop them extra finely and keep aside.
Chop capsicum for fried rice, noodles and the manchurian gravies.
I used one chopped onion for the gravies. Chop garlic very finely for the gravies.
Chop spring onion for using in all the dishes.
Soak the paneer for chilli paneer gravy in hot water. I skipped the deep frying part, it was really good.
Prepare the veg manchurian balls. If you don't want to deep fry, you can use appe pan (paniyaram pan) too. But I wanted to make it quick. So opted for deep frying.
Prepare the gravy, together for both and after adding the slurry (corn flour mixture), divide to two and add paneer to one and veg manchurian balls to other. Garnish with spring onion. Keep them in hot pack, atleast the chilli paneer to keep it soft.
I used half capsicum for the above gravies and rest for noodles. Tossed capsicum first and kept aside.
I tossed all together for fried rice, noodles and spring roll. Divided it and tossed noodles in a pan (added capsicum), fried rice in a wok and kept some for spring roll.
Made just 6 big spring rolls and fried it. Ready to serve.
Make sure everything is hot. The gravies and fried rice were hot. Spring rolls are hot too since we fry at the end. Noodles tend to cool easily, so keep it in hot pack if possible.
I was really excited to cook as well as have this spread myself 😋 and so was Aj. Vj too loved everything on the plate.