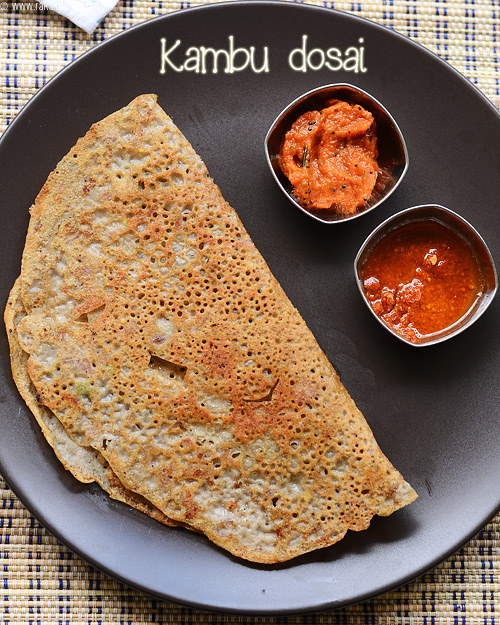 I always have seen this pack of Bajra flour (Bajri in Marathi, Gujarathi, Rajastani, Sajje in Kannada, Sajjalu in Telugu, Kambam in Malayalam, Kambu in Tamil
Courtesy: Wikipedia
) packet in Mustafa and have heard few north Indians make Bajra
roti
out of it. Then later realized its Kambu flour. I wanted to try kambu koozh for my co-sis who came here last month. But some how forgot. Then one day when I was so hungry for dinner, I was wondering what to eat, then thought of trying this instant kambu karacha maavu dosai. I wanted to skip
rice flour
too in this karacha maavu dosai, so thought of mixing wheat flour. And it turned out to be crispy and tasty dosas, which I had guilt free for my dinner. I already finished half the pack making dosas so far. My mom makes karacha maavu dosai so often for dinner. I have already posted
so far to prove I am mom's daughter and really I too make it often for myself. Of them rava dosa is also made for Aj as its Aj's favourite. So try this buying bajra flour, sure it will be handy, and a healthy one too!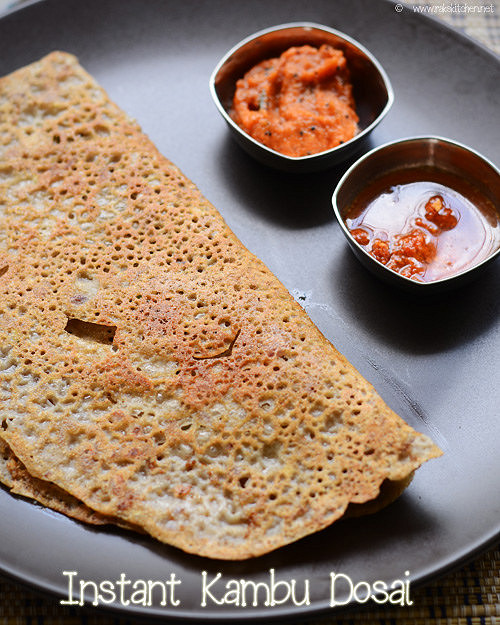 Instant kambu dosai recipe
Recipe Cuisine:
Indian
|
Recipe Category:
Breakfast
Prep Time
:
10 mins
|
Cook time: 10 mins
|
Makes
:
4 dosas
Ingredients
Bajra flour / Kambu maavu – 1/4 cup
---
Wheat flour – 1/4 cup
---
Onion – 1/2, finely chopped
---
Coriander leaves, chopped – 1 tblsp
---
Jeera – 1 tsp
---
Finely chopped ginger (optional) – 1 tsp
---
Salt – As needed
---
Oil – As needed
---
Method
Place all the ingredients in a mixing bowl and mix it using a whisk adding water gradually. It should be watery enough to pour and spread by itself.

Heat a tawa, drizzle with oil, pour the dosa batter, first outer circle, then to fill it. Cook in medium flame. You can cook covered and skip flipping or flip and cook, its up to you.
Notes
Let the batter consistency be not too thick.
When you pour, the tawa should be hot and small tiny pours should be seen as you pour. That is the right consistency of the batter.
If batter is too thin also it will get stuck to the pan.
Always grease the pan first well before pouring the batter. While its cooking also you can drizzle few drops of oil to make it crisp.
Serve hot and I had with red chutney and idli milagai podi as side dish. I finish my last dosa with curd too.