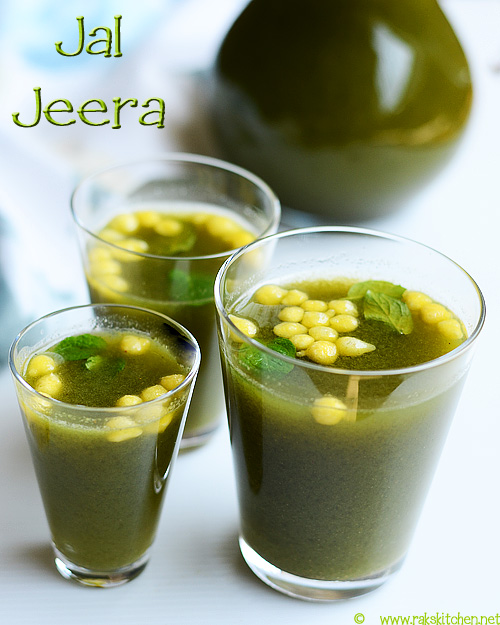 Jal jeera is an Indian drink made with mint, coriander leaves, lemon and tamarind as main ingredients, along with flavourful spices.
I have tasted only thrice in restaurants. When I made pani puri post, I clicked that time itself to post this one, but somehow was not satisfied with the clicks as well as I felt I should click when I make specifically Jal jeera. I used the same pictures for steps alone, but I made this drink last week. It's very appetizing, aids in digestion as well. You need not wait for any season, just can make whenever you feel like.
Check out other Indian drinks you can make  : Aam ka panna, sweet lassi, salt lassi, Mango lassi, Rose milk, Thandai, Masala chaas

How to make Jal jeera video
Jal jeera recipe
Recipe Cuisine: Indian  |  Recipe Category: Drink
Prep Time: Tamarind soaking time + 10 mins  |  Cook time: 0 mins   |  Serves: 4
 Ingredients
Mint leaves – ¼ cup, packed
Coriander leaves – ¼ cup, packed
Ginger – 2 tsp, chopped
Tamarind – 1 tablespoon tightly packed
Lemon - 1
Jaggery - 1 tbsp
Roasted cumin powder – 1 tsp
Black pepper powder – ½ tsp
Kala namak/ Black salt – 1 tsp
Asafoetida - 1 pinch
Cold water – 3 cups
Salt – As needed
Boondi – As needed
Jal jeera method
Grind the clean mint, coriander leaves, ginger with little water smoothly.
Extract tamarind juice by soaking it in hot water for 15 minutes. In a mixing bowl, place the rest of the ingredients, add the extracted tamarind juice. Squeeze in the lemon. The total water added can be 3 & ½ to 4 cups. Adjust salt as needed.
Mix well and filter it. Keep refrigerated until use.
Notes
You have to add tamarind and lemon juice as mentioned for balancing the mint and coriander leaves taste. If you add less, then you may get the raw – greeny smell of the herb.
Black salt and roasted jeera powder also plays the main role in the flavour.
Adjust salt, sugar and water as per your taste.
You can add amchoor powder in place of tamarind.
Serve chilled with lots of boondi if you like on top!