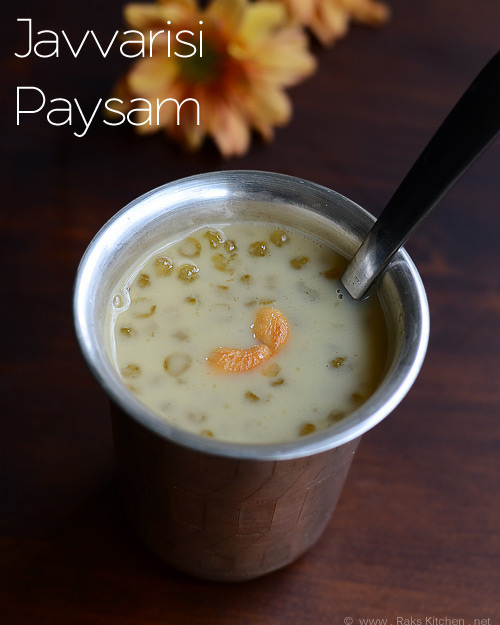 Javvarisi payasm recipe with Jaggery. Sago payasam recipe with jaggery. Perfect authentic recipe for festivals. I got few feedbacks from readers and friends saying that they had the problem of milk getting curdled as the sago is in milk and then jaggery is added to it. So I wanted to update this method of making payasam, which I learnt from MIL – she makes it this way. Here is the new method of making Javvarisi payasam.
Javvarisi Payasam recipe
Recipe Cuisine:
Indian
|
Recipe Category:
Dessert
Prep Time
:
2 Hours soaking time
|
Cook time: 15 mins
|
Makes
:
4 cups
Ingredients
javvarisi / sago – ½ cup
---
Jaggery – ¾ cup
---
Milk – ½ cup
---
Water – 3 cups
---
Salt – A pinch
---
Elachi – 1
---
Cashews – 5
---
Ghee – 1 tsp
---
Method
Soak sago for 2 – 3 hours. This is for easy cooking. Drain the water and bring 3 cups of water to boil in a heavy bottomed vessel. Add the soaked sago and cook for 4 – 5 minutes or until the sago is soft from inside. TIP: The sago, as it is getting cooked, will have white spot in the middle of it, but do not wait for it to go. Just check the sago if its cooked soft. Add the jaggery and mix well. Add a pinch of salt.

Boil in medium flame for 4 minutes. Add powdered elachi (We dont like so I dint add). Set aside and let it cool for 15 to 20 minutes.

Boil milk and also cool down simultaneously as the payasam gets cooled down. Add the milk to the payasam and mix well. Fry cashews in ghee and add it to the payasam and mix well.
Notes
You may notice the white spot in the middle of few sago until it cools down. But it will turn transparent like glass as it cools down completely. So dont worry. Just make sure by testing its cooked soft. If you over cook, the sago will get dissolved. So be careful.
The cooking time of sago may vary depending on the size of the sago. So just keep the timings mentioned as guidance.
Here in Singapore, we get pasteurized and homogeneous milk, so I add it as such in the payasam without boiling. But in India, you may need to boil the milk and cool down before adding.
Delicious, flavourful javvarisi payasam with jaggery is ready!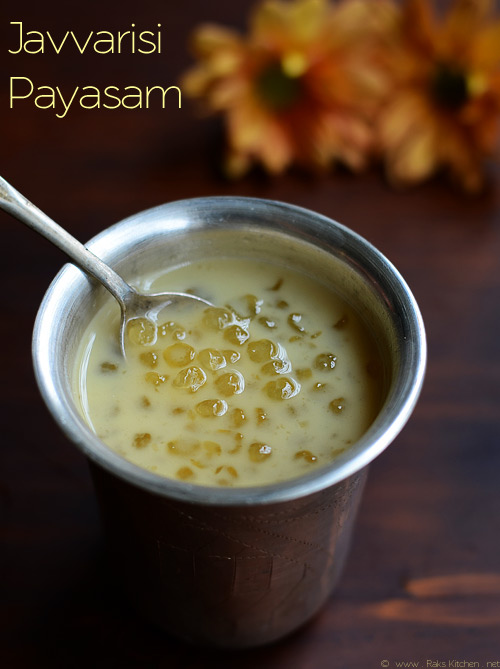 Old Version:
All my family members love ஜவ்வரிசி பாயசம். My MIL especially loves it a lot. I am always loserwhen it comes to this payasam, have tried so many times every time I make some silly mistake and I lose hope to try again. but for past three times I got it right and thought of blogging this time,before I forget the method. I made this today for Aadi 18.
Soak sago for 1 hour( I used the small variety,if you want to use the larger one, soak for atleast 3 hours).

Boil milk and add the soaked sago.Cook till the sago are transparent and soft.(It took only approximately 3-4 minutes for me). Don't boil for so long otherwise the sago will dissolve and the payasam will turn into porridge.And if you don't want a Kanji effect,you can first cook the sago in water,after done transparent,you can wash it in a strainer under running water and then add to thick boiled reduced milk.

By this time it will turn thick in consistency too.
Switch off the stove and add the jaggery,elachi powder and mix well till it gets dissolved. (If you think the jaggery is having impurities,just add the jaggery with water just to immerse it and make sugar syrup in a heavy bottomed pan and filter it,then add to the payasam and mix well).

Don't heat the payasam after adding jaggery as milk will get curdled if we do so.
Lastly fry the cashews in the ghee and garnish the payasam..Enjoy hot or cold!! I love cold and my hubby likes hot…

Notes
You can add ghee fried coconut bits(finely chopped),along with the cashews for extra zing!!