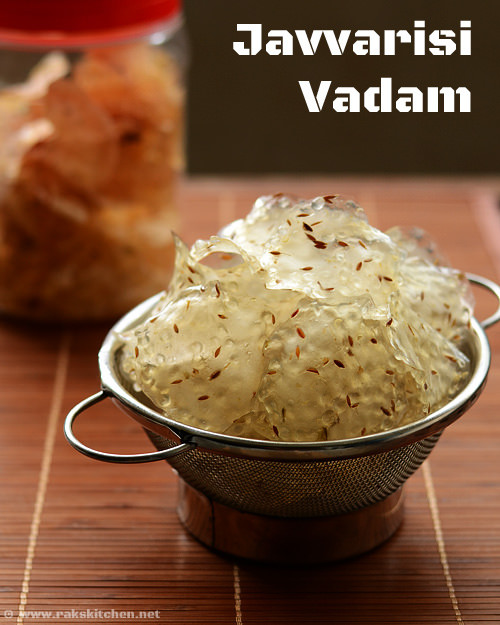 Learn how to make sago vadam / javvarisi vathal reicpe with step by step pictures. Javvarisi vathal is deep fried and served as side dish for rice or can be had as snack like crackers
Two years back the idea of vadam project at Singapore came to my mind and last year I could make few vadams and happily ate among the amma given vadams and MIL given vadams, store bought colour vadams. Last year I posted
Koozh vadam recipe
and
elai vadam recipe
. And I was super excited about elai vadam than koozh vadam. This year too I am planning to make both. Before I make those I wanted to try this sago vadam this year. It was so hot and sunny past month and everyday I felt like I was wasting the sun energy
. First I wanted to take down recipe from MIL. I wanted to make in small quantity and try. Also that's only the space available here too. Small amount can be dried comfortably. So I did in two batches very less to that of compared to what mom and MIL does.
Why I have to make that much, they make a lot coz they need to pass it to me
. I am making only for the small family of 3. And both mom and MIL fries vadam so often in the night if they eat rice or if they make variety rice. I don't fry vadam that often like them, even if I fry only a hand full will do for us. Aj is very choosy, it depends only on his mood to eat vadams. I fry vadam only if I am short of the vegetable side dish I am making. Otherwise when vegetables is there and I fry vadam along with it, only vadam will disappear, vegetables will be there in the plates as such. So this is how I justify me, making less vadams
.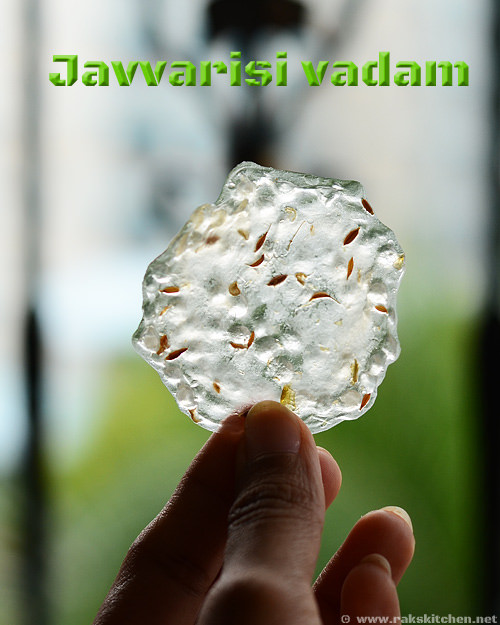 So I decided (took a week), took recipe from MIL (took a week) and finally made (took a week) –
– Lazy me! I have seen my mom, MIL getting tensed, yelling when they are into the vadam project and it rains all of a sudden. Those time I have never felt much for it, we just make fun on it and move on. But for a month it was not at all raining in Singapore and it was hot to the peak, that I always felt that I am wasting the shine. The day I made this vadam, I don't know from where the rain came, it started raining and the whole day no sun at all
. I have heard my dad, FIL making fun on the ladies at home to make vadam so that rain will come, never expected it will happen to me too! Vj kept laughing seeing my face when it rained
.
But my MIL asked me to dry in fan and told nothing will go wrong, as she said it was fine and the next day I could get some sun to dry the vadams. Now I am waiting to make the koozh vadam, but I will sure see the forecast before making
. This time, I made one batch in cotton white cloth and the next one in polythene sheets I saved. I would say the plastic sheet is easy way to do, but if you are concerned about plastic, you can stick to the authentic cloth method. My mom says any smooth, shiny white thick polyester cloth also works fine and is easier to take it off after drying when compared to the pure cotton cloth. According to me, this is easier than the koozh vadam. So do try if you have hot sun in your part of the world.
Javvarisi vadam recipe
Recipe Cuisine:
Indian
|
Recipe Category:
Lunch/ condiments
Prep Time
:
2 hr soak time + 3 days dry time
|
Cook time: 15 mins
|
Makes
:
70 approx
Ingredients
Sago / Javvarisi / Tapioca pearls – 1 cup
---
Green chilli – 5
---
Cumin seeds/ jeera – 1 tsp
---
Lemon juice – from 1/2 of a lemon
---
Water – 5 cups
---
Salt as needed
Method
Soak sago alteast for 2 hrs. I used black pepper sized sago which was perfect. So depending on the sago size the soaking time may vary. Just make sure sago is soaked well. When soaking, make sure water level is well above the sago. Boil 5 cups of water in a heavy bottomed vessel. I used my pot shaped cooker. Add jeera to the boiling water.

Add soaked sago and keep cooking, stirring now and then to make sure its not stuck at the bottom. It takes some time for it to get cooked say roughly 8-10 mins.

Meanwhile which you can grind green chillies with little water.

Add it to the cooking sago along with required salt. Sago should be cooked as well as the consistency of the mixture should get thick like a kheer. Not too thick, coz it will get thicker as it cools down. So switch off accordingly. Add lemon juice lastly and mix well.

To check sago is done, press in between the fingers and it should be soft in the middle too. Some times it will look whitish in the middle but it would have been already cooked. So dont see the white part to know if its cooked or not. As it cools, the whitish part will turn transparent. Once cooled down, wet and squeeze completely a white cloth and spread without any shrinks in a flat surface where you get plenty of sun. Pour half a ladle of the sago we prepared and spread to small disks. Make sure its not too thick, not too thin.

Dry in hot sun for a day. In the evening, if the sun was hot enough, you will be able to peel off the vadam from the cloth/ sheet. If not, dry another day and try peeling. In cloth, reverse the cloth, wet it slightly in the back of the vadam and peel it. Otherwise it will be very hard.

I did both in cloth and plastic sheets, In plastic sheets, it will be very easy job, just peel it, it will easily come off.

Dry the peeled vadams in hot sun for next three days until its transparent like a glass. Try frying one to test and if its completely dried, it will be crisp. Otherwise it may stick to your teeth as you bite.

To fry vadam, heat oil in kadai, fry in hot oil with the help of ladle to immerse the vadams completely in oil so that it gets fried well. Drain in paper towels.
Notes
Salt should be added very carefully. When you taste the koozh, it should be mild, after vadam dryi it will just right.
Make sure the sago is cooked well in the koozh. Otherwise it wont fry properly afterwards.
If the sago koozh is too watery even after the sago is cooked, keep stirring in flame until the koozh gets thicker. If in case the sago is into the stage of getting mashed and disappear in the koozh, then you can add a tblsp of corn flour dissolved in little water to the boiling koozh to get thicker soon. But the water quantity I have given is perfect when the sago is soaked as mentioned and the sago should be pepper sized.
While deep frying vadam, make sure oil is in correct temperature hot. If too smoking hot, the vadam will get browned and if not hot, it will be chewy.
I personally don't like colored vadam, so we never do color vadam. If you want, after the koozh is ready, you can add red, pink, yellow and green colours and mix.
Handle the dried vadams with dry hands always. Store in an dry container with lid.
If you have fried vadams remaining, put in a ziploc and keep in fridge to use later.
If you over cook the sago in this koozh, you will not see the sago after frying. But taste will be same.
Some had hing a pinch in this, but my MIL didn't say, so I didn't add.
Goes well with any mixed rice varieties like tamarind rice, lemon rice also with thogayal rice. Is it not beautiful like pearls
.