Kadalai mavu (besan)
chutney
is a good combination for dosa and poori. This gives a lot of volume and can be made easily in a jiffy. I have heard about this chutney during my childhood through my mom and paati. They add little kadalai mavu in poori masala all the time and they discuss one can make with kadalai maavu alone too. But we have never tried making this. This is the first time I have made this and tasted this. I had it with dosa and liked it too😍. Thanks to my friend Roopa for sharing the recipe. She is living in a joint family, so they make this very often as this is easy and can give you enough side dish for all.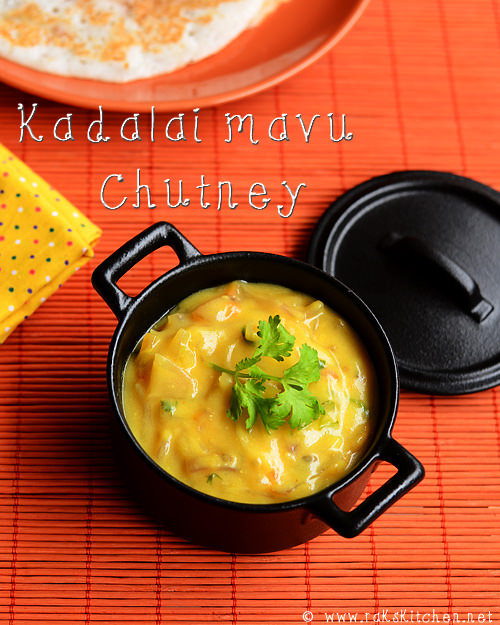 Check out the full video recipe for kadalai mavu chutney
Kadalai mavu chutney recipe
Recipe Cuisine:
Indian
|
Recipe Category:
Breakfast side
Prep Time
:
10 mins
|
Cook time: 15 mins
|
serves
:
3
Ingredients
Kadalamavu (Besan) – 3 tbsp
---
Onion – 2
---
Tomato – 1
---
Green chilli – 4
---
Ginger, very finely chopped – 1 tsp
---
Water – 2 & 1/4 cups
---
Salt – As needed
---
Ghee – 1 tsp
---
Coriander leaves, chopped – 2 tbsp
---
To temper (See notes for more options)
Oil – 1 tbsp
---
Mustard – 3/4 tsp
---
Urad dal – 2 tsp
---
Chana dal- 1 tbsp
---
Curry leaves – 1 sprig
---
Method
Slice onion, chop tomato, slit green chilli. In a mixing bowl, dissolve besan by adding little water first to make a paste, then add the remaining water and keep aside. Heat a pan with oil/ ghee, temper with the items given under to temper table. (Shown below is with fennel seeds)

Add onion, ginger and fry till transparent. Add the chopped tomatoes, required salt.

Fry until tomatoes turn soft. Add the dissolved besan slowly as you keep stirring. Bring to boil. If gets too thick, add little more water.

Simmer for 4-5 minutes or until the raw smell goes away and the consistency is thick like poori masala. Garnish with chopped coriander leaves, ghee.
Notes
You can also temper a small piece of cinnamon and clove.
Also you can temper with fennel seeds. I updated the recipe with the tempering items as I found that more tastier than fennel. So it's your choice purely.
Adjust water consistency as needed. 2 & 1/4 cup was perfect for me.
Don't skip ghee, just 1 tsp at the end also enough.
Serve with dosa or poori, it was yummy with dosa.