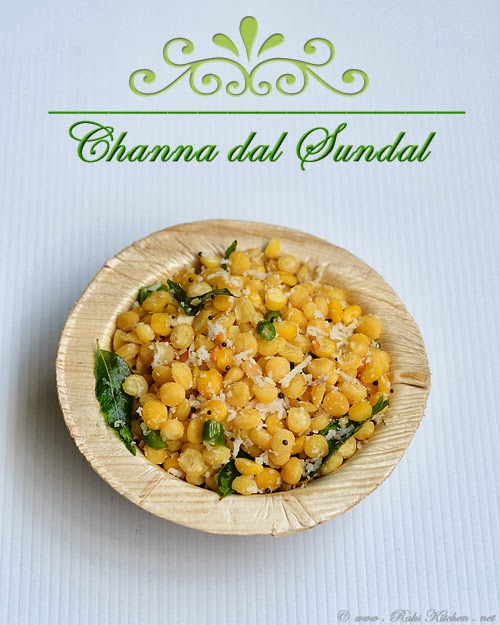 Kadalai paruppu sundal recipe – Navratri recipes – No onion No garlic recipes. Learn how to make simple chana dal sundal with step by step pictures.
Mom makes Chana dal sundal AKA Kadalai paruppu sundal every time once in Navratri days for kolu. This is such a simple yet packed full with flavours. I always loved the aroma that the house is filled when mom tempers for sundal. Ginger, green chilli and asafoetida combines to give a great aroma that takes you out of this world! I love that combination. That too mom uses kadalennai (ground nut oil) for tempering and uses little coconut oil which enhances the flavour. Though I use refined sunflower oil for cooking, I just love kadalennai for tempering. So I find idayam kadalennai (peanut oil) these days in Mustafa and buy that and use it sparingly in my cooking. It took for me some years to realise why my tempering is not wafting the same aroma as mom's or MIL's tempering. Silly me.

Chana dal sundal recipe
Recipe Cuisine:
Indian
|
Recipe Category:
Snack
Prep Time
:
1 – 3 hrs soaking time
|
Cook time: 10 mins
|
Serves
:
3-4
Ingredients
Channa dal / Kadalai paruppu – 1 cup
---
Green chilli – 3
---
Grated coconut – 4 tblsp
---
Coconut oil (optional) – 1 tsp
---
Salt – As needed
---
Ginger, finely chopped – 1 tsp
---
To temper
Oil – 1 tsp
---
Mustard – ¾ tsp
---
Urad dal – 1 tsp
---
Curry leaves – 1 sprig
---
Asafoetida – 2 generous pinches
---
Method
Soak channa dal for atleast 1 hour or upto 3 hours. Boil 3 cups water and add the soaked channa dal(strain from water and add it to boiling water).Boil for 5 mintues in between add 1 tsp salt.

Drain from water once it cooked soft from inside. Do not overcook or undercook. Now heat oil in kadai and temper with the items given under 'To temper' table.

Add ginger, chilly and stir well. Add the cooked dal and mix well. Lastly add coconut and mix well for a minute, add coconut oil if desired.Transfer to the serving bowl.
Notes
You can use red chilli in place of green chillies. Just use 2.
You can also pressure cook the channa dal for a whistle instead boiling.
Soaking dal makes it easy to cook. So more you soak, quick it gets cooked and stays moist too.
Enjoy this flavourful sundal, perfect for making this Navarathri in the evenings as prasadam.