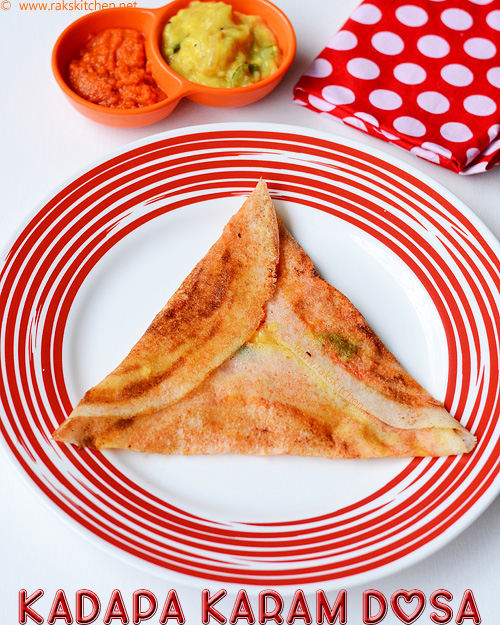 Kadapa karam dosa is made by spreading a spicy red chutney (kara chutney) and besan chutney (Bombay chutney / kadlaimavu chutney) over thin crispy dosa.
I have linked the detailed recipe for dosa and besan chutney, so please refer the individual posts for the recipes. Otherwise I thought I should post this idea when my BIL forwarded this recipe from a friend (who had shared
arbi chips
earlier, Thank you Smitha), as I was way too tempted by the name itself and the thing that I had dosa batter in hand. This is so easy to make too. I am sure many of you will be pushed to try this one soon. Since writing all the recipes in one post will be too long and also I already have these recipes, I am linking to those posts.
Kadapa karam dosa video:
Besan chutney video;
Also many people including me are tempted towards the spicy karam chutney that is spread over masala dosas like mysore masala dosa. And here in this karam chutney shared by her, ingredients are simple and can be prepared in a jiffy. I would say this kadapa karam dosa itself is a simpler version of mysore masala dosa. You will be amazed by it's taste. This is also called erra karam dosa I guess. I am not sure though. And the kadapa in this is different from Kumbakonam Kadappa.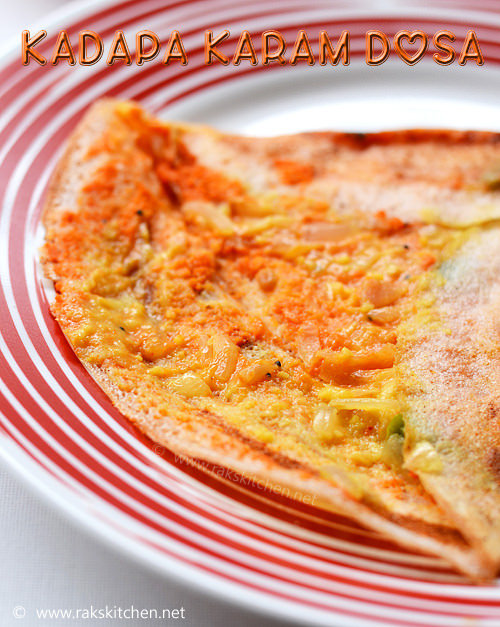 Kadalai mavu chutney recipe
Prep Time: 10 mins | Cook time: 15 mins | serves: 3
Ingredients
Kadalamavu (Besan) – 3 tbsp
---
Onion – 2
---
Tomato – 1
---
Green chilli – 4
---
Ginger, very finely chopped – 1 tsp
---
Water – 2 & 1/4 cups
---
Salt – As needed
---
Ghee – 1 tsp
---
Coriander leaves, chopped – 2 tbsp
---
To temper (See notes for more options)
Oil – 1 tbsp
---
Mustard – 3/4 tsp
---
Urad dal – 2 tsp
---
Chana dal- 1 tbsp
---
Curry leaves – 1 sprig
---
Method
Slice onion, chop tomato, slit green chilli. In a mixing bowl, dissolve besan by adding little water first to make a paste, then add the remaining water and keep aside. Heat a pan with oil/ ghee, temper with the items given under to temper table. (Shown below is with fennel seeds)

Add onion, ginger and fry till transparent. Add the chopped tomatoes, required salt.

Fry until tomatoes turn soft. Add the dissolved besan slowly as you keep stirring. Bring to boil. If gets too thick, add little more water.

Simmer for 4-5 minutes or until the raw smell goes away and the consistency is thick like poori masala. Garnish with chopped coriander leaves, ghee.
Notes
You can also temper a small piece of cinnamon and clove.
Also you can temper with fennel seeds. I updated the recipe with the tempering items as I found that more tastier than fennel. So it's your choice purely.
Adjust water consistency as needed. 2 & 1/4 cup was perfect for me.
Don't skip ghee, just 1 tsp at the end also enough.
Kadapa karam dosa recipe
Recipe Cuisine:
Indian
|
Recipe Category:
Breakfast
Prep Time
:
10 mins
|
Cook time: 10 mins
|
Makes
:
8
Ingredients for karam chutney
Onion – 2
---
Tomato -1
---
Red chilli powder – 1 & 1/2 tsp
---
Salt – As needed
Method
Chop onion and tomato roughly and grind it with red chilli powder and salt without adding any water.

To make kadapa karam dosa, heat a dosa pan and spread a thin dosa. Drizzle over little oil and spread one or two tbsp of the prepared spicy chutney.

Spread a ladle of besan chutney over it, once done, fold it two sides to form a triangle as shown below.

Fold at the bottom and serve immediately.
Notes
Adjust red chilli powder as per your spice level.
Do not make dosa too thin, it should hold the chutneys.
Spread the dosa first and then drizzle oil over it, otherwise you will not be able to spread the dosa evenly.
Make the besan chutney thick so that it is easy to spread as well as the dosa does not get soggy..
You can have it as such, but if you want, you can make it with coconut chutney or peanut chutney.