Kambu kozhukattai made with simple ingredients, a healthy steamed snack for breakfast or snack.(kambu in tamil, bajra in hindi, pear millet in english).
I got this recipe through my cosis from a magazine supplementary. I had kambu in stock after making kambu adai and wanted to make use of it. I first over read this kambu kozhukattai recipe and thought it uses kambu maavu (bajra flour), but realised it is made flour from kambu and then made to these kambu kara kozhukattai (dumplings).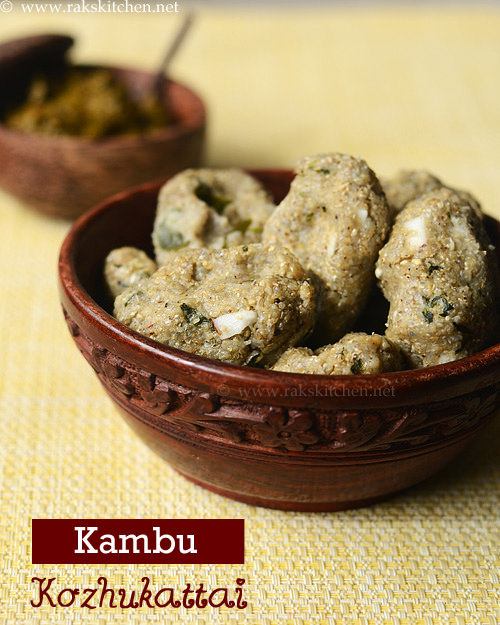 Kambu kara kozhukattai tasted really good, I never expected the out come flavour, it was too good like my easy ulundu kozhukattai only that the texture is different. Vj too loved it. He loves kambu millet a lot and so no surprise him liking this one. I want to try more kambu recipes in future as it turns out really well.
Kambu kozhukattai recipe
Recipe Cuisine:
Indian
|
Recipe Category:
Breakfast
Prep Time
:
3 hrs soaking time
|
Cook time: 20 mins
|
Makes
:
20
Ingredients
Kambu/ bajra/ peal millet – 1 cup
---
Coconut, chopped – 3 tbsp
---
Green chilli – 3, chopped
---
Ginger, chopped – 2 tsp
---
Coriander leaves, chopped – 3 tbsp
---
Salt – As needed
---
To temper
---
Oil – 2 tsp
---
Mustard – ½ tsp
---
urad dal – 1 tbsp
---
Asafoetida – ¼ tsp
---
Curry leaves – 1 sprig
---
How to make kambu kozhukattai method
Wash and soak kambu for minimum 3 hours or overnight. Drain, spread over a clean cotton towel for the excess water to get absorbed.

Once the extra moisture is absorbed, transfer to a blender and powder it coarsely.

Heat a pan with oil and temper with mustard, urad dal and asafoetida followed by curry leaves. Add ginger, green chilli, followed by coriander leaves and coconut.

Stir well for a minute until coriander leaves shrink and add 1 & ½ cups water along with salt. Bring to boil.

Put in medium flame and add the powdered bajra. Stir briskly and cook covered in medium or low flame for 4 minutes.

Set aside covered for cooling down. Once warm enough to handle, grease your hands with oil.

make oblong shapes with the dough prepared, using your hands as shown in the picture. You can make round balls too, but this is easy to get steamed.

Arrange in greased idli plate/ steamer and steam cook for 10 minutes.
Tips
Use a metal strainer to wash and drain the millet easily.
You can use grated coconut in place of chopped coconut.
If the mixture becomes too dry and brittle before making shape for any reason, try adding little more hot water and knead the dough.
Keep the dough as well as the kozhukattai after steaming covered, to prevent drying.
Enjoy it hot or warm with mint chutney or kara chutney. I had it with mint thogayal and it was good even as such with the coconut bits the best in it.