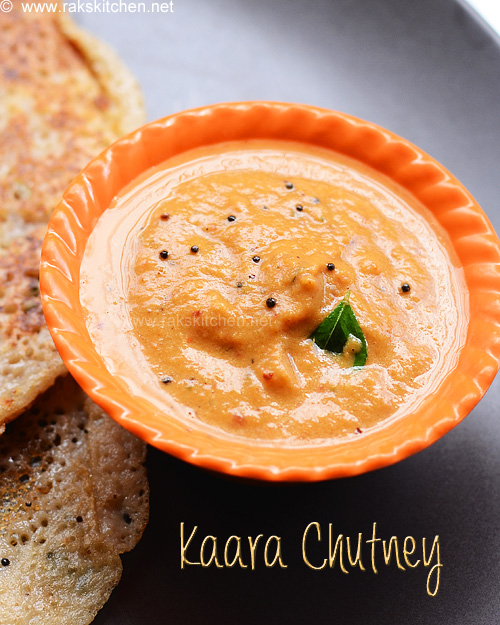 Spicy kara chutney recipe with onion, tomato and both green red chillies and black pepper for extra spiciness.
I always make
onion tomato chutney
with coconut if I am making. But last week when I saw a video, I was tempted to make something spicy that is served in roadside shops as kaara chutney, that is slightly watery. And ended up with this chutney. This was super spicy, just the way I wanted. This should be handy when I have no coconut in hand. Perfect for idli and all types of dosa.
Check out other
chutney recipes
.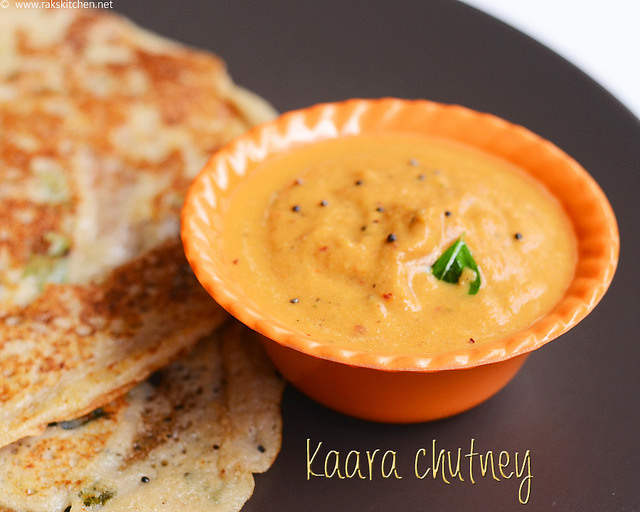 Kara chutney recipe
Recipe Cuisine:
Indian
|
Recipe Category:
Breakfast
Prep Time
:
5 mins
|
Cook time: 10 mins
|
Serves
:
3
Ingredients
Onion – 1
---
Tomato – 1
---
Garlic – 3 flakes
---
Red chilli – 2
---
Green chilli – 2
---
Black pepper – 1 tsp
---
Chana dal – 1 tbsp
---
Curry leaves – 1 sprig
---
Salt – As needed
---
To temper
Oil – 1 tsp
---
Mustard – ½ tsp
---
Urad dal – 1 tsp
---
Curry leaves – 1 sprig
---
Method
In a pan, heat 1 tsp oil, roast 1 tbsp chana dal, 2 red chillies. Once chana dal is golden, add black pepper, garlic, roughly chopped onion, tomato, curry leaves.

Once tomatoes are soft, transfer to a plate and cool down completely.

Transfer to a mixer and grind smoothly with salt. Add water to get right consistency you need.

This is optional, if you want you can temper with mustard, urad dal and curry leaves in a tsp of oil.
Notes
I added 3 red chillies, but it was too spicy, so reduced one chilli in the recipe.
We had with godhuma dosa and it was really great.