Karthigai deepam recipes - pori urundai, nei appam, maavilakku, milagu adai and many more. Karthigai deepam is a festival of lights. In Tamil Nadu people celebrate, during the Tamil month of Karthigai.
Jump to:
🗓 Date
Karthigai Deepam Date 2022
You must be wondering when is karthigai deepam?
Karthigai Deepam 2022 falls on Tuesday, 6th December.
🎉 About
What is Karthigai Deepam?
Karthigai Deepam / Karthika deepam | Thrikarthika is Hindu festival of lights. In Tamil Nadu as well as Kerala, people celebrate this festival.
The festival is about removal of darkness (Ignorance) and bringing light across our lives (intelligence). Somewhat similar to the concept of Diwali in North India in this aspect. But,
This day also marks the Birthday of Lord Murugan - Karthikeyan (Thamizh kadavul).
Read: My fond memories about the festival along with instant nei appam recipe.
🙏 Significance of the festival
What is the story behind Karthigai Deepam?
Once Lord Vishnu and Brahma had an argument who is most powerful. Lord Shiva took the form of Jyothi particularly - streak of light (Flame - fire element).
After that, tells them to find the origin and end of the jyothi. And who ever does find, they will be considered powerful than the other.
Vishnu took the form of boar (varaham) and travelled through pathala logam. Brahma tried to find the origin by taking the form of swan, flying up. But in vain.
Vishnu agreed that he could not find the origin.
Why Brahma have no temples
In the process, Brahma lied that he found the end of the flame. He took the help of thazhampoo (kewra/ pandanus flower) to support his claim.
So Sivan got angry and cursed him that he won't be worshipped in earth and there wont be any temples for him.
Brahma used to have 5 heads, but lord Sivan also took of his 5th head. Thazhampoo also been cursed and till date it is avoided to be used in the worship of Lord shiva.
🪔 Thiruvanamalai
So it is Thiruvanamalai where Shiva took the form of Jyothi. Therefore some people celebrate there on full moon day. It is during the Tamil month of Karthigai in Tamil Calender (November/ December in English calendar).
The festival is about removal of darkness (Ignorance) and bringing light in to our lives (intelligence).
This day also marks the Birthday of Lord Murugan - Karthikeyan (Thamizh kadavul).
Particularly, six Karthigai sisters brought up 6 babies from Lord shiva's sparks from his 3rd eye (netrikan). Particularly, in a river Saravana poigai, over 6 lotus flowers.
Later they are merged to form Lord murugan with 6 faces, 12 hands. That is why he got the name Arumugan . In addition, the six Karthigai sisters are blessed as stars in the sky.
So for that reason, sisters in the house also pray for brother's wellness on this day.
Learn about the festival, why karthigai celebrated here
Wishing you all a very Happy Thiru Karthigai Deepam 😊😊
🧾 Shopping list
Below is the Karthigai deepam shopping list :
Jaggery
Pori - Nel pori, aval pori, arisi pori
Coconut
Fried gram dal
Dry ginger
Cardamom
Ghee
Flowers
Raw rice (for maavilakku) if making
Wick
Sesame oil
Mini lamps
Banana leaf
Agar bathi
Other incense stick/ powder
Fruits
Honey if making maavilakku
✨ Rangoli/ kolam
Most importantly, for Karthigai deepam, the whole house is decorated with lamps as well as kolam. Entrance, pooja place is also decorated with kolam. Here are some Karthigai deepam rangoli designs and dot kolams from my parent's blog.
📝 Recipes
To read karthigai deepam recipes in tamil, click here
Below are some recipes that can be prepared on Karthigai deepam festival :
Appam recipes:
Other Karthigai deepam recipes:
💬 FAQs
Why do we celebrate Karthigai Deepam?
We celebrate Karthigai deepam as festival about removal of darkness (Ignorance) and bringing light across our lives (intelligence). It also celebrates the Birthday of Thamizh kadavul Murugan.
For which God we celebrate Karthigai Deepam?
Lord Shiva and his son Murugan
When should we keep Karthigai Deepam?
You can refer when they celebrate the Thiruvanamalai Deepam and keep lamps in the evening from 5 PM onwards, on Karthigai Month's Full Moon day as well as Karthigai Nakshathra.
How many days is Karthigai Deepam?
In Thiruvannamalai temple, it is a 10 days festival. Some people observe fasting for these 10 days.
We at home light lamp for 3-4 days in larger numbers. Mainly on Thirukarthigai day, then reducing the numbers gradually.
🌸 Celebration
How to Celebrate Karthigai Deepam?
The whole month of Karthigai, a lamp is lit at the entrance. Place it over a plate on small kolam drawn if possible. You can also place over an wooden plank or leaf.
Other than this, on Thirukarthigai, here is how we celebrate:
Take head bath and observe fasting if you wish to, as per your house rule. Some people skip breakfast. Avoid onion, garlic and outside food. We do not eat leftovers on fasting day.
Keep chanting any mantras you know praising lord Murugan and keep your thoughts good.
Before day, you can wipe the house clean.
Wash the lamps and keep turmeric/ chandan and kumkum to decorate.
Place wick and fill with oil (Sesame or vilakku oil)
We can light as much as we can on karthigai deepam day.
Places where we can keep lamp : Entrance, pooja place, all the rooms no part of the house is left out. We even keep an agal vilakku inside rice drum and near dust bin as well.
Prepare any recipe from below and offer to God in the evening.
Once done, you can take the lamps and save it for next day.
For next couple of days, you can reduce the number of lamps but make sure to light the lamp in smaller numbers.
Disclaimer: This post is just my understanding about the festival. Please discuss the traditions and customs followed by your household, with your elders.
🪔 Recipes
1. Nel pori urundai : Nel pori urundai is Puffed rice paddy with jaggery balls. Different from the regular puffed rice which looks smooth.
Rather, they have ridges on them as the process involved in preparing these nel pori is different. Nel pori is prepared by first beating the paddy and then removing the husk from it.
Learn how to make nel pori urundai in detailed step by step and full video guidance.
15

minutes
2. Arisi pori urundai : Arisi pori also known as puffed rice is widely available. So easy to prepare as puffed rice balls.
These can make a great healthier snack too for kids and adults rather that just making it for festival.
Pori urundai is a sweet snack made with jaggery especially for Karthigai deepam festival. Easy snack idea too for your kids.
15

minutes
3. Caramel pori urundai : Puffed rice balls made with caramel syrup. No worry even if you do not get jaggery in you place.
In this recipe caramelize sugar and add puffed rice to it. Shape into balls to get this beautiful and delicious snack.
puffed rice balls snack made with sugar by caramelizing it. With just few easily available ingredients, this snack is perfect for kids snack as well as for us.
15

minutes
4. Kadalai urundai : Roasted, de-skinned peanuts and jaggery balls are called kadalai urundai.
Kadalai urundai is very popular snack in Tamil nadu. Prepare at home for such festivals involving jaggery snacks and sweets.
Kadalai urundai is made with peanut, jaggery as main ingredient. Literally candy with jaggery, peanuts. Very healthy snack, rich in protein and goodness of jaggery which is rich in iron.
25

minutes
5. Pottu kadalai urundai : Fried gram dal and jaggery sweet balls. Actually pottu kadalai is also an ingredient in other Karthigai pori such as nel pori and aval pori in our home.
So we make this pottu kadalai sweet jaggery balls in functions like valaikappu (baby shower) But in different shape...
Pottukadalai urundai is a healthy snack with fried gram dal (also known as chutney dal or dhariya) and jaggery as main ingredients.
20

minutes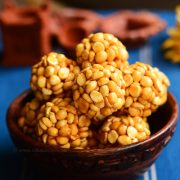 6. Wheat flour appam : Wheat flour and jaggery batter is fried in ghee or oil to get these sweet fritters.
Actually, we made compulsorily in my home during Karthigai and called Karthigai appam too in some house holds.
Wheat flour appam recipe with full video and step by step pictures. Instant version that takes under 30 mins, made for traditional festivals like Gokulashtami, karthigai deepam
20

minutes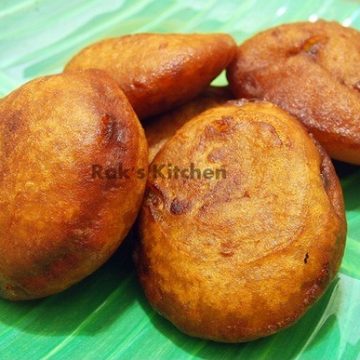 Rice based jaggery sweet shallow fried in ghee over appe pan is called nei appam.
These can also be deep fried and most popular among certain community for preparing during festivals.
Nei appam is made in several festivals like Gokulashtami, karthigai deepam etc. A special recipe made with rice as main ingredient.
20

minutes
8. Instant nei appam : Rice flour, banana and jaggery batter shallow fried in ghee or oil. As the name suggests, there is no much preparation time or soaking time.
You can prepare these as prasadam offerings in no time!
Instant nei appam with rice flour without any soaking time. Learn how to prepare quick and easy nei appam with just few basic ingredients.
20

minutes