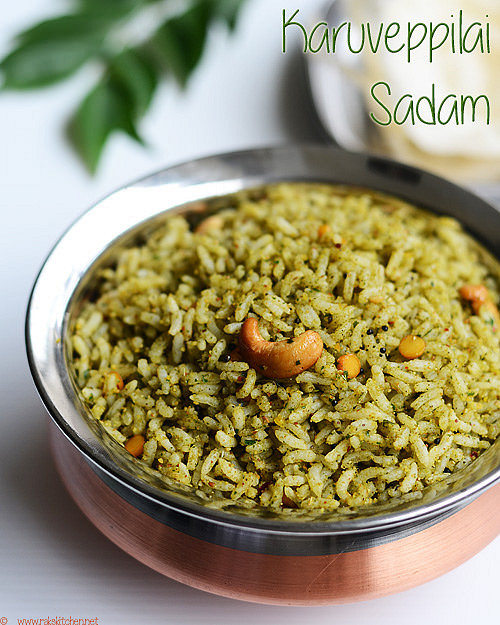 Curry leaves rice recipe with step by step pictures. Karuvepillai is one healthy ingredient we use in our cooking. But sadly we pick and throw it. Its rich in iron, so I always want to consume it, not for anything, just for the sake of hair fall and now to avoid grey hair. My mom used to have curry leaves plant in our backyard, but sadly it is not that big tree that we can get leaves from it, we just tried very hard to keep it alive. After coming here, I too planted one in a pot from the berries I got from my SIL here and it was really growing decently. And I used to make use of it for emergencies when I run out of curry leaves. But once when I came for vacation to Chennai, it wilted and died. So now a days, when I have lots of curry leaves either form little india or from Fairprice pack, I try making something like karuvepillai kuzhambu, karuvepillai podi… Sadam is in my list for so long, I have a version with garlic, but my MIL told to try this version. I tried after long time she said and loved it very much too. It was completely different from my karuveppilai podi. Packed this for Vj's lunch box. So makes an easy lunch box too.
Karuveppilai sadam recipe
Recipe Cuisine:
Indian
|
Recipe Category:
Lunch
Prep Time
:
15 mins
|
Cook time: 15 mins
|
Serves
:
4
Ingredients
Rice – 1 & ½ cup
---
Salt – As needed
---
To roast and powder
Curry leaves – 1 cup, packed
---
Chana dal – 2 tablespoon
---
Toor dal – 2 tablespoon
---
Jeera – 2 teaspoon
---
Pepper (Black pepper) – 2 teaspoon
---
Coriander seeds – 2 tablespoon
---
Red chilli – 6
---
Oil – 2 teaspoon
---
To temper
Oil/ ghee – 1 tablespoon
---
Mustard – 1 teaspoon
---
urad dal – 2 teaspoon
---
Green chilli – 2
---
Cashew nut – 6
---
Method
Cook rice with ratio 1 : 2 water for 3 whistles in medium flame and once done, cool the rice in a broad vessel with a teaspoon of sesame oil. Set aside.
Roast all the items under 'To roast and powder' table except curry leaves. Roast until you can see chana dal turn golden in colour.

Add curry leaves and switch off the flame. Mix well and let it be over the stove as such. Once cooled, the curry leaves will turn crisp, so it will get easily powdered.

Powder it in a mixer to a slightly coarse powder.

Temper rice with the items given under 'To temper' table and add it to the rice.

Add the powdered curry leaves powder and mix well.
Notes
Choose curry leaves that are not too old, it should be atleast all leaves fresh and green. Not the dry, black colored leaves.
Cashew nut can be skipped.
Clean and wash curry leaves the before day itself and dry it completely over a clean kitchen towel.
Flavorful curry leaves rice is ready, this is healthy for your family too! Serve with any poriyal, curry, kootu or vadams.