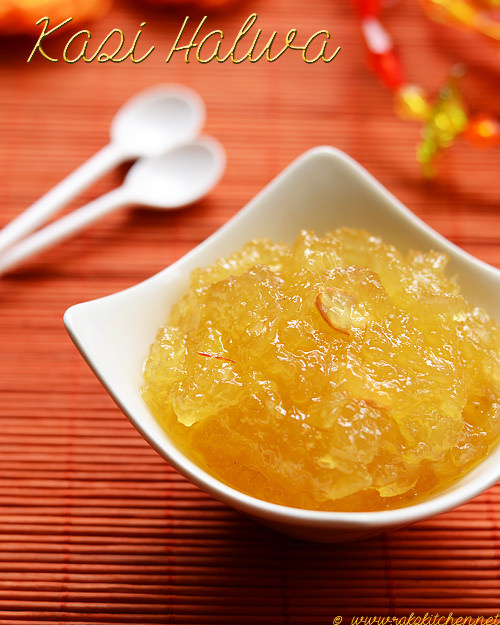 Kasi halwa or Poosanikai halwa is an easy halwa recipe made with white pumpkin, sugar and ghee as main ingredients. Very simple recipe with simple ingredients. I have tried only once before and have not tasted that much too. When I made a list for the recipes to try for this Diwali, this was also in my list. So got a pumpkin last weekend while grocery shopping. I needed a push to try this one as I had no mood to try this halwa some how. But thanks to my co-sis, she kept insisting me to post this and helped me through out making this halwa. Thank you dear🤗. When I finished making and tasted I wasn't impressed but later it tasted really good. I just loved the texture a lot. Grating is the only job to do, otherwise really easy to prepare this recipe. I adapted the recipe from the cookbook I have and adjusted to suit my taste.
Check out the full video for poosanikai halwa:
Kasi halwa recipe
Recipe Cuisine:
Indian
|
Recipe Category:
Sweet
Prep Time
:
15 Mins
|
Cook time: 20 mins
|
Serves
:
4
Ingredients
White pumpkin, grated and squeezed gently – 2 cups
---
Sugar – 1 cup
---
Ghee – 2 tbsp
---
Cardamom – 1, powdered
---
Edible camphor (optional) – 1 mustard size
---
Saffron – 1 pinch
---
Method
Remove the green skin part and soft part with seeds in the pumpkin. Grate it and squeeze gently to drain the excess water. You can save this if you are worried about the nutrient loss.

Heat a heavy bottomed pan and add a tsp of ghee. Fry the grated pumpkin well for 2 minutes.

Add 1/4 cup water or the squeezed water from pumpkin and cook covered until soft and tender. Mix and mash in between to ensure even cooking.

Add sugar and mix until it dissolves. Add saffron and continue cooking.

Keep stirring over medium flame. Add ghee little by little while you stir.

Once the halwa thickens, add edible camphor powdered and cardamom towards the end.

When you stir, you will see few tiny white spots appearing in the halwa, when you turn it. This is the right stage to switch off the flame.

Lastly fry cashew nuts broken into two in ghee until golden and add to the halwa.
Notes
Let the whole process be done in medium flame. Especially after adding sugar.
Adding edible camphor and cardamom is to suppress the smell of pumpkin. So add generously.
Make sure you grate the pumpkin evenly otherwise will remain uncooked.
Adding sugar after the pumpkin gets cooked is must.If uncooked, after adding sugar it will never get cooked and becomes hard.
Not only glossy looking halwa, this halwa got a beautiful texture as well.