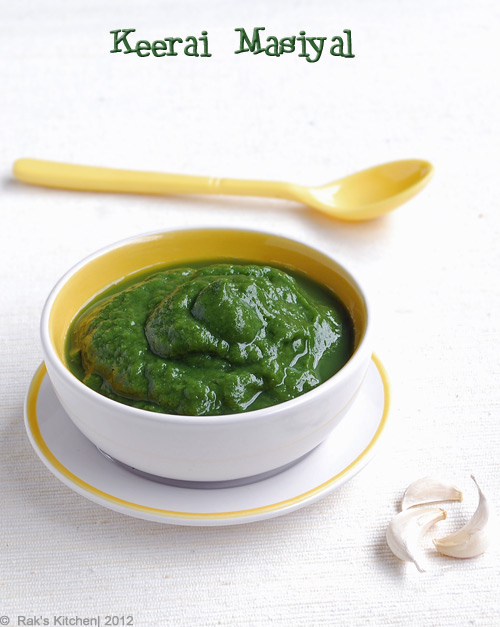 One of the easiest and simplest, yet yummy and flavourful keerai masiyal recipe! (Keerai = greens, Indian spinach). This is the way both my mom and mom in law do. We do not add anything for spiciness in this. Actually my mom adds a lots of garlic and the hotness from garlic will be enough in this. But my MIL adds only less, still it tastes great. Hot steamed rice , with ghee and keerai masiyal is mostly everyone's favourite. Its good for kids too and almost my mom makes twice or thrice in a week when we were kids. Such healthy one, so try and see if you haven't before. I will share another recipe for keerai masiyal here in future, which has no garlic in it.
Easy keerai masiyal recipe
Recipe Cuisine:
Indian
|
Recipe Category:
Lunch
Prep Time
:
15 mins
|
Cook time: 10 mins
|
Serves
:
3
Ingredients
Keerai – 1 bunch
---
Garlic – 3 cloves
---
Salt – As needed
---
Sugar – 2 pinches
---
Method
Remove the root part of the keerai and look for any other plants and wash the keerai well. Drain and chop it roughly. Boil water (very less) and add sugar and chopped greens. Cook until the stems get soft and drain the water. Reserve to use it in sambar or in some other gravy u prepare. First grind peeled garlic and salt in the mixer.
Then add the cooked, cooled keerai and grind well to make a puree consistency.
Notes
Adding sugar while cooking ensures to retain the green colour of the keerai.
I used mulai keerai, so used the stem as well. If any other keerai variety, use only the leaves.
Serve with hot rice and ghee! Accompany with any curry and enjoy the healthy and tasty masiyal.