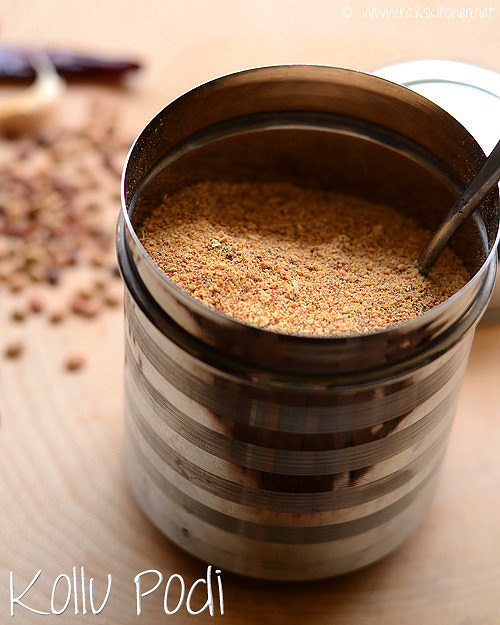 Kollu podi or horse gram powder – This version is for mixing with rice along with sesame oil. I have never consumed kollu until my friend sent me the kollu
rasam
recipe (Selavu rasam). It tasted nice, but the recipe uses only little amount of kollu and I wanted to use up the rest of the kollu I got. Kollu podi was my mom's suggestion and she told it can be made just like the way we make paruppu podi. Kollu (horse gram, kulthi bean, hurali, Madras gram) has a huge number of health benefits. It is one of the forbidden less known dals, but we should start including this in our diet. My mom says
"kollu thindral uzhaikanum" (you should work if you eat horse gram),
but don't know why so. I know horse gram is fed to horses to keep it energetic and give its power for running. So something to do with it… I will update if I come to know, or if any of you know the reason, leave your comment about it. It takes long time to digest, so keeps you full if you consume it. You can sprout it to make it easily digestible. So here's the simple recipe for kollu podi.
Kollu podi recipe
Recipe Cuisine:
Indian
|
Recipe Category:
Lunch
Prep Time
:
5 mins
|
Cook time: 10 mins
|
Makes
:
1 cup
Ingredients
Kollu (Horse gram) – 1 cup
---
Red chillies – 3 – 5
---
Black pepper – 1 tsp
---
Garlic – 5 flakes
---
Salt – As needed
---
Method
In a pan, roast horse gram with red chillies until golden. The horse gram will start popping, so you will know its the right time to switch off the stove. But roast in medium flame to ensure even roasting. Cool down and powder first the horse gram, red chillies and salt together.
Then add crushed garlic and pepper and run the mixer only once.
Notes
Adding garlic and pepper at the last stage enhances the taste. You can roast the pepper along and everything together too.
I love all my podi slightly coarse. This will be having a nice crunch while eating rather than sticking to hands and plates😀. Store in an airtight container and can be used it for 2 weeks.